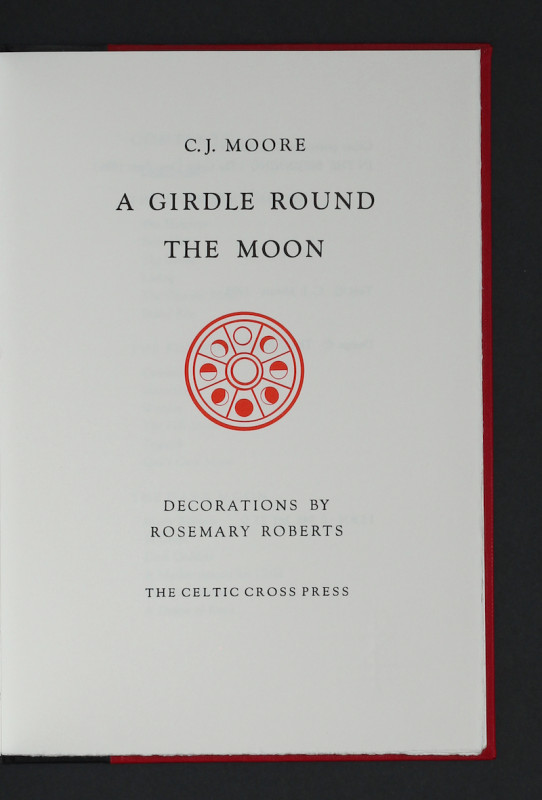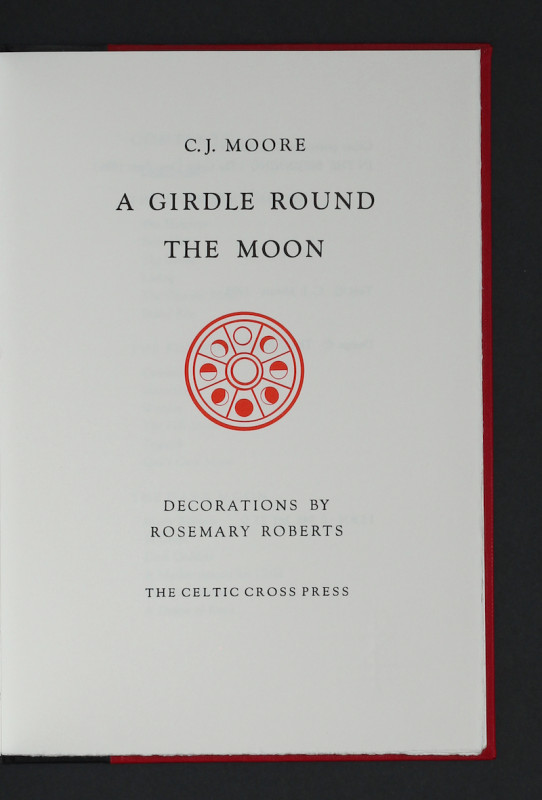 Book Description
ONE OF 125 COPIES SIGNED BY THE AUTHOR

Octavo (250 x 173mm), pp. [2 (blank l.)], [8 (half-title, verso blank, title, poet's other collection and copyright statements, contents, dedication, introduction)], [27 (text)], [1 (colophon)], [2 (blank l.)]. Title-vignette, 24 illustrations in the text, and press-device on colophon by and after Roberts, all printed in red. Original black cloth backed red cloth boards by The Fine Bindery, upper board repeating title-vignette in gilt, spine lettered in gilt, red endpapers, top edges cut, others uncut and retaining deckles. A fine copy.
Dealer Notes
First edition, no. 107 of 125 copies signed by Moore. A collection of love poems by Moore, whose collection In the Beginning had been published by the Celtic Cross Press in 1986. Moore's '"moon cycle" of poems owes much to the insights of Esther Harding' ('Introduction') and is divided into three sections: 'The Crescent Moon', 'The Full Moon', and 'The Dark Moon'.

The Celtic Cross Press was established in 1984 in Collingham, West Yorkshire, by the artist and printer Rosemary Roberts, and issued a series of some twenty-five volumes of poetry and short prose over the following four decades. Most were illustrated by Roberts, who also typeset the Press' publications and printed them. The writers published by The Celtic Cross Press often drew their inspiration from religious subjects.

A Girdle Round the Moon was set in Goudy Old Style and printed by the Celtic Cross Press on Zerkall paper.
Author
MOORE, Christopher J. and Rosemary ROBERTS (artist)
Publisher
Lastingham: The Celtic Cross Press