A Residence of Eight Years in Persia, among the Nestorian Christians; with Notices of the Muhammedans [from the library of Stephen Keynes]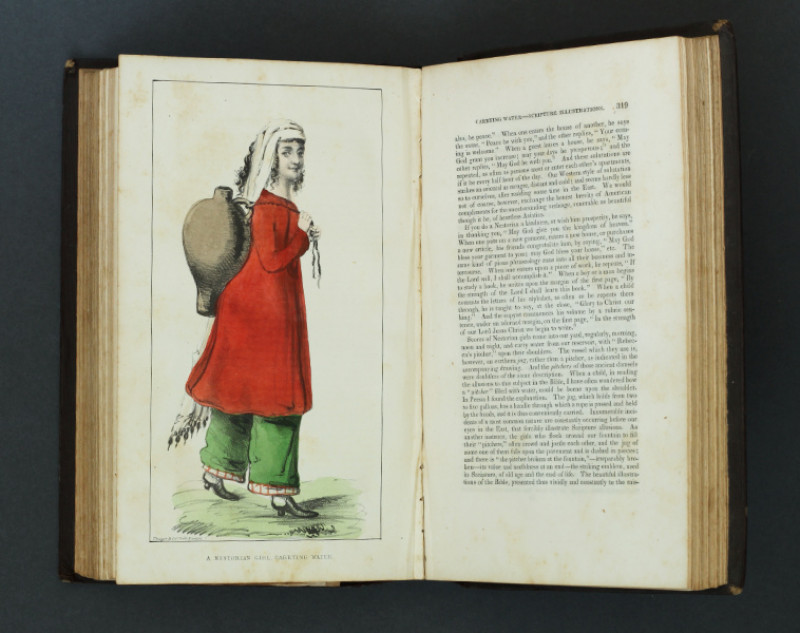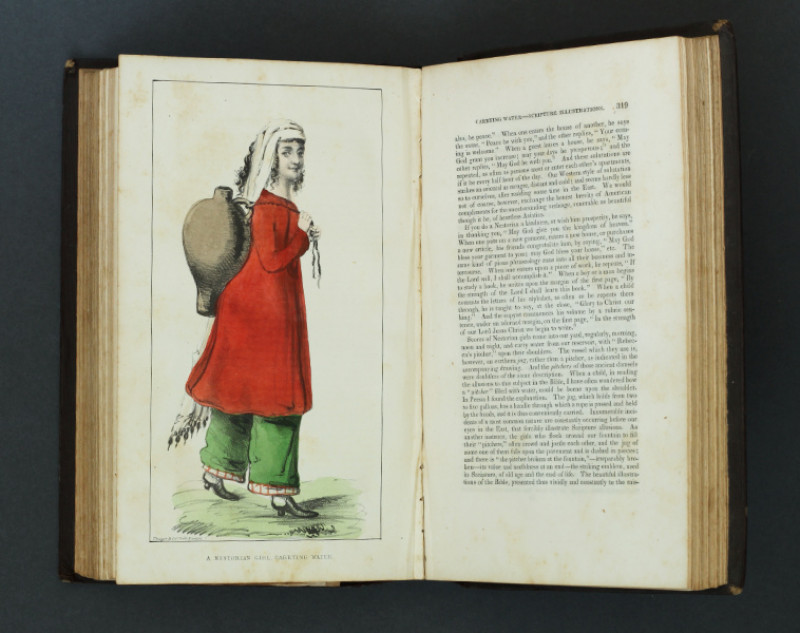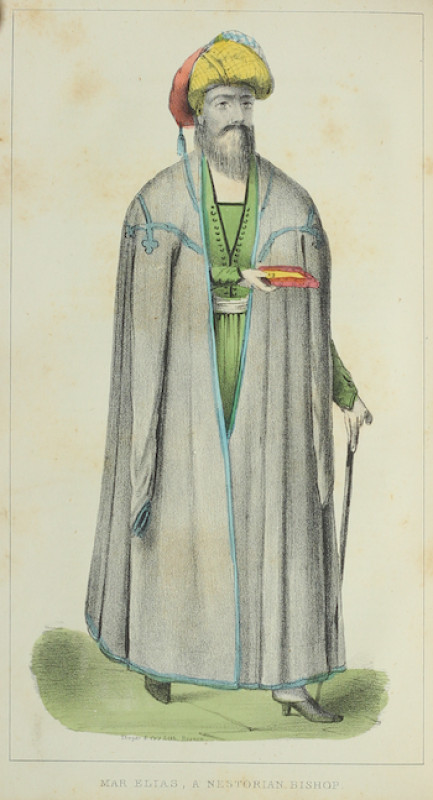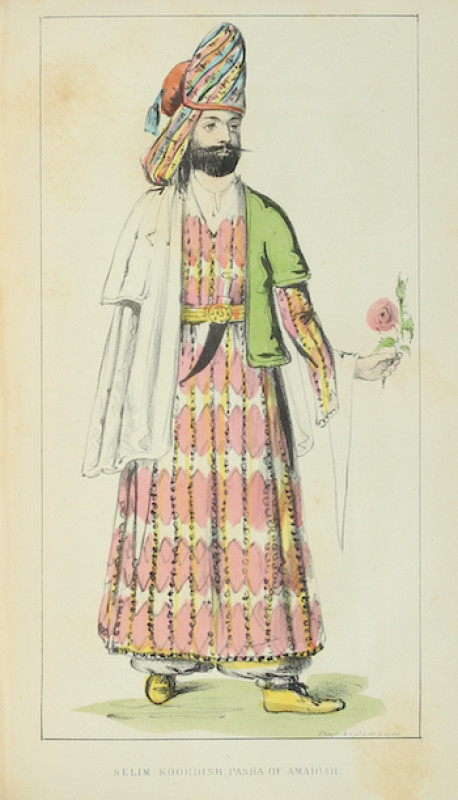 Book Description
'THE FACT THAT NO AMERICAN WAS EVER A RESIDENT IN THAT ... COUNTRY BEFORE ME ... WILL, PERHAPS, TEND TO IMPART A SOMEWHAT SPECIAL INTEREST TO THIS VOLUME': PERKINS IN PERSIA

Octavo in 4s (232 x 142mm), pp. xviii, [2 (illustrations and tables)], 512. Lithographic portrait frontispiece by Thayer & Co. after Perkins retaining tissue guard, and 26 lithographic plates by Thayer & Co. after Perkins, 23 hand-coloured. One folding lithographic map by Thayer & Co. after L.H. Bradford. (Some variable foxing and spotting, a few light marks, map creased and torn.) Original brown cloth, boards blocked in blind with borders of broad and narrow bands with elaborate foliate cornerpieces, spine ruled in blind and lettered and decorated in gilt, ochre endpapers. (Extremities rubbed and bumped causing small losses, spine chipped at ends and with abrasions.) A very good copy in the original cloth, which is notably susceptible to wear.

Provenance: J.H. Tomlinson, June 1847 (dated presentation inscription on front flyleaf recording gift to:) – [?]M. Atherton – unidentified institution (traces of bookplate or labels on upper pastedown and front flyleaf, traces of [?]pressmarks on spine) – Stephen John Keynes OBE, FLS (1927-2017).
Dealer Notes
First edition. In about 1827 Persia had been visited by the celebrated missionary Dr Joseph Wolff, who was 'a great traveler, and a voluminous writer. To this latter fact was due the decision of the ABCFM [American Board of Commissioners for Foreign Missions] to send men in 1830 to examine the condition of the Nestorian Church, described by Dr. Wolf[f]. As a result the ABCFM determined to establish a mission to the Nestorians' (H.O. Dwight, H.A. Tupper, and E.M. Bliss (eds), The Encyclopedia of Missions (New York and London, 1904), p. 582). The missionary Justin Perkins (1805-1869) – an alumnus of Amherst College and Andover Theological Seminary – and his wife Charlotte Bass (1808-1897) embarked for Persia in the autumn of 1833, reaching Tabriz about a year later. In the summer of 1835 the physician Dr Asahel Grant and his wife joined them, and in November 1835 the two missionaries and their wives arrived at Urmiah, where they founded a mission station. A mission school was established a few years later. Perkins became an 'eminent Syriac scholar' (Smith) through learning the local language from Nestorian clerics and developed an alphabet for the writing of Neo-Aramaic or modern Syriac, using the classical Syriac script, which enabled him to embark upon a translation of the Bible into modern Syriac in 1839.

A mission press was established with the arrival of Edward Breath, a skilled printer who brought a hand-press with him, in November 1840, so that Perkins was able to undertake a remarkable programme of translation and publication. As Thomas O'Flynn states, '[o]f the major contributors to the development of modern literary Syriac, most influential was Justin Perkins, who with an indispensable team of Assyrian translators, writers and printers, was responsible, inter alia, for the translation and publication of the Bible (New Testament in 1846, Old Testament in 1852); Zāhrīri d-Bāhrā or 'Rays of Light', one of the first magazines published in Persia and a mouthpiece of the mission (ante 1849 running to 1918); western spiritual classics such as John Bunyan's The Pilgrim's Progress (1678-84); Richard Baxter's The Saints' Everlasting Rest (1650); The Reformed Pastor (1656); Call to the Unconverted, followed by Philip Doddridge's The Rise and Progress of Religion in the Soul (1745); and Christian Gottlob Barth's A Brief History of the Church of Christ (1837). Perkins also supervised the printing of countless tracts. These included originals in Syriac, as well as translations from countless British evangelical tracts such as Dialogue on the Papacy, Legh Richmond's The Dairyman's Daughter (1812) and Hannah More's The Shepherd of Salisbury Plain (1795). About five hundred English hymns, many by hymn writers William Cowper (1731-1800) and John Newton (1725-1807), were included in the mission's Syriac hymnal. Several text books on geography, arithmetic, algebra and theology were also published. Perkins's Syriac commentaries on the Books of Exodus (Nuhara d-'al Ktaba d-Mapqana) and Daniel (Nuhara d-'al Ktaba d-Daniel Nbiya) both published in 1869, and that on Genesis (Sepra d-Brita) in 1886, marked his final contributions' (The Western Christian Presence in the Russias and Qājār Persia, c.1760-c.1870 (Boston and Leiden, 2017), pp. 631-632).

Perkins returned to America with his family on furlough in 1842. On the journey he began to read through his notes of the past eight years, with a view to selecting some notable incidents. In his preface, however, he writes that 'I found the mass, which had been gradually accumulating on my hands, during my residence in Persia, so large and miscellaneous, that it was no easy matter to make such a selection. Thus engaged, the idea occurred to me, of copying out portions of those notes for future use [...]. The result is this volume, which is made up of a simple record of facts and observations, given, to a considerable extent, as they were originally recorded, amid the scenes whence they were drawn' (p. [v]-vi). Although some extracts from Perkins' journal had previously appeared in the Missionary Herald, the text was extensively revised and rewritten for A Residence of Eight Years in Persia, which was intended for a popular audience, rather than a specialist one: 'I have [...] combine[d] miscellany and incident with accurate, missionary and general information, in the hope of thus rendering the work more acceptable to different classes of readers, and more useful to the cause which it primarily seeks to promote. From that vast and varied forest, in which I have so long lived and ranged, I have desired to cull a few leaves, of all the different colors, descriptions and sizes, and so group them together, that the reader may see them in some measure as the author saw them, and be furnished with a correct miniature of that forest; while I would keep him constantly reminded, however, of the great object that carried me thither, and informed respecting the prosperity and progress of that object. [...] The fact that no American was ever a resident in that ancient and celebrated country before me, and the position which the Nestorian church now occupies in the sympathies of Christendom, and its relation to the prospective extension of the Redeemer's kingdom, are circumstances which will, perhaps, tend to impart a somewhat special interest to this volume' (pp. vi-vii).

Nearly twenty years later Perkins published Missionary Life in Persia: being Glimpses at a Quarter of a Century of Labors among the Nestorian Christians (Boston, 1861), a 'smaller volume' which 'serves as an epitome of his larger and better known Residence in Persia' (Smith P56).

Ghani, p. 300; Hiler, p. 699; Schwab 440; Smith, American Travellers, P57.
Publisher
Andover, New York, etc.: Allen, Morrill & Wardwell for Allen, Morrill & Wardwell, M.W. Dodd, et al.