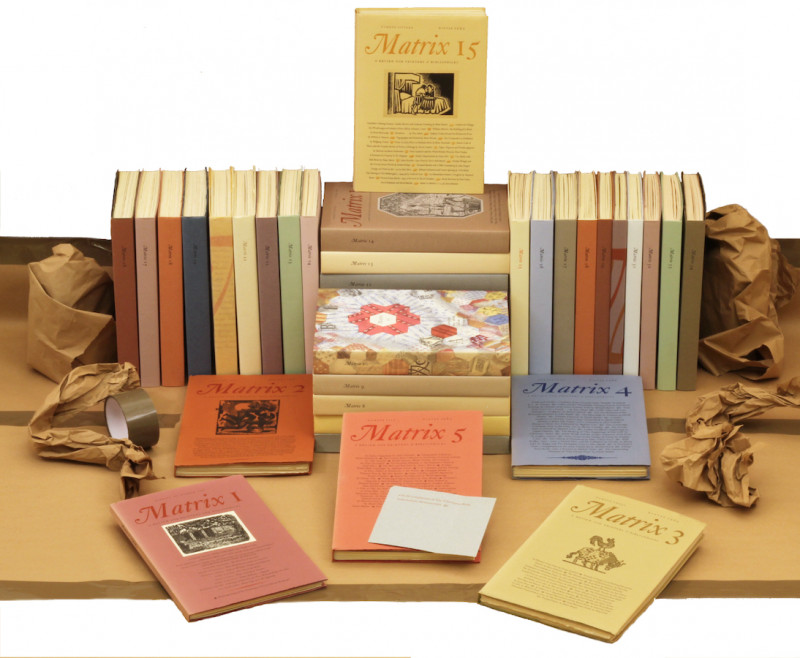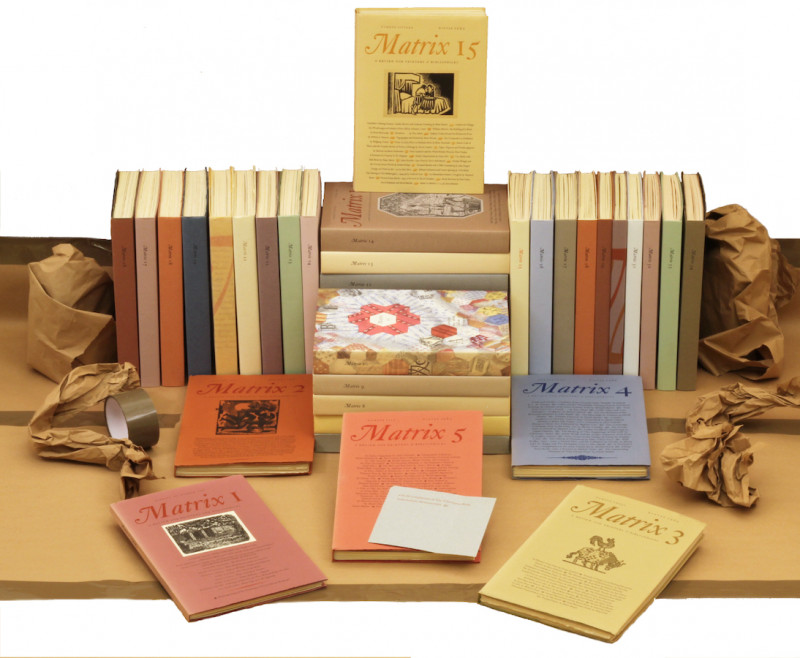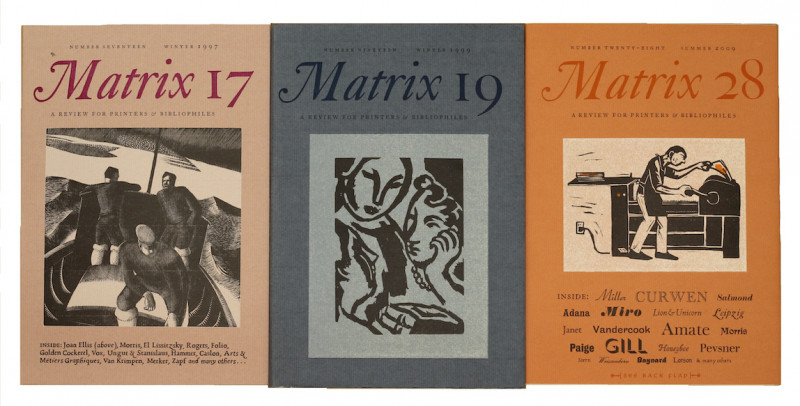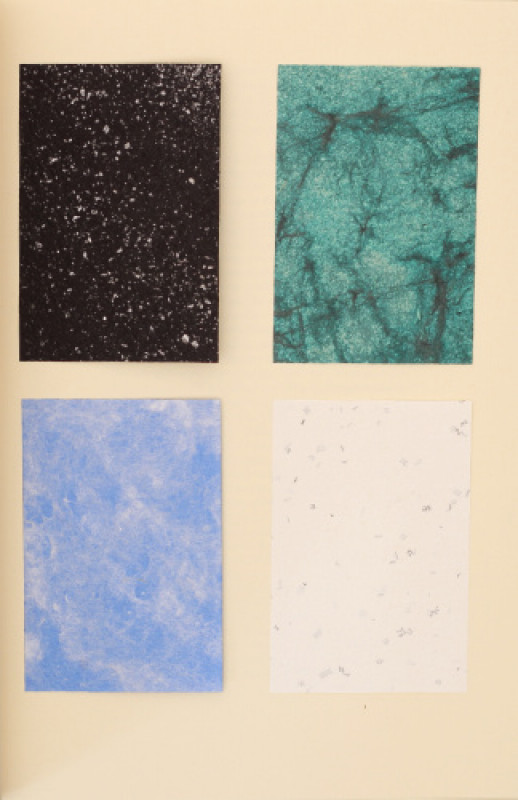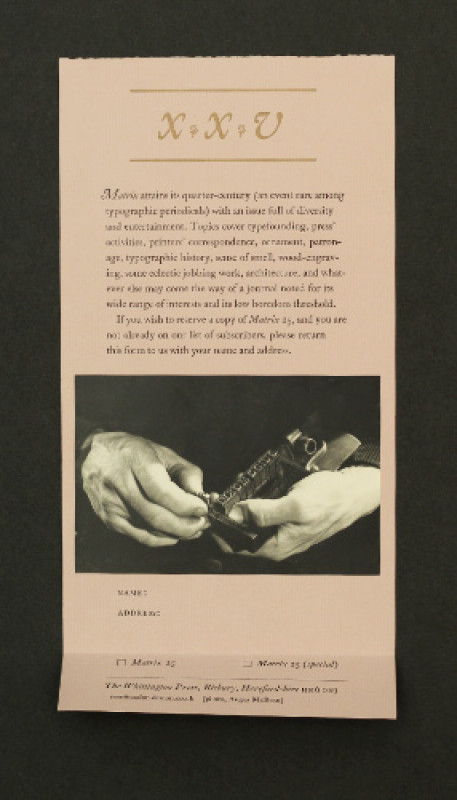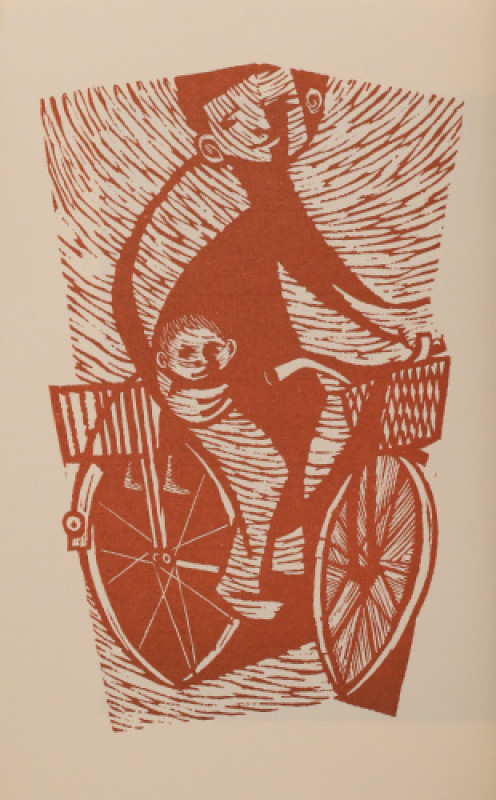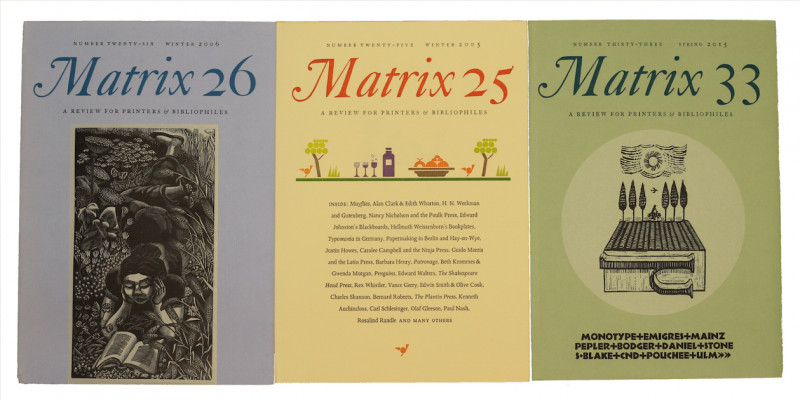 Book Description
34 volumes, quarto (277 x 193mm), printed in a number of letterpress types on a variety of mould- and hand-made papers and richly illustrated. No. 32, p. 64 misnumbered '67' as noted on erratum on the dustwrapper turn-in, no. 33, pp. 54 and 55 transposed as noted on erratum slip. (Final tipped-in illustration in no. 14 apparently omitted in publication, one folding plate adhering to its own margin in no. 27.) Loosely-inserted advertisements for all except no. 15 retained, together with letterpress-printed news-letters, catalogues from the Whittington Press, and advertisements for publications (3 of the loosely inserted prospectuses lightly creased or darkened at edges.) Plain coloured paper over thin pasteboard with printed wrap-around colour-printed dustwrapper fixed to spine (nos 1-6), decorated coloured paper over thin pasteboard with loose colour-printed dustwrappers (nos. 7-34), no. 20 with additional protective glassine wrapper, edges untrimmed, most with coloured endpapers. (Early issues with occasional light spotting on upper edges, some nos. with light bumping at edges or light creasing on spines of dustwrappers, dustwrappers of nos 1-9 very lightly creased at edges and spines slightly faded, dustwrapper of no. 8 with small cut without loss, very small mark on dustwrapper of no. 17.) A very good, clean set.

Provenance: Jeremy Michael Wilson (1944-2017, bookplate inside upper cover of no. 1; subscribers' letter regarding no. 4 addressed by hand to Jeremy Wilson and signed by Rosalind Randle in no. 4, one loosely-inserted autograph letter signed from John Randle to Wilson in no. 5 together with photocopy of the Times Literary Supplement review of the number mentioning Wilson's article, one loosely-inserted autograph Christmas notecard signed by John Randle from the Whittington Press to Wilson in no. 18, and one loosely-inserted autograph notecard signed from John Randle to Wilson in no. 23).
Dealer Notes
A COMPLETE SET OF MATRIX DOWN TO 2016, FROM THE LIBRARY OF JEREMY WILSON, A CONTRIBUTOR AND THE CO-FOUNDER OF THE CASTLE HILL PRESS

Reprint of no. 1 and first editions of nos 2-34, each limited to between 450 and 975 copies (no. 1 numbered 30 of 450, no. 2 numbered 266 of 450, no. 3 marked 'Presentation Copy', no. 4 numbered 500 of 590, and nos 5 and 6 identified on limitation statements as a 'Contributor's copy').

'Issued annually since 1981, Matrix has made distinguished contributions to the study, recording, preservation, and dissemination of printing history, and has done so utilizing a remarkable combination of authoritative scholarship and fine printing' (citation by the American Printing History Association on the award of its Institutional Award to the Whittington Press in recognition of Matrix in 2009). Published by the Whittington Press and edited by John Randle, the co-founder of the press, Matrix is 'almost certainly the last typographic journal to be printed by letterpress from metal type' (Whittington Press website), and is celebrated as much for the importance of its content as for its handsome production. Matrix's contributors include notable printers, illustrators, artists, engravers, paper makers, librarians, and booksellers, who engage with all of the major private presses and a large number of the small presses as well as presenting a number of often otherwise unpublished personal accounts and correspondences – from Richard Kennedy's account of 'My First Day at the [Hogarth] Press' illustrated with a line drawing of Virginia Woolf (no. 1) to Peyton Skipwith, 'Correspondence with Edward Bawden, 1972-1989' (no. 34). Illustrations of types, proofs, presses, and workshops join fonts often printed from the original types and other materials produced specifically in limited edition. Bibliographies published in Matrix define it also as a reference work (see, for example, David Butcher's 'A Bibliography of the Books of J.G. Lubbock' in no. 14).

Matrix is notably international in outlook, with contributions on printing, publishing, and illustration in Germany, Italy (including articles on decorated papers), America, Brazil, Japan, China (including Chinese woodblock printing), Taiwan (including ceremonial and patterned papers), many with samples and illustrations. Indeed, thanks not only to the wealth of contributions – the Whittington Press estimated that in 2011 it contained some 7,000 pages and 800 articles – but also its 'innumerable broadsides, tip-ins and colour plates', Matrix is an unparalleled resource and visual guide to the history and developments in British and international private press printing: '[i]t is this third-dimensionality that gives Matrix [...] its unique flavour' (Whittington Press website).

The Whittington Press was founded by John and Rosalind Randle in 1971 in the Gloucestershire village of Whittington. Its first book, Richard Kennedy's A Boy at the Hogarth Press (1972), was followed by a number of highly-regarded publications. Matrix was a success from its first appearance in 1981, and the first issue – which had been produced in an edition of 350 copies in response to interest expressed by prospective subscribers to an advertisement in American Fine Print – was quickly sold out (this set includes the 1985 reprint of the rare first issue).

This is a complete set from 1981 to 2016, and is an association set from the library of Jeremy Wilson, a contributor to Matrix, the editor of the Whittington Press edition of T.E. Lawrence's Letters to E.T. Leeds (1988), and co-founder of the Castle Hill Press. In addition to Letters to E.T. Leeds, Wilson was also the editor of T.E. Lawrence's Minorities (London, 1971), and the author of the National Portrait Gallery catalogue T.E. Lawrence: Lawrence of Arabia (London, 1988) and the authoritative biography Lawrence of Arabia: The Authorised Biography of T.E. Lawrence (London, 1989). Jeremy Wilson and his wife Nicole founded the Castle Hill Press in 1990, which has published finely-printed scholarly editions of works by Lawrence and the definitive series of Lawrence's letters. In 1985 Wilson contributed 'T. E. Lawrence and the Printing of Seven Pillars of Wisdom' to Matrix no. 5 (pp. 55-69), and this and the following issue (which includes Michael Hutchin's article 'Memories of T.E. Lawrence, and Gregynog') are identified on the limitation pages as 'contributor's copies' (a loosely-inserted card from the Whittington Press also enquires about the possibility of further contributions).

Cf. O'Brien, T.E. Lawrence, G1648, G1666, G1685, G2328, sG0198, and sG0294.

Full details available on request. We look forward to advising on shipping options.
Author
RANDLE, John (editor).
Publisher
Andoversford and Risbury: The Whittington Press