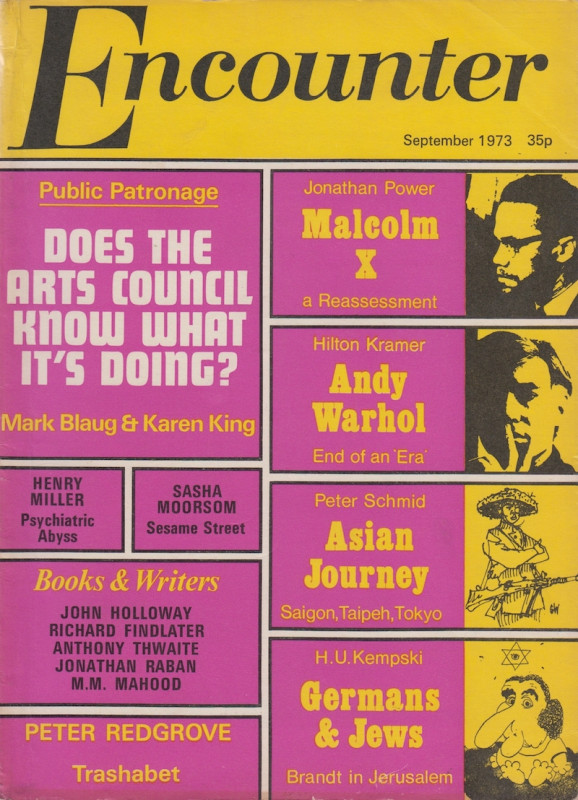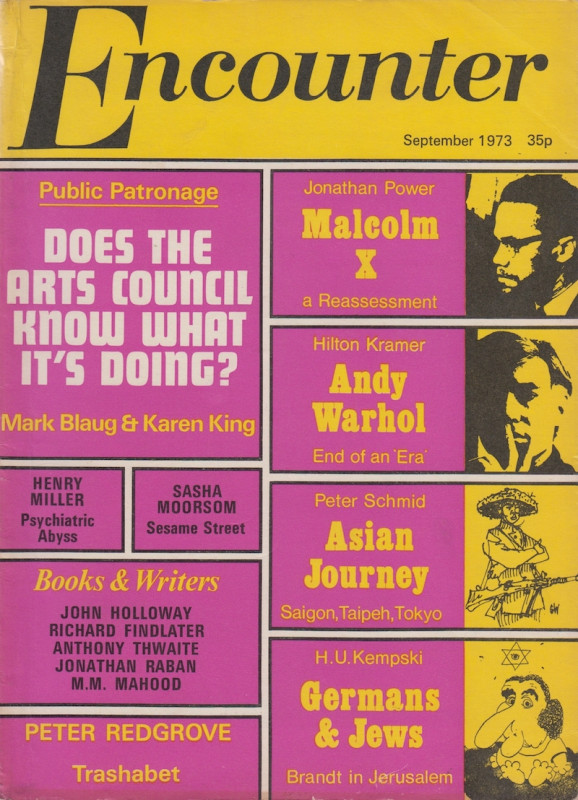 Book Description
LARKIN'S CITATION FOR THE AWARD OF AN HONORARY DOCTORATE TO JOHN BETJEMAN

LARKIN, Philip Arthur. 'On John Betjeman: A Citation', in Melvin J. LASKY and Anthony THWAITE (editors). Encounter XLI, No. 3 (September 1973), p. [17]. London: Watmoughs Limited for Encounter Ltd., 1973.

Quarto (248 x 180mm), pp. 96. Illustrations in the text. (Light marginal browning due to poor paper stock.) Original colour printed wrappers. (Spine slightly faded and with [?]production flaw at head, extremities slightly creased, light marks on lower wrapper.) A very good copy.
Dealer Notes
First publication. Philip Larkin (1922-1985) contributed a number of poems, articles, and reviews to Encounter, beginning with 'The Whitsun Weddings' in 1959 and ending with a review of Peter Ackroyd's T.S. Eliot in 1984, a year before his death. Sir John Betjeman had been appointed Poet Laureate in 1972 and the University of Hull, where Larkin had held the position of Librarian since 1955, awarded Betjeman an honorary DLitt in July 1973. At the ceremony Larkin – who 'was loyal to the work and example of John Betjeman, with whom he formed a mutual admiration society' (ODNB) – read his 'On John Betjeman: A Citation', which opens with the words '[i]t is not easy to sum up in a few minutes the achievement of a man of such celebrated and individual quality as Sir John Betjeman, and the task is made no lighter by the frivolous spanners Sir John himself has from time to time seen fit to throw into the machinery of assessment'.

Although 'A Citation' was 'issued for the ceremony itself in a 3ff. mimeographed form', its appearance in this issue of Encounter constitutes the first publication of the text (cf. Bloomfield C426; the text also subsequently appeared in the University of Hull Gazette vol. XVI, No. 1 (Autumn term, 1973), pp. 17-19).

Bloomfield, Philip Larkin (2002), C424.
Author
LARKIN, Philip Arthur
Publisher
London: Watmoughs Limited for Encounter Ltd.