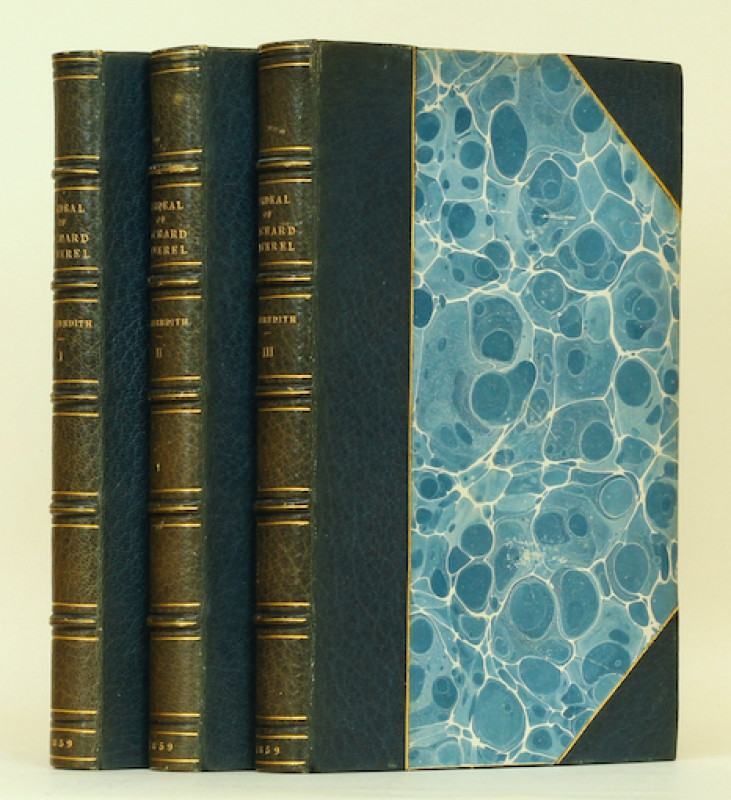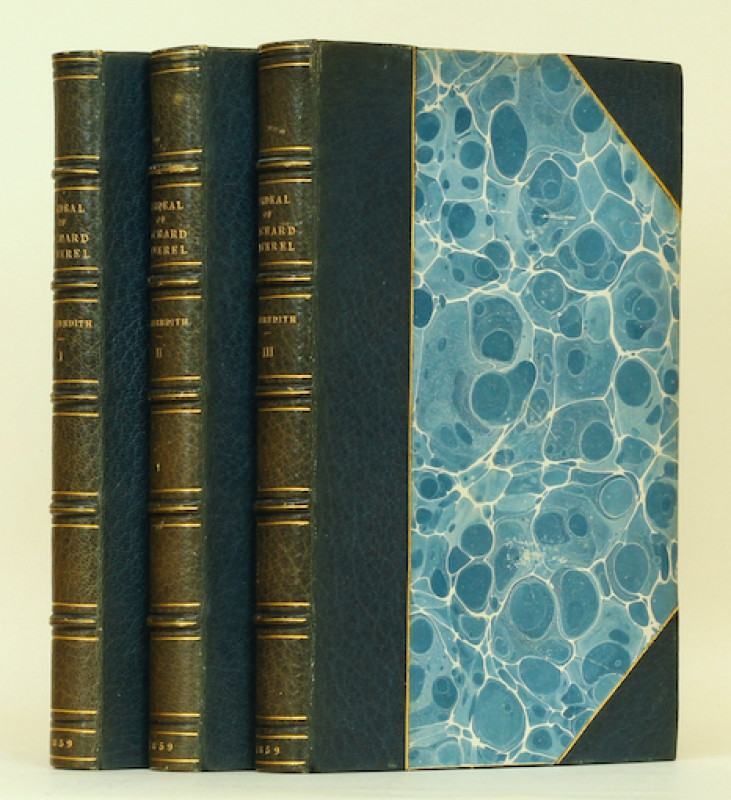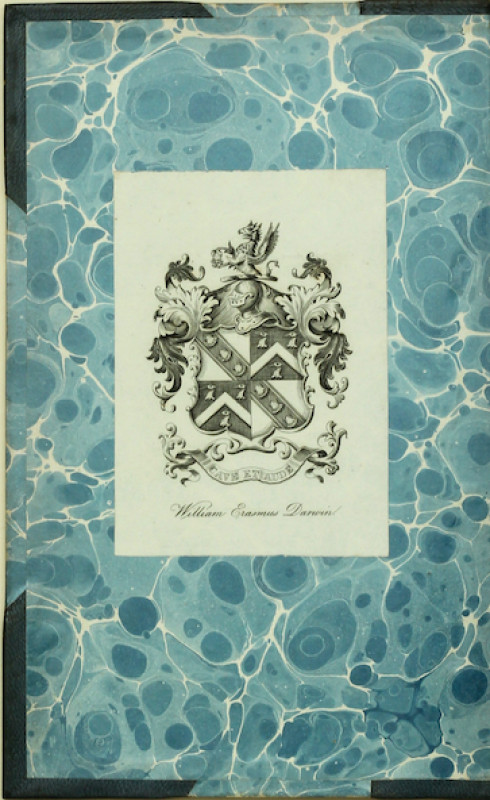 Book Description
3 volumes, octavo (196 x 123mm), pp. I: iv (title, imprint, contents), 303, [1 (imprint)]; II: iv (title, imprint, contents), 348; III: iv (title, imprint, contents), 395, [1 (blank)]. (Some scattered spotting, a few light marks, short tear on I, E3.) Late 19th-/early 20th-century half blue crushed morocco gilt over marbled boards by Roger de Coverly with his stamp on the front free endpapers, spines gilt in compartments, lettered in gilt directly in 2 and dated in gilt directly at the foot, top edges gilt, marbled endpapers. (Extremities very lightly rubbed, corners minimally bumped, spines a little darkened.) A very good set in a handsome binding by Roger de Coverly. Provenance: William Erasmus Darwin (1839-1914, engraved armorial bookplates; by descent to his great-nephew:) – Stephen John Keynes OBE, FLS (1927-2017).
Dealer Notes
A HANDSOME SET OF MEREDITH'S 'STARTLINGLY ORIGINAL WORK' BOUND BY ROGER DE COVERLY, FROM THE LIBRARIES OF W.E. DARWIN AND STEPHEN KEYNES

First edition. The first full-length novel by Meredith (1828-1909), The Ordeal of Richard Feverel was written between August 1857 and June 1859 when he was living in Chelsea, and 'is a startlingly original work, particularly in its stylistic diversity and sexual frankness, with a rich literary genealogy that includes "new comedy" as well as the novel of education and chivalric romance. Elements of his philosophy, which became influential, were already distinctively demonstrated. The commitment to trust in natural energy and instinct over the constraints of system and reason, reiterated through all Meredith's writing, encouraged belief in the persistence of mystery and wonder in the natural world without requiring adherence to Christian myth (Darwin's On the Origin of Species was published in the same year). Feverel's originality was recognized, but at the cost of some notoriety. "I am tabooed from all decent drawing-room tables" (Letters, 1.39), Meredith lamented when Mudie's circulating library, which had taken 300 copies, withdrew the novel. Though he revised Feverel several times, he never modified the treatment of Richard's adultery or the glimpses of the demi-monde which were presumably the source of offence'. Despite the adverse reaction in Britain, translations did appear in France in 1865 ('severely compressed' according to Collie) and Italy in 1873, and Meredith then rewrote it for publication in Tauchnitz' 'Collection of British Authors' series (1875). The Tauchnitz text was used (with some minor changes) for the second British edition, which was issued by Kegan Paul in 1878, and Collie notes that 'when Meredith revised The Ordeal of Richard Feverel he did not delete or change those parts of the story previously judged to be offensive to the British matron. The changes, which were the beginning of a longish process of emendation, were structural and stylistic. They involved the condensing of the first four chapters and innumerable minor shifts of emphasis, but not the deletion of chapter xix, which did not occur until 1885' (ODNB). The first edition of The Ordeal of Richard Feverel is rare, and Sadleir ranked it the fourth rarest of Meredith's works, observing of it and four of Meredith's other books that '[f]ew Victorian fictions are more seldom seen' (I, p. 380).

This set is handsomely bound in half crushed morocco by the noted bookbinder Roger de Coverly (1831-1914), who trained with Joseph Zaehnsdorf and J. & J. Leighton before establishing his own business in 1863. A profile published in The British Bookmaker stated that 'the business is still not very large, but rather select, and numbers among its customers some very eminent names' (vol. V (1892), pp. 179-180 at p. 180), including Archibald, 5th Earl of Rosebery, William Morris, and T.J. Cobden-Sanderson (who became de Coverly's pupil). It seems likely that the binding on this set was commissioned by W.E. Darwin, the oldest son of Charles Darwin, whose observations on his son's development were published in The Expression of the Emotions in Man and Animals (London, 1872) and 'A Biographical Sketch of an Infant' (Mind, no. VII (July 1877), pp. 285-294). In Period Piece (London, 1952) his niece Gwen Raverat recalled the eccentricities of her 'really first-class uncle' (p. 181) and his 'unself-consciousness', relating that at Charles Darwin's funeral in Westminster Abbey, William Darwin 'was sitting in the front seat as eldest son and chief mourner, he felt a draught on his already bald head; so he put his black gloves to balance on the top of his skull, and sat like that all through the service with the eyes of the nation upon him' (p. 176). This set then passed by descent to W.E. Darwin's great-nephewStephen Keynes, a noted bibliophile and collector, the founder and chairman of the Charles Darwin Trust, and a member of the Roxburghe Club.

The copy of volume III in this set does not include the 16 pages of advertisements dated 1 July 1859 at the end, which is present in the Sadleir set and recorded in 'some copies' by Collie.

Buxton Forman, George Meredith, 5; Collie, George Meredith, IIIa; Sadleir, 1701.
Publisher
London: John Edward Taylor for Chapman and Hall