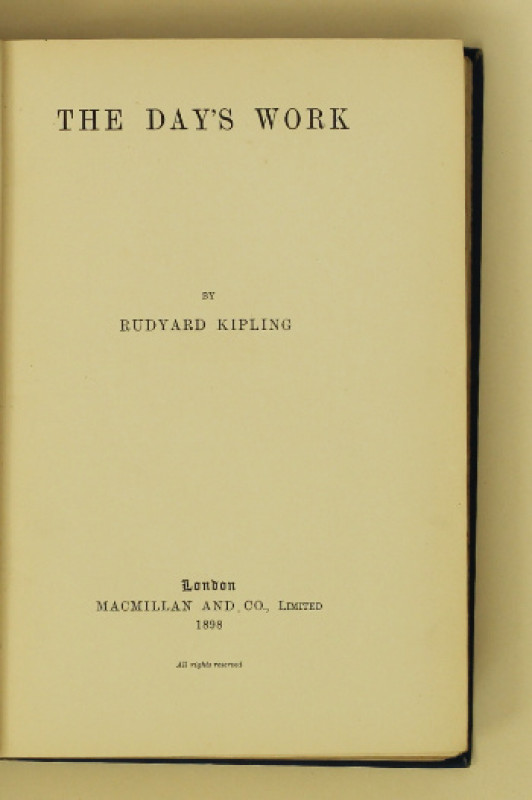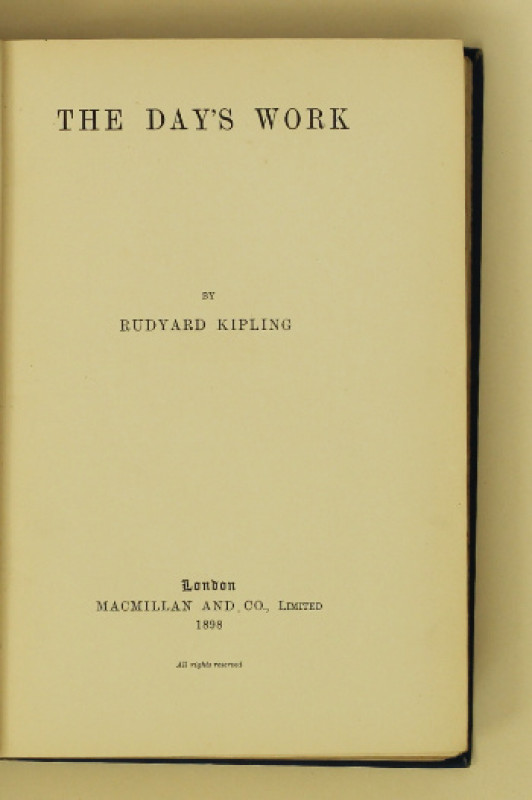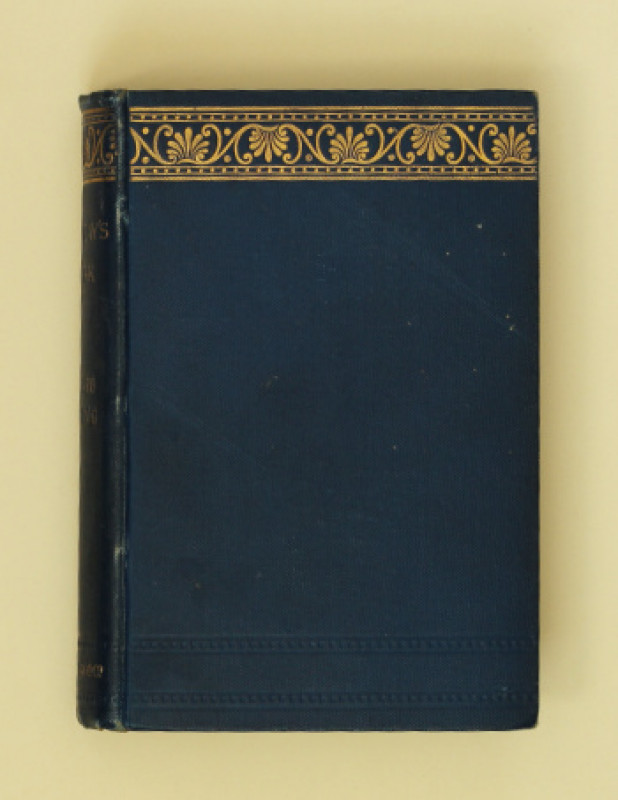 Book Description
FIRST ENGLISH EDITION OF A COLLECTION OF STORIES BY KIPLING, IN THE ORIGINAL CLOTH

Octavo (193 x 127mm), pp. [4 (blank l., half-title, publisher's device on verso, title, verso blank, contents, verso blank)], [1]-381, [1 (blank)], [1]-[16] (publisher's catalogue dated '15-9-98'). (Occasional light spotting or marking, small marginal tears or paper-flaws on ll. Z5 and 2B8.) Original blue cloth gilt, upper board with upper border of gilt palmette band and lower border of blind rules and dots, lower board with publisher's device in blind, spine lettered in gilt and decorated in gilt and blind, top edges gilt. (Light offsetting on endpapers, some light marking, extremities lightly rubbed and bumped, slight cracking on upper hinge.) A very good copy. Provenance: John Harries (late Waters), Westbourne Grove, London (contemporary bookseller's ticket on upper pastedown).
Dealer Notes
First English edition, revised and corrected. The Day's Work is a collection of twelve short stories by Rudyard Kipling (1865-1936), most of which were written by the young author in Brattleboro, VT (where Kipling and his wife had settled after their marriage in 1892), at a time when his critical and popular reputation was firmly established (during this period Kipling also wrote The Jungle Book and The Second Jungle Book). The stories collected here – 'The Bridge-Builders', 'A Walking Delegate', 'The Ship that Found Herself', 'The Tomb of his Ancestors', 'The Devil and the Deep Sea', 'William the Conqueror', '.007', 'The Maltese Cat', '"Bread upon the Waters"', 'An Error in the Fourth Dimension', 'My Sunday at Home', and 'The Brushwood Boy' – had all been published in magazines between late 1893 and December 1897, and the book was first published in the United States in 1898.

The present, English edition appeared in September 1898, and '[t]he English edition was set up from the corrected proofs of the American edition; but the proofs were corrected a second time for the English edition, and a comparison shows many changes. In "The Brushwood Boy" many passages which were printed in The Century Magazine are omitted. The Academy, October 15, 1898, printed a facsimile of the first page of the manuscript of ".007," showing many omitted portions'.

Livingston 170; Martindell 65.
Author
KIPLING, Joseph Rudyard
Publisher
London: R. & R. Clark, Limited for Macmillan and Co., Limited