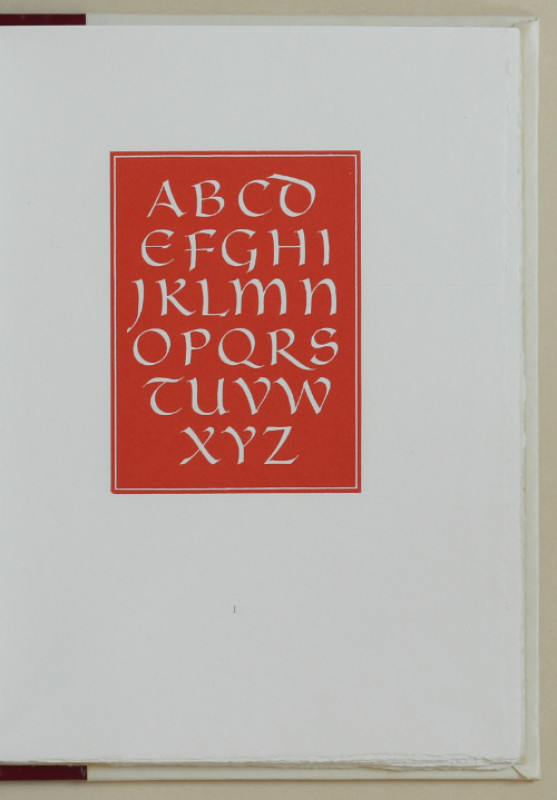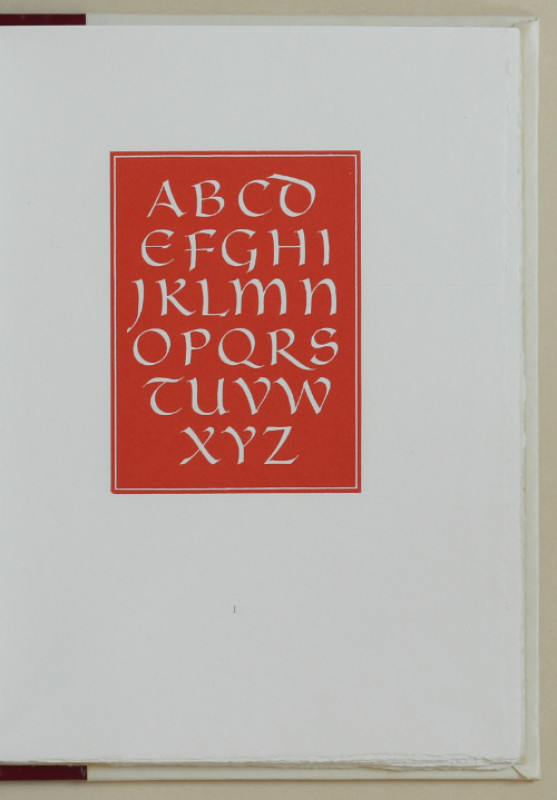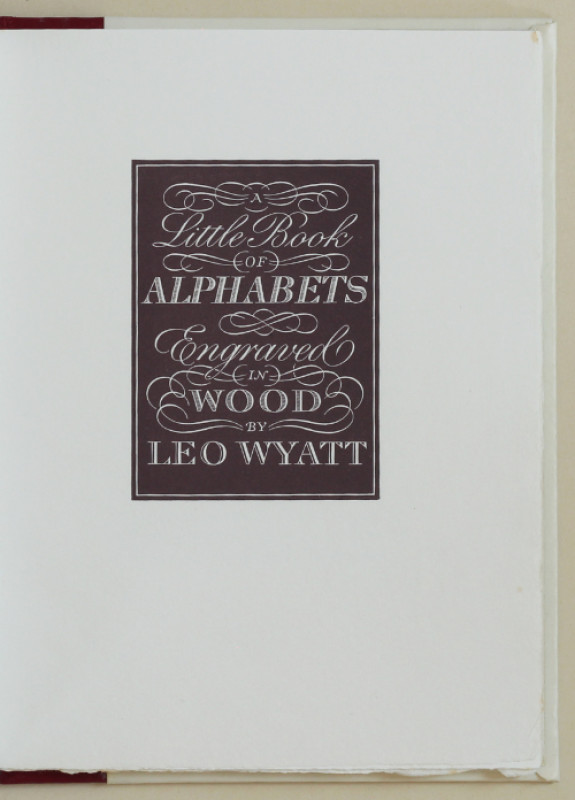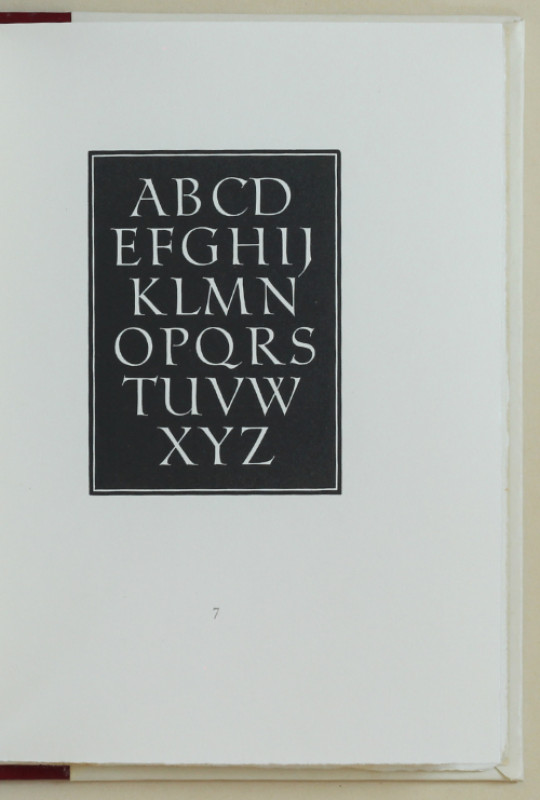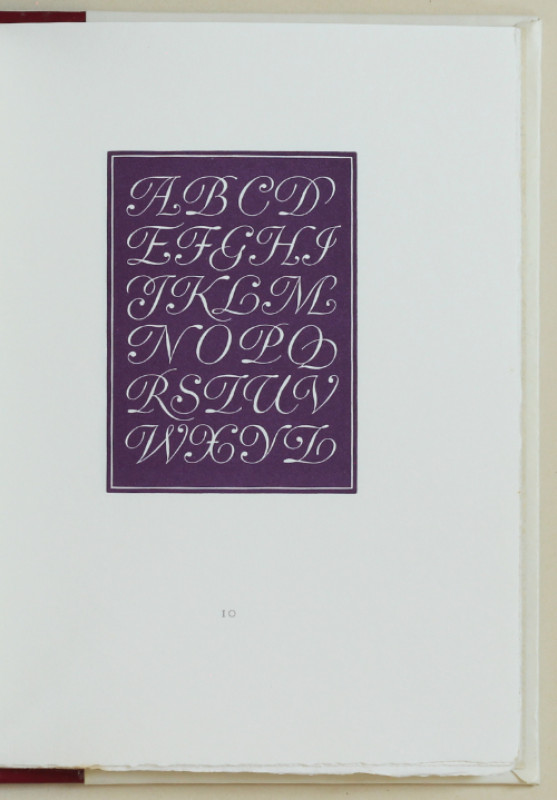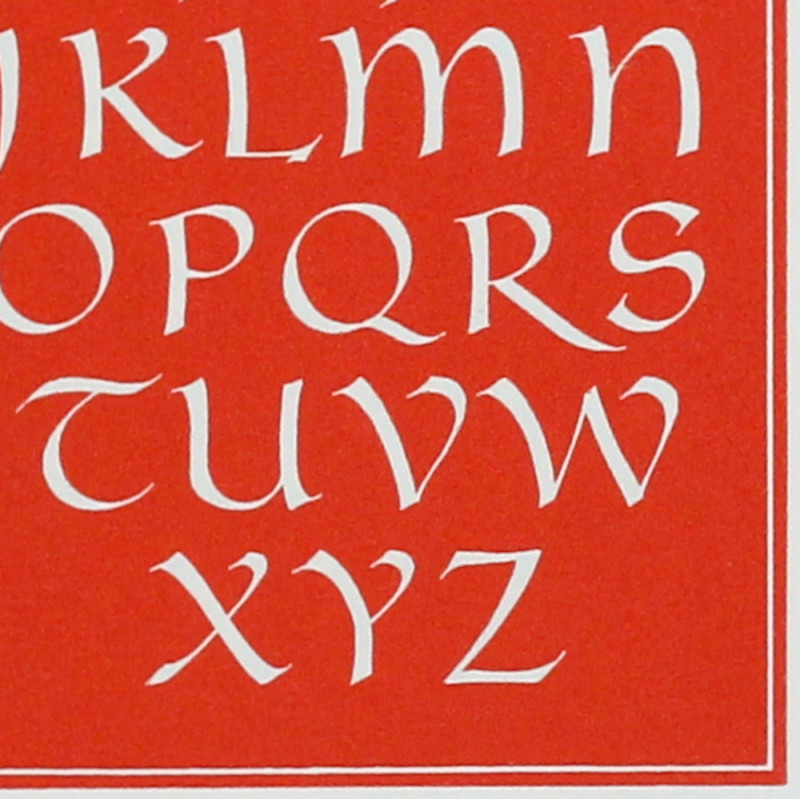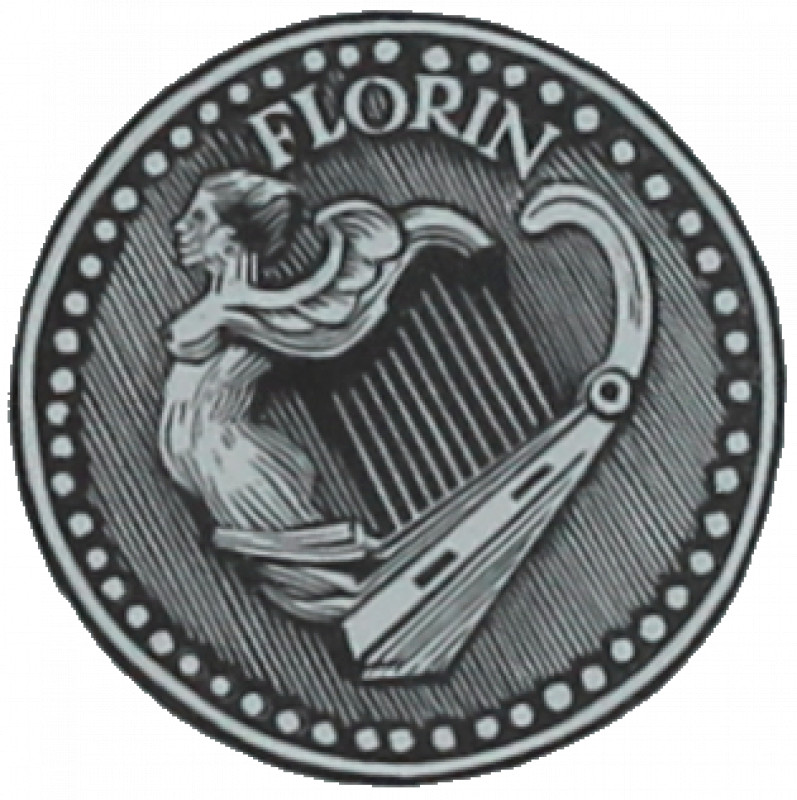 Book Description
'THE CREATIVE POSSIBILITIES OF LETTER-FORMS ENGRAVED IN WOOD' AS EXPRESSED BY LEO WYATT AND PRINTED BY THE FLORIN PRESS IN AN EDITION OF 150 COPIES

Quarto (188 x 142mm), pp. [2 (blank l.)], [6 (title, verso blank, additional-title, verso blank, dedication, verso blank)], [4 (introduction)], [2 (contents, verso blank)], [24 (alphabets numbered 1 to 12 and printed on rectos only)] [2 (colophon, verso blank)], [2 (imprint, verso blank)], [2 (blank l.)]. Wood-engraved additional title and 12 numbered plates of alphabets printed in colours, all by and after Wyatt, and integral to the quires, wood-engraved press device by and after Simon Brett. Original maroon calf backed parchment boards by Smith Settle, gilt morocco lettering-piece on upper board, spine lettered in gilt, top edges cut, others uncut, cream endpapers, paper-covered slipcase. (Slipcase slightly rubbed, some light spotting on binding and slipcase.) A very good copy. Provenance: David and Diana Wilson.
Dealer Notes
First edition, no. 120 of 150 copies initialled by Graham Williams. The engraver and designer Leo Wyatt (1909-1981) first learned engraving in a commercial context at Dacier Box Ltd while also studying at the Central School of Arts and Crafts under G.T. Friend and winning several scholarships. He then worked as a freelance designer and engraver in and around London. After living in South Africa from 1947 onwards he returned to England as a visiting lecturer at the College of Art and Industrial Design in Newcastle upon Tyne. (See Elizabeth Lomas, Guide to the Archive of Art and Design, Victoria & Albert Museum (London and New York, 2001), no. 235).

As the introduction explains, 'Leo Wyatt was in his late fifties when he turned to wood engraving from his established career designing and engraving steel dies and copperplates for the printing trade. Actively encouraged by Beatrice Warde […] and fired by a marginal note' in Paul Standard's Calligraphy's Flowering, Decay and Restauration 'that described Reynolds Stone as "seemingly the sole practitioner of the Chancery Cursive letter in engraved form today", Leo Wyatt took up a piece of end grain boxwood and began' (Introduction). Over the following years, Wyatt became best known for his aphorisms and alphabets which were printed by Will Carter at the Rampant Lion Press and others.

It was the enthusiastic reception of his work in the United States that 'encouraged him to begin work on A Little Book of Alphabets. The twelve alphabets and their title-page were all engraved on boxwood, supplied by S.T.E. Lawrence, in the studio at his home in Newcastle upon Tyne. Outline designs of the alphabets were first incised on mica, then dusted with chalk and transferred to the prepared blocks'. The blocks were essentially completed by October 1978, but were not published during his lifetime, although his widow Betty's recollections 'make it clear that Leo Wyatt intended this book to express a late flowering of confidence and to show the creative possibilities of letter-forms engraved in wood' (Introduction). This first edition by the Florin Press was printed by hand on two Albion presses from the original wood blocks, and the coloured inks were largely ground by hand from dry pigment and prepared varnish. The text was handset in Original Janson Antiqua, and the paper is the first made specially for the Florin Press by Barcham Green. This was also the first use of the press device cut for the Florin Press by Simon Brett.

This copy is from the library of the late David and Diana Wilson. David Wilson was collector of private press publications, and also a friend and collaborator of Graham Williams, the founder of the Florin Press.
Publisher
Biddenden: The Florin Press