KOLBE, Friedrich Wilhelm. 'On the Bearing of the Study of the Bántu Languages of South Africa on the Aryan Family of Languages', offprint from <I>Journal of the Royal Asiatic Society of Great Bri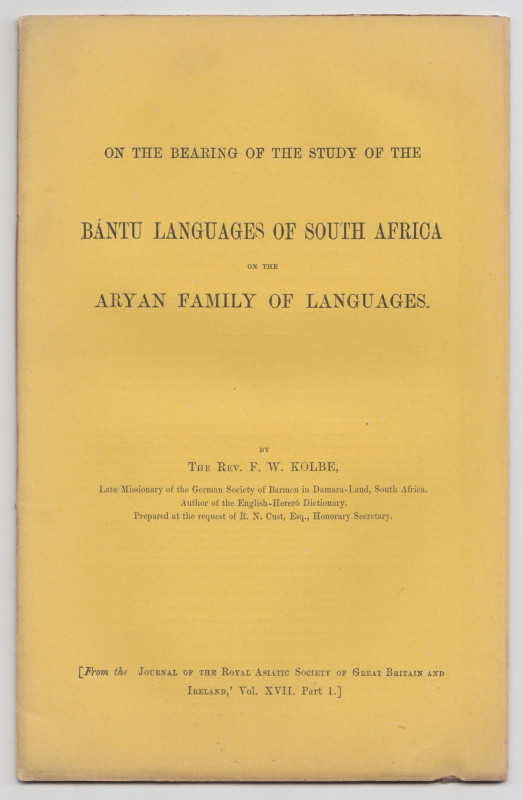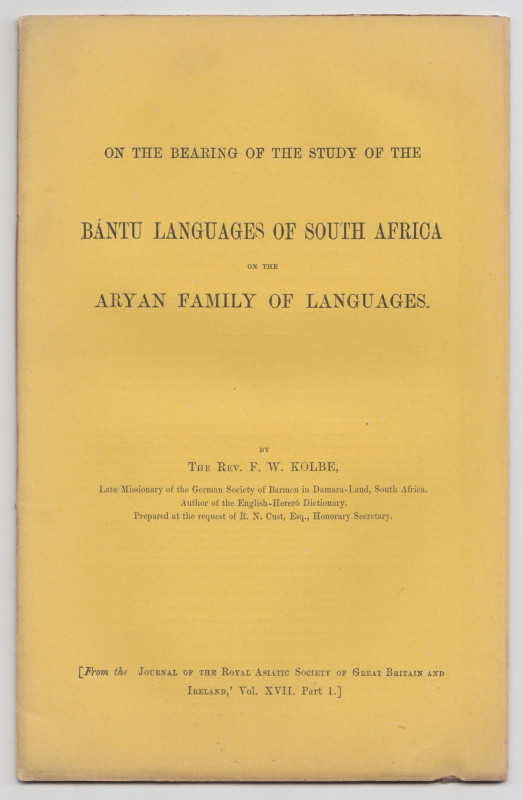 Book Description
Octavo (221 x 143mm), pp. 1-19, [1 (blank)]. Original yellow printed wrappers paginated [1]-4, inside of upper wrapper and lower wrapper with advertisements for Trübner's Oriental Series, uncut and entirely unopened. (Wrappers slightly dusty at edges, a few small marks, small bump at lower edge of upper wrapper, minimally affecting lower margins of text.) A very good, entirely unopened copy in the original wrappers.
Dealer Notes
First separate edition. Kolbe (1821-1899) originally trained as a printer in his native Westphalia, before becoming a minister and travelling to Namibia with the Rhenische Missionsgesellschaft (RMG) in 1848. In Namibia he worked at Otjikango, Okahandja, and Otjimbingwe, before leaving the RMG in 1852 to join the Congregational Church in the Cape Colony in South Africa, and from 1853 until 1856 he was a missionary with the London Missionary Society, before becaming a missionary of the Zionskerk in 1857. The work of proselytization and the desire to communicate in the vernacular forced Kolbe, like his fellow missionaries in Namibia, to learn Herero – a language unknown in Europe and therefore not taught to missionaries – through the languages he did know, leading to an empirical study of comparative philology, as he sought to trace connexions between Herero and other language groups.
In 1877 Kolbe he retired from missionary work due to ill health and moved to Wynberg, near Cape Town, where he pursued his linguistic interests more fully. He had previously published A Brief Statement of the Discovery of the Laws of the Vowels in Herero, a Dialect of South-West Africa, Bearing upon the Origin and Unity of Language (Cape Town, 1868) which was enlarged and republished the following year as The Vowels: Their Primal Laws and Bearing upon the Formation of Roots in Herero, a Dialect of South-West Africa (Cape Town, 1869), and, some years after his retirement, Kolbe published his monumental An English-Herero Dictionary with an Introduction to the Study of Herero and Bantu in General (Cape Town, 1883) – the first Herero-English dictionary.
In his introductory note to 'On the Bearing of the Study of the Bántu Languages of South Africa on the Aryan Family of Languages', R.N. Cust, the Honorary Secretary of the Royal Asiatic Society, explains that the article was prepared at his request and provides the context to it: '[i]n the Preface to his Dictionary [Kolbe] sets forth the principles, upon which the genius and laws of that language are based, the result of thirty years' reflection. He addressed me on the subject, and stated his conviction, that these laws apply as well to the origin of Aryan Languages, and indeed of Universal Language, and that, when that fact was acknowledged, Hereró would obtain its proper place in Philology. Not a single group of root-words in the Aryan family could, according to him, be properly understood without a knowledge of Bántu, especially of Hereró' (p. 1). Kolbe wished to publish a monograph on the origin, laws, and forms of Herero, and had asked whether Cust could help him to find a patron for the work; Cust doubted whether he could aid Kolbe, but 'encouraged him to prepare for the Journal of this Society an outline of his views on this important subject, which would at least bring them to the notice of the Scholars of Europe' (loc. cit.). Cust's strategy appears to have succeeded, and some three years later Trübner & Co published Kolbe's A Language-Study Based on Bantu or an Inquiry into the Laws of Root-Formation: The Original Plural, the Sexual Dual, and the Principles of Word-Comparison; with Tables Illustrating the Primitive Pronominal System Restored in the African Bantu Family of Speech (London, 1888).
The text of the journal issue has been reset and repaginated for this offprint, which is very rare in institutional collections: COPAC records only one institution in the UK holding the offprint (British Library, 2 copies), to which WorldCat adds two further examples in France and South Africa (Bibliothèque interuniversitaire de la Sorbonne and Stellenbosch University Library).
Publisher
[London: Royal Asiatic Society].