The next book fair will be EDINBURGH PREMIER (with ABA) on Fri 24th & Sat 25th March (
click here
for details).
CLICK
HERE
TO SEE DETAILS OF ALL OUR FAIRS. THE FEBRUARY ONLINE BOOK FAIR IS NOW OPEN. CLICK
HERE
TO FIND OUT MORE.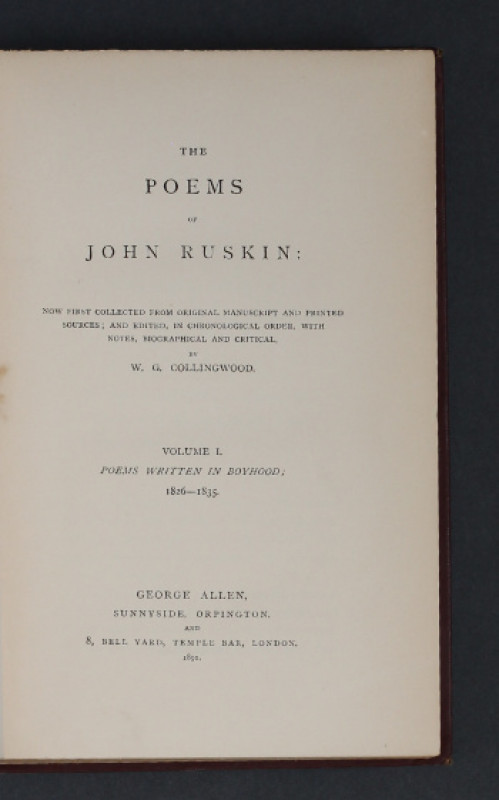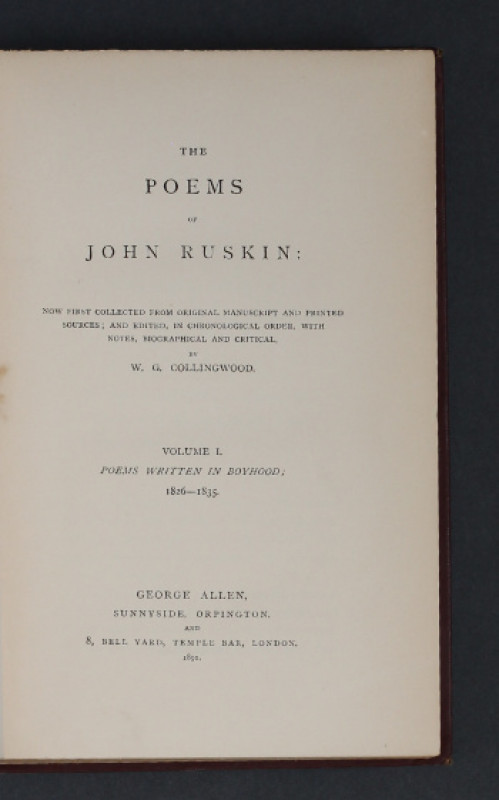 Book Description
THE FIRST COLLECTED EDITION OF RUSKIN'S POETRY, WHICH ENJOYED 'A NOTABLE SUCCESS'

John Ruskin, The Poems ... Now First Collected from Original Manuscript and Printed Sources; and Edited, in Chronological Order, with Notes, Biographical and Critical, by W[illiam].G[ershom]. Collingwood. Volume I. Poems Written in Boyhood; 1826-1835 [–Volume II. Poems Written in Youth; 1836-1845: and Later Poems]. Orpington and London: Ballantyne Press for George Allen, 1891.

2 volumes, octavo (188 x 122mm), pp. I: xx, 291, [1 (blank)]; viii, 360. Printed slip with copyright notice tipped onto gutter of I, [v]. 2 double-page facsimiles. (A few light marks, a few ll. slightly creased.) Original brown grained cloth, boards with borders of single blind rules, spines lettered and decorated in gilt, trimmed, some quires partially or entirely unopened. (Light spotting and offsetting on endpapers, a few light, near-imperceptible marks, spines slightly leant, some light rubbing and bumping at extremities.) A very good set in the original cloth.
Dealer Notes
First edition, octavo issue, one of 3,000 sets. This first collected edition of the poetry of John Ruskin (1819-1900) was edited the author, artist, and antiquary W.G. Collingwood (1854-1932), who had first met Ruskin while he was an undergraduate at Oxford in the early 1870s. At Oxford Collingwood attended Ruskin's lectures and (like his contemporary Oscar Wilde) worked on Ruskin's road at Hinksey. Collingwood became close to Ruskin – who would later recall him as 'one of the best and dearest of those Oxford pupils' (J. Ruskin, Works, ed. by E.T. Cook and A. Wedderburn (London, 1906), XXVI, p. 568) – and began to visit Ruskin at Brantwood in the Lake District. Following studies at the Slade School of Fine Art under Alphonse Legros between 1876 and 1878, Collingwood dedicated the 'succeeding years [...] to helping Ruskin. Collingwood stayed at Brantwood in 1881 as his assistant and travelled with him in the following year to Switzerland, where he filled his sketchbooks with details of French and Italian sculpture and collected material for his Limestone Alps of Savoy, published in 1884 as a supplement to Ruskin's Deucalion. [...] [I]n 1891 he moved to Lanehead, Coniston, to be even nearer to Ruskin. In this decade he edited a number of Ruskin's texts: Poems (1891), Studies in both Arts and Poetry of Architecture (1893), Verona and other Lectures (1894), and Lectures on Landscape (1897). His biography of Ruskin, published in 1893 and rewritten in 1900, became a standard work' (ODNB) and Collingwood organised a number of exhibitions of Ruskin's work in the early twentieth century.

Collingwood's edition of Ruskin's poems is divided into two volumes, the first comprising Ruskin's poems written in childhood (i.e. between the ages of seven and sixteen) – which includes his first publication in the Spiritual Times of August 1829 – and the second the poetry of his youth, composed between the ages of sixteen and twenty-six, when his interest in poetry declined (a fifteen-page appendix contains 'Poetry and Fragments of Later Years', written between 1846 and 1887). While a number of these poems had previously been published in the rare, privately-printed Poems which the author's father had prepared (against his wishes) in 1850 or in other works, Collingwood's edition also 'collected many obscure and unpublished verses' (T. Hilton, John Ruskin (New Haven and London, 2002), p. 868). The first volume also includes Collingwood's introduction, a catalogue of the manuscripts used as the basis for the text with their locations, and facsimiles of three of Ruskin's manuscripts, while both volumes contain supplementary biographical and critical notes. The edition was well-received and Timothy Hilton comments that Allen and Collingwood's 'handsome edition' was 'a notable success' (loc. cit.). This first edition of Ruskin's Poems appeared in three issues: a quarto edition of 800 sets in a half vellum binding, a quarto edition of 2,000 sets bound in cloth, and the present octavo edition of 3,000 sets bound in cloth.

Wise, John Ruskin, 1132, III.
Publisher
Orpington and London: Ballantyne Press for George Allen