Guide to Cairo and environs – Catalogues to the Museums of Egyptian Antiquities at Gizeh and Arab Antiquities at the Mosque of el Hakim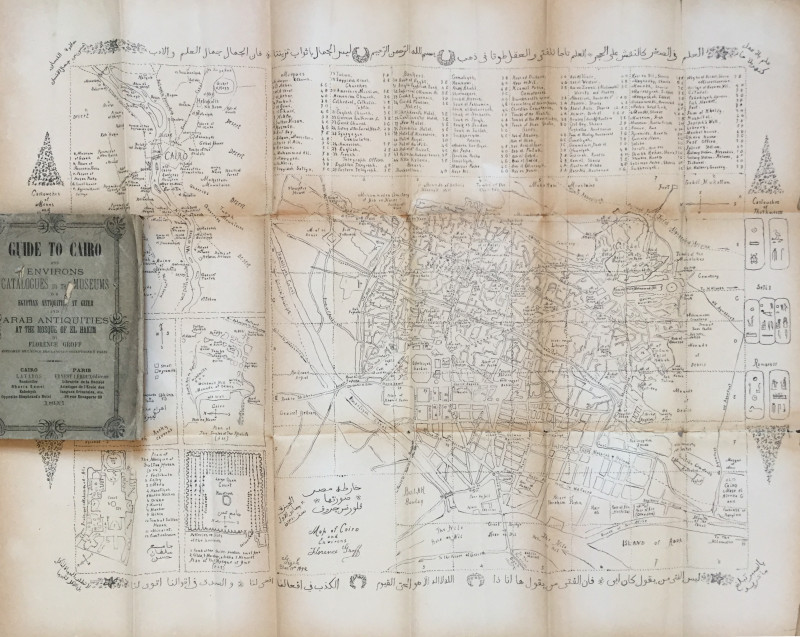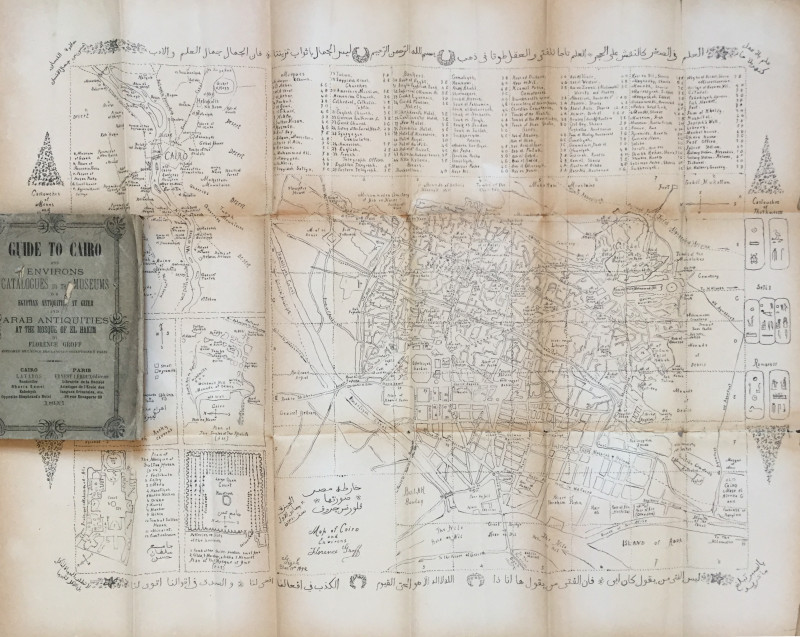 Book Description
[EGYPT] GROFF (Florence), LEROUX (ed. Ernest). Guide to Cairo and environs – Catalogues to the Museums of Egyptian Antiquities at Gizeh and Arab Antiquities at the Mosque of el Hakim, Presumed 2nd edition, a folding illustrative map 660 x 500mm with creasing browning and tears, Small 4to, 170 x 120mm, In original decorative green wrappers, couple of holes through the front cover, a single tear, showing creasing and wear, nicks to the spine, pages have occasional folds and pencil marks unaffecting the text, single larger stain on p.54, clean overall: in good overall condition for a fragile guide, pp.144[8], Egypt, pu. Lavados, 1895.
Dealer Notes
An unusual, locally printed guide with lithographic, illustrated map that was written by a female author at the turn of the century in Egypt. Groff's father – William – was an Egyptologist and it appears that Florence assisted with his and his mentor Gaston Maspero's work, being given credits for editing their journals. However, Groff deliberately avoids going into scholarly detail about the work on offer. She states in the introduction '...I have thought that others might feel as we have felt, the need of a small convenient guide.'

The guide covers a general description of Cairo (incl. descriptions of the principle mosques and tombs), currency exchanges, the Pyramids (including an interesting suggestion of climbing them as the view gives the tourist a better sense of their scale – something severely restricted nowadays!), the Sphinx, lists of the fetes, months and consulates, a room-by-room guide of the museum of Arab Antiquities and a catalogue of the Egyptian antiquities at the Museum of Gizeh, Gizeh itself, a short history of Egypt and basic vocabulary for travellers. It also includes a supplement for 1895 that covers changes at the Egyptian museum and a decorative map by the author (dated 19th Dec 1892).

Rare. Worldcat locates 3 holdings at the Bibliothèque Nationale de France, The University of Cairo and the Metropolitan Museum of Art.
Author
[EGYPT] GROFF (Florence), LEROUX (ed. Ernest).