[DANCE OF DEATH] TODTEN-TANTZ, wie derselbe in der löblichen und weit-berühmten Stadt Basel, als ein Spiegel menschlicher Beschaffenheit, gantz känstlich gemahlet und zu sehen ist.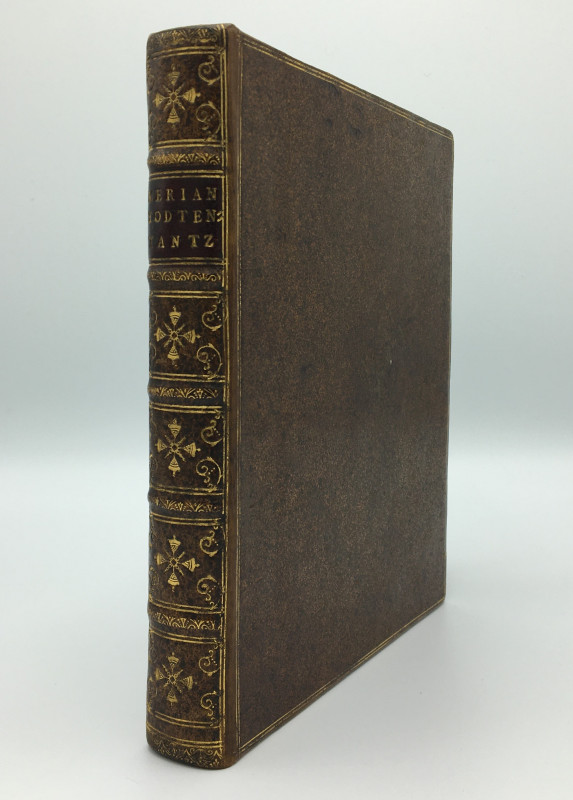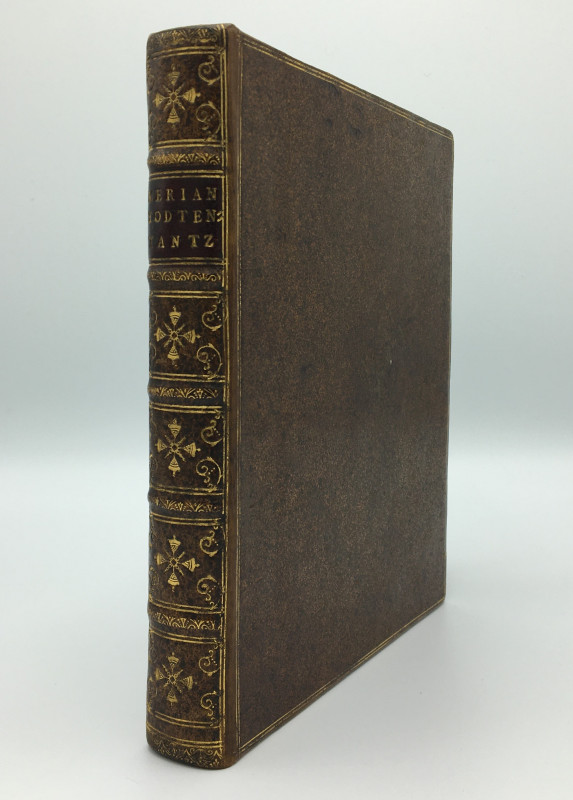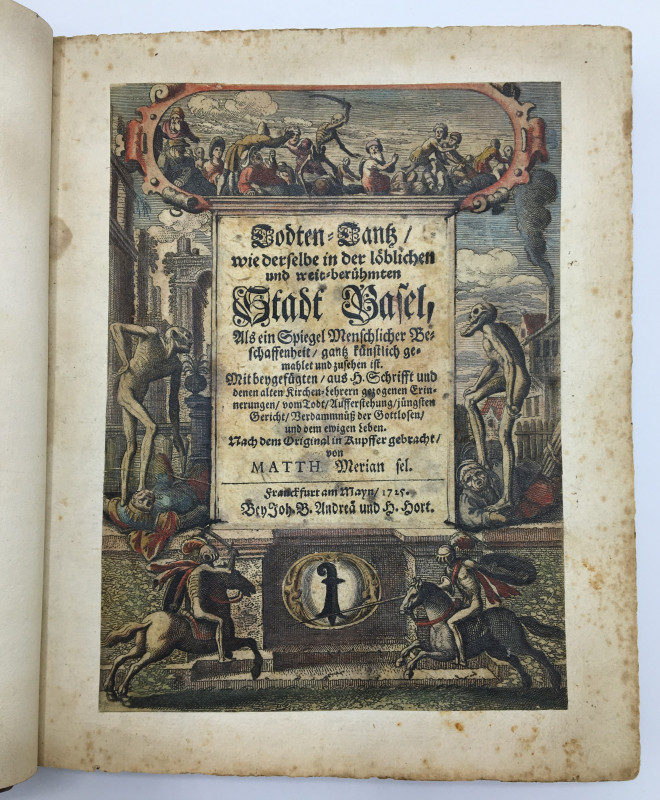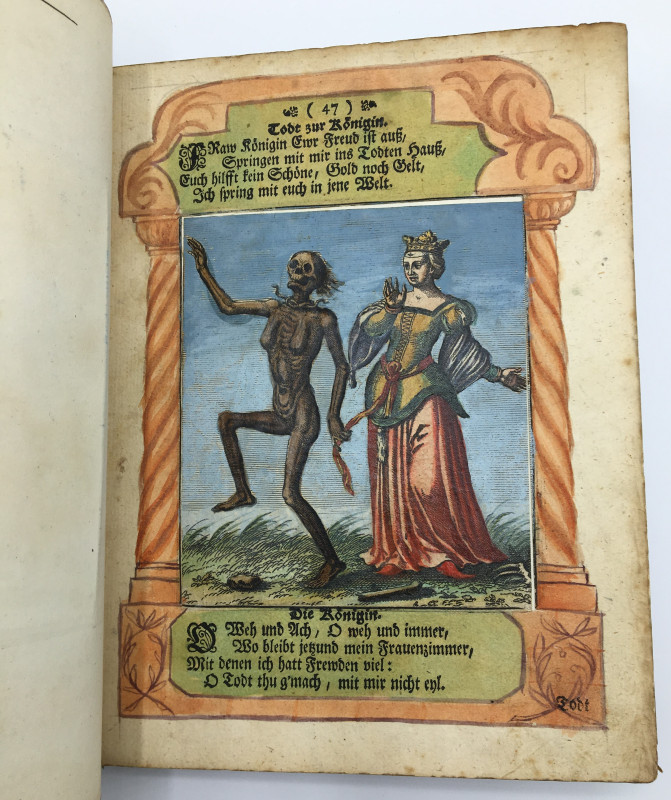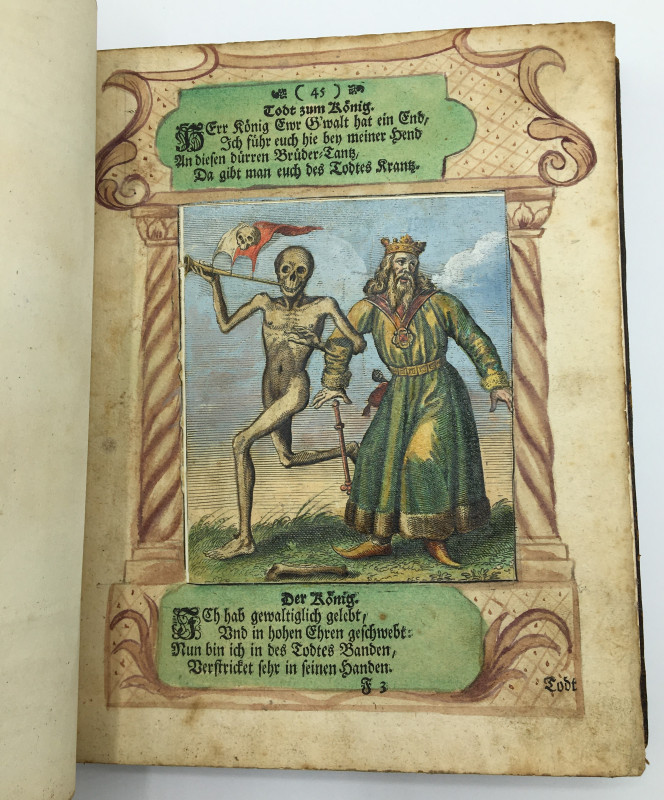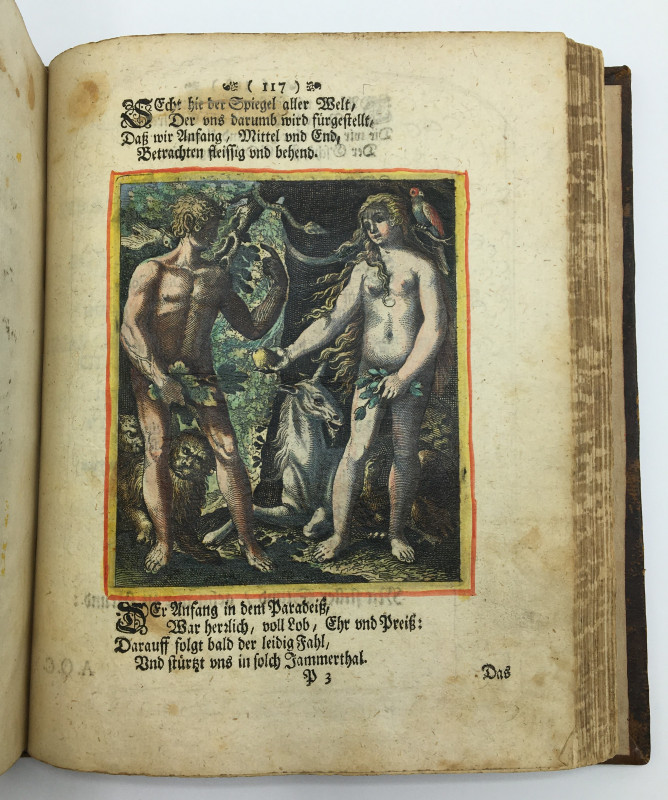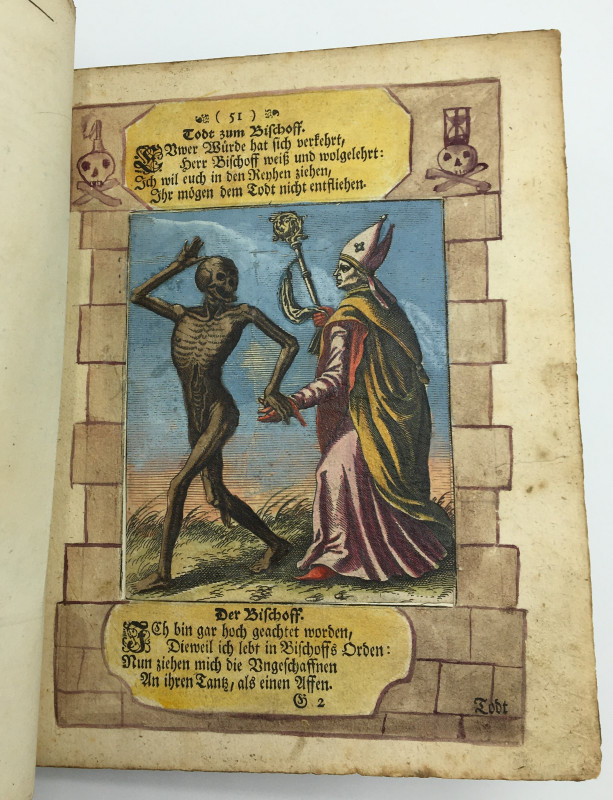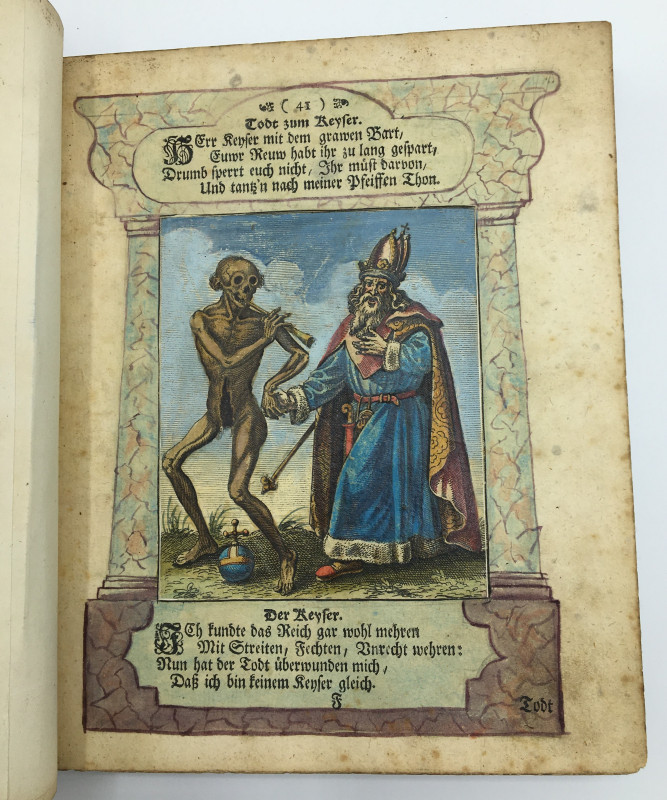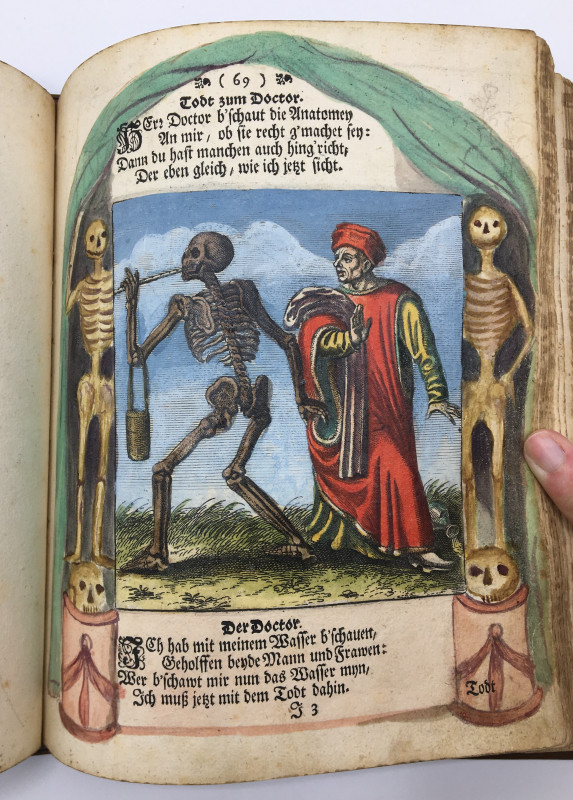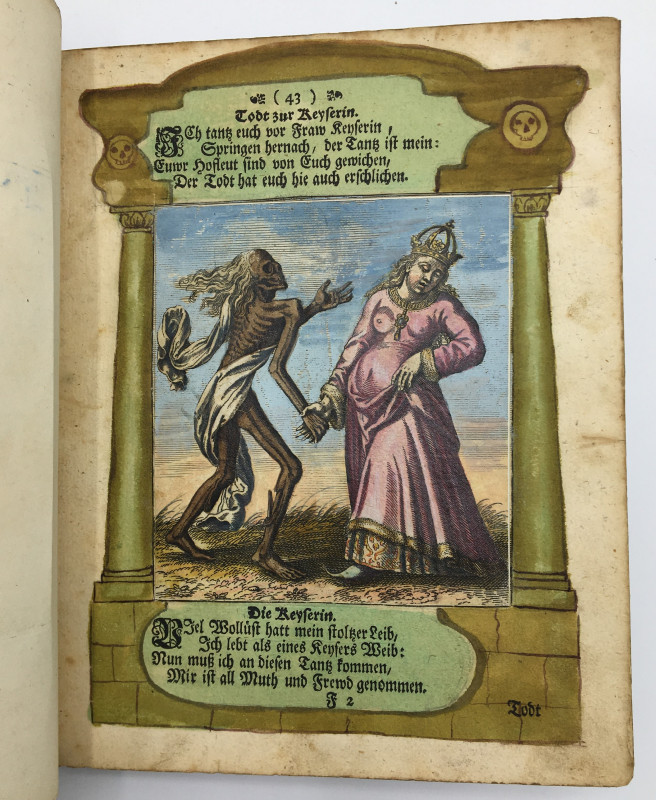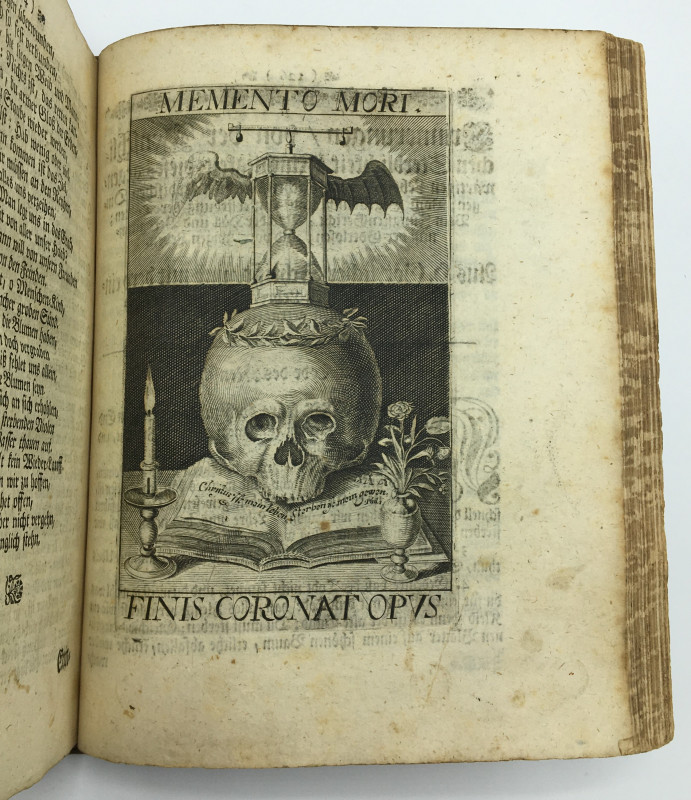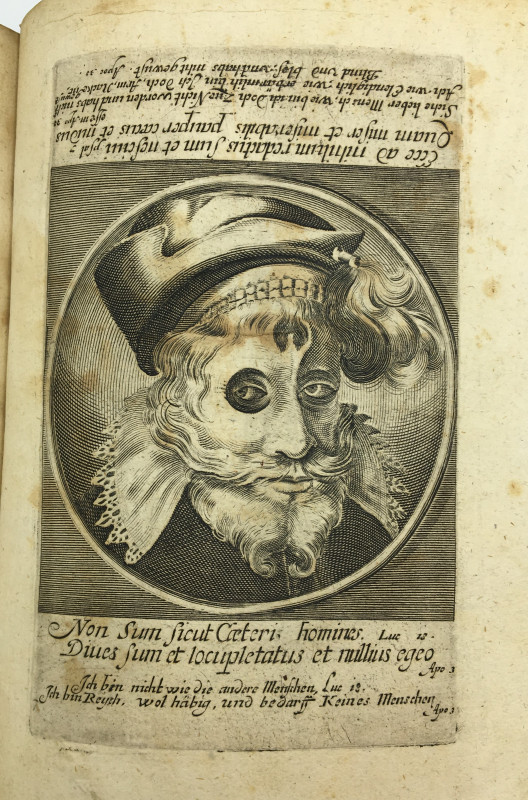 Book Description
Quarto. Handsomely bound in contemporary mottled calf. The boards ruled in gilt, the spine with five raised bands, compartments with decorative devices in gilt, and gilt morocco title label. Engraved title page with hand-coloured allegorical border. Illustrated with 42 full-page contemporary hand-coloured engraved plates depicting the Dance of Death, all but two with additional contemporary watercolour and wash architectural borders, and two further uncoloured engraved illustrations ("Memento Mori" and a the surreal Vexierbild). Curiously, as part of the process of the contemporary owner's embellishment, a number of the central engraved images have apparently been excised and remounted on the decorated text pages. A very good copy indeed, the binding square and firm with the hinges expertly repaired. The contents with some occasional pencil marking to the blank verso of a few of the plates and occasional minor marking to page margins are otherwise in very good order.
Dealer Notes
An extraordinary coloured copy of the famous "Danse Macabre", or "Dance of Death".

The Dance of Death forms a series of illustrations in which a quick, lively skeleton - as the personification of death itself - leads away a succession of individuals in a dance step. The partner's social station is instantly recognisable, but death is indifferent to rank, just as cheerfully leading off the Queen or the Pope as the Merchant or the Beggar, thus serving as a memento mori, to remind people of the fragility of their lives, and how vain the glories of earthly life. While the conventions of this allegorical procession may have originated in Medieval Pageants, their popularity grew and flourished in the Renaissance and Baroque periods. Basel in Switzerland hosted a thriving printing industry, and the fifteenth-century Dance of Death fresco painted on the walls of the Predigerkirche influenced several printed editions, notably Holbein's. The copies produced by the printer and engraver Matthaeus Merian are, however, considered the most faithful renderings of these Basel frescoes (ultimately destroyed by the town council in 1805 after having been deemed "an eyesore"). Merian made his drawings from the Basel frescoes in 1616, and published minimal versions of them in 1621 and 1625. Later, he augmented each image in the 1649 suite with sky, clouds and background detail. This edition of 1725 is particularly attractive, richly engraved and printed on heavy paper. The book was frequently reprinted and copied for the succeeding 150 years, becoming the most instantly recognizable of all Baroque editions of the Dance of Death.
Author
MERIAN, Matthaeus:
Publisher
Frankfurt: Joh. B. Andrea and H. Hort.