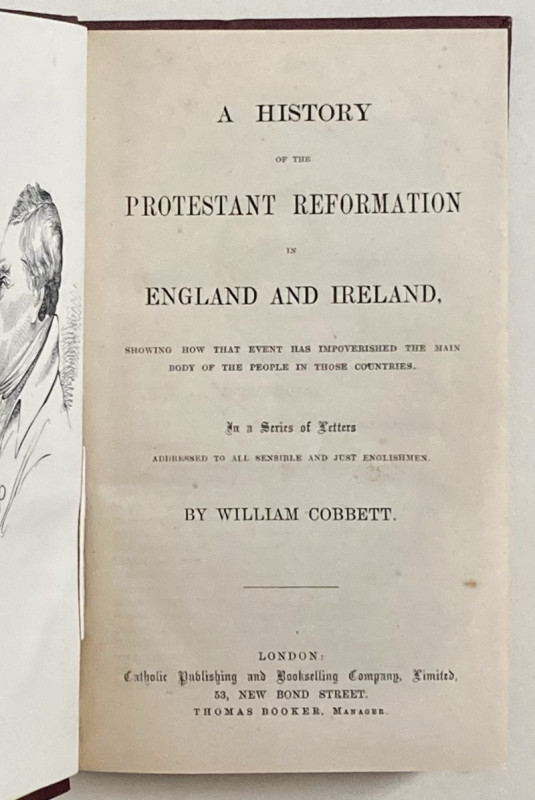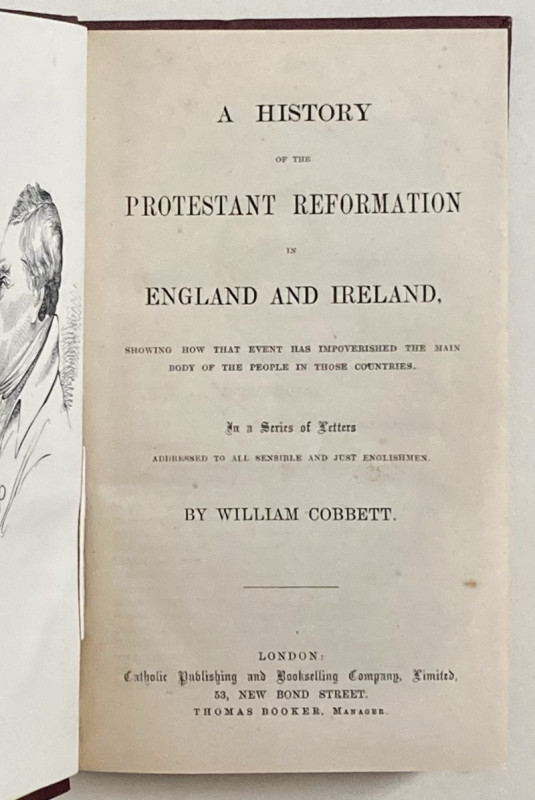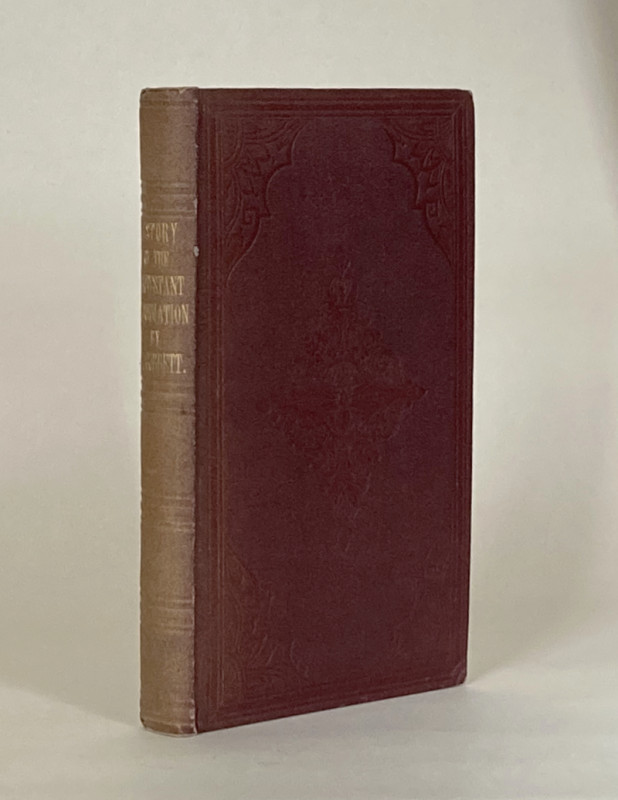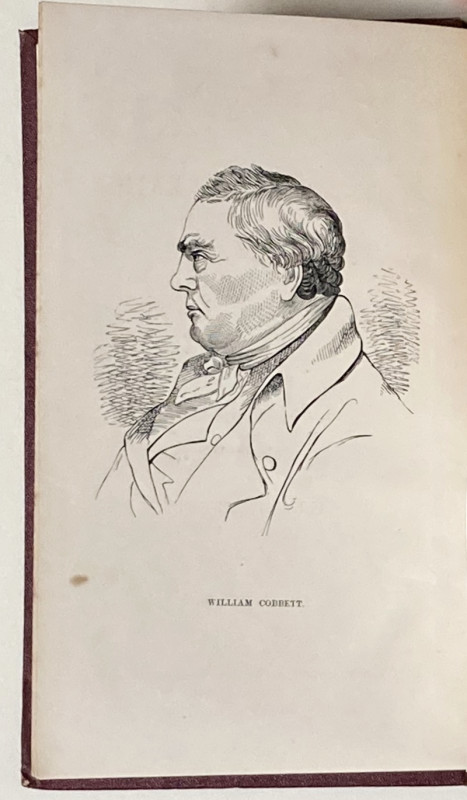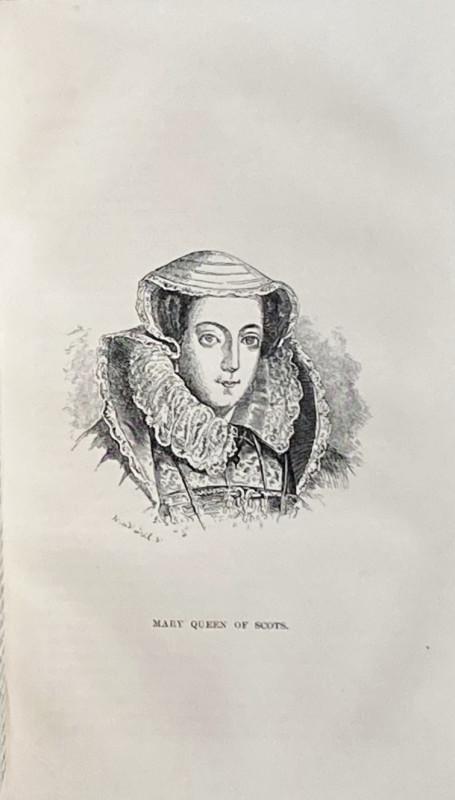 Book Description
THE REFORMATION: 'ENGENDERED IN BEASTLY LUST, BROUGHT FORTH IN HYPOCRISY AND PERFIDY, AND CHERISHED AND FED BY PLUNDER, DEVASTATION, AND [...] BLOOD'

Full title: A History of the Protestant Reformation in England and Ireland, Showing how that Event has Impoverished the Main Body of the People in those Countries. In a Series of Letters Addressed to all Sensible and Just Englishmen

Octavo in 12s (181 x 107mm), pp. [2 (title, verso blank)], 333, [1 (blank)]. Wood-engraved portrait frontispiece and 5 wood-engraved plates by H. Dudley et al. (A few light marks, some light spotting, some quires browned, one plate apparently incorrectly inserted and then re-inserted during binding, leaving traces of adhesive on margin.) Original burgundy pebble-grained cloth, boards blocked in blind with central design of leafy sprays enclosed by cornerpieces and a border of broad and narrow rules, spine lettered in gilt and ruled in blind, lemon-yellow coated endpapers, edges trimmed, quires F-P largely unopened. (Spine a little faded, extremities lightly rubbed and bumped.) A very good, partially-unopened copy in the original cloth.
Dealer Notes
Later edition, apparently printed from the stereotype plates of Anne Cobbett. William Cobbett (1763-1835) composed and published A History of the Protestant Reformation as a series of 16 letters during the early-nineteenth-century 'Age of Reform', when Catholic emancipation was a major political question (bills for the emancipation of Catholics had failed in Parliament in 1821 and 1825, and it was only in 1829 that the Catholic Relief Act passed into law). In A History of the Protestant Reformation Cobbett seeks to redefine the Protestant Reformation as simply the first in a series of reformations (rather than a point at which a modern British identity sprung into being under divine direction), stating in his first letter that 'the "Reformation," as it is called, was engendered in beastly lust, brought forth in hypocrisy and perfidy, and cherished and fed by plunder, devastation, and by rivers of innocent English and Irish blood; and that, as to its more remote consequences, they are, some of them, now before us in that misery, that beggary, that nakedness, that hunger, that everlasting wrangling and spite, which now stare us in the face and stun our ears at every turn, and which the "Reformation" 'has given us in exchange for the ease and happiness and harmony and Christian charity, enjoyed so abundantly, and for so many ages, by our Catholic forefathers' (p. 3).

Nicely characterised by P.J. Manning as 'an act of anamnesia' ('The History of Cobbett's A History of the Protestant "Reformation"', Huntington Library Quarterly, vol. 64 (2001), pp. 429-443, at p. 438), Cobbett's letters sought to re-establish the importance of the nine centuries of Catholicism which preceded the relatively recent Protestant Reformation and to demonstrate 'how much some of the institutions on which England prided itself, such as the ancient universities, owed to the religion it repudiated and whose adherents it continued to penalize' (loc. cit.), while also showing that the Reformation had provided ample opportunity for the upper echelons of society to enrich themselves at the expense of the poor by plundering charitable religious institutions which had previously provided some support to those in need. The 16 individual parts in which A History of the Protestant Reformation was first issued in 1824 enjoyed great popularity, and they were subsequently collected into a volume issued in 1824, followed by a supplementary volume in 1827, which comprised 'A List of the Abbeys, Priories, Nunneries, Hospitals, and Other Religious Foundations, in England and Wales, and in Ireland, Confiscated, Seized on, or Alienated by the Protestant "Reformation" Sovereigns and Parliaments'. Although the second part was rarely reprinted (and is not present in this edition), the first part containing Cobbett's 16 letters achieved a remarkable circulation: Manning states that 'by 1828 the total sale in England had reached seven hundred thousand, a figure that did not include printings in Ireland and abroad from Romania to Venezuela to Australia; the sales in America alone were said to exceed one hundred thousand' (p. 433) and Cobbett himself confidently (if inaccurately) described it a few years later as 'unquestionably the book of greatest circulation in the whole world, the Bible only excepted' (Advice to Young Men, and, Incidentally, to Young Women, in the Middle and Higher Ranks of Life (London, 1829), para. 5).

Numerous editions followed the first, and the text was quickly adopted by British Catholics as an important piece of propaganda for their faith and for their quest for equality in British society. The present edition was published by the Catholic Publishing and Bookselling Company in the mid nineteenth century and appears to have been printed from the stereotype plates used by the author's daughter Anne Cobbett (1795-1877) to print a series of editions which appeared under her imprint in c. 1846-1850. The present edition also includes a frontispiece and five plates, which are not usually found in the copies published by Anne Cobbett.
Publisher
London: Catholic Publishing and Bookselling Company, Limited