The next book fairs will be BURY ST EDMUNDS (
click here
for details) and SHERBORNE (
click here
), both on SAT 1st APRIL
CLICK
HERE
TO SEE DETAILS OF ALL OUR FAIRS. THE FEBRUARY ONLINE BOOK FAIR IS OPEN. CLICK
HERE
TO FIND OUT MORE.
A Brian Aldiss Omnibus, Containing The Interpreter, The Primal Urge, The Saliva Tree, The Impossible Star, Basis for Negotiation, Man in his Time.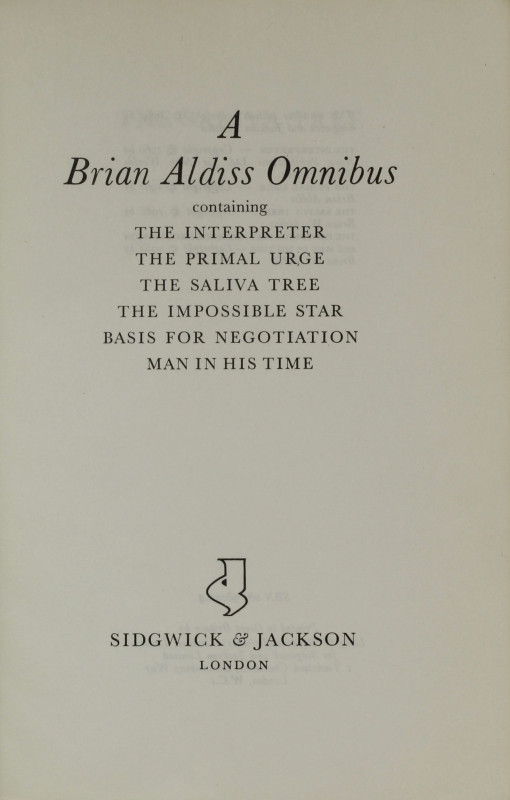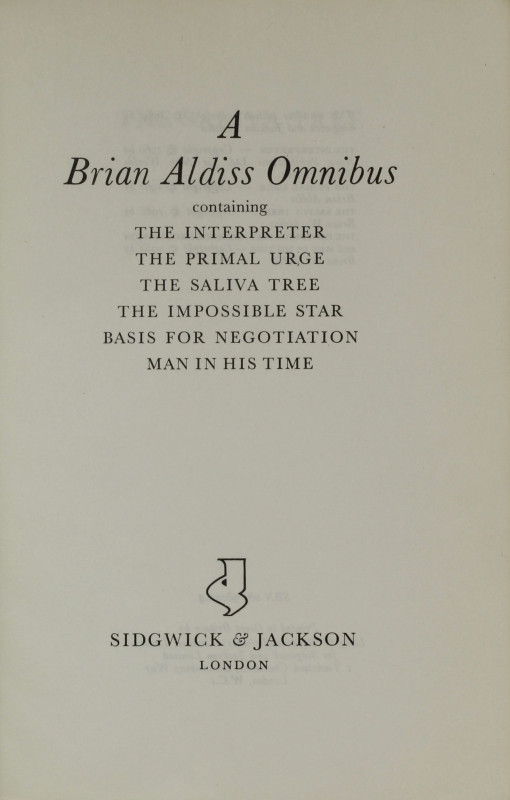 Book Description
3 parts in one volume, octavo in 16s (185 x 122mm), pp. [1]-[8] (half-title, verso blank, title, colophon, part-title 'The Saliva Tree', verso blank, dedication, verso blank), 9-82, [83]-[84] (blank l.), [85] (part-title 'The Impossible Star'), 86-110, [111]-[114] (blank l., part-title 'Basis for Negotiation', blank), 115-158, [159]-[162] (blank l., part-title 'Man in his Time', blank), 163-191, [1 (blank)], [1]-[4] (part-title 'The Primal Urge', blank, dedication, blank), 5-191, [1 (blank)], [3]-[6] (part-title 'The Interpreter', blank, 'A Note from the Author', blank), 7-126, [4 (blank ll.)]. Original dark green structured wrappers. (Extremities lightly rubbed and bumped, edges of bookblock slightly marked and with one small scuff.) A very good, fresh copy.
Dealer Notes
First edition thus, proof copy. One of the classic, most celebrated, and highly acclaimed British science fiction writers, Brian Aldiss (1925-2017) was inspired by H.G. Wells as much as his personal experiences. He claimed that his experiences in the army were nothing compared to his boarding school years, but his military engagements in India and Burma from 1943 onwards, and post-war service in the far east (especially Sumatra) informed his famous Horatio Stubbs novels of the 1970s. Over the years Aldiss wrote more than 40 novels and almost as many short-story collections, as well as several bestselling non-science-fiction novels, poetry, drama, two autobiographies, and several plots for films.
Aldiss – who gave his recreations as 'fame, obscurity, trances' in Who's Who – had come to writing via the book trade: after demobilisation in 1947 he settled in Oxford, worked as a bookshop assistant, and published a series of very popular fictional sketches in the trade magazine The Bookseller under the pseudonym Peter Pica, describing life as a bookshop assistant in a provincial town. His first novel, The Brightfound Diaries (1955), was so successful that it allowed him to concentrate on his writing, and he would move on to win, among other things, several Hugo awards. The works gathered in this Omnibus were published in the early- to mid-1960s, and the first part comprises the Nebula Award-winning The Saliva Tree (1966), with three shorter pieces: Basis for Negotiation, copyright 1965 according to the verso of the title, which was apparently first published in the American science fiction anthology John Carnell (ed.) Lambda I and other Stories (New York, 1964); The Impossible Star (1965); and Man in his Time (1965). The second part is Aldiss' classic exploration of choice under a tyrannical rule The Interpreter (1960, published in the United States as Bow down to Nul), and the third is The Primal Urge (1961) – a satire on sexual reserve which was banned in Ireland.
On his website, Aldiss wrote of A Brian Aldiss Omnibus that, '[i]n prospect, this volume looked good. But the selection was arbitrary – and not made by me, for reasons I have forgotten. I have always regarded The Interpreter with a degree of loathing. However, the title of the book seemed to indicate, in those hopeful days, that I had arrived; I should have known that, when entering an omnibus, one often has a long way still to go' (www.brianaldiss.co.uk).
Author
ALDISS, Brian Wilson.
Publisher
London: Lowe & Brydone (Printers) Limited for Sidgwick & Jackson.