"The Vampire" Or, The Bride of The Isles. FIRST TIME. Theatre Royal, English Opera House, Strand. This Evening, Monday, August 7th, 1820.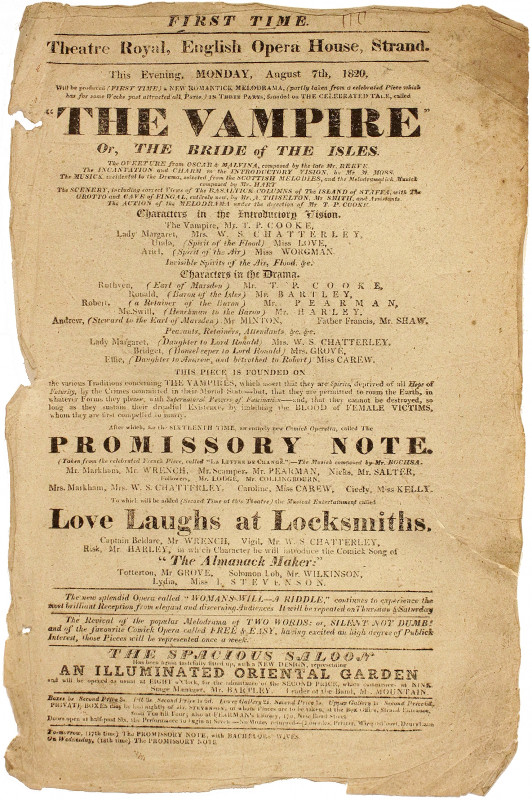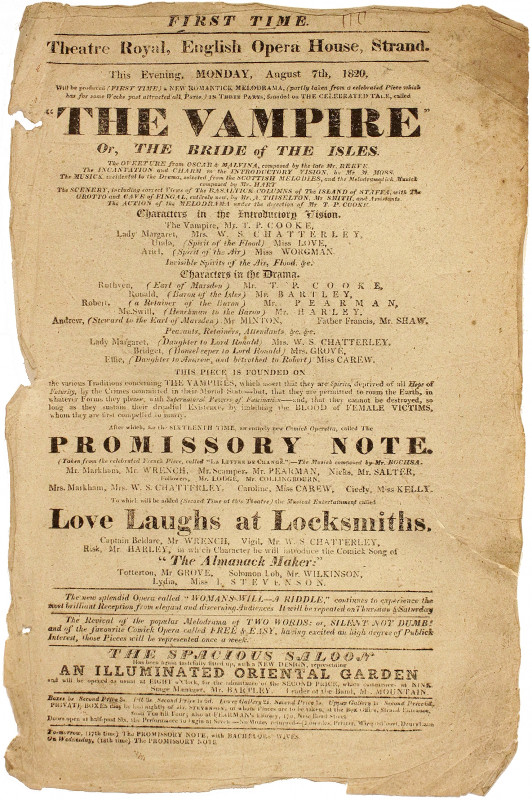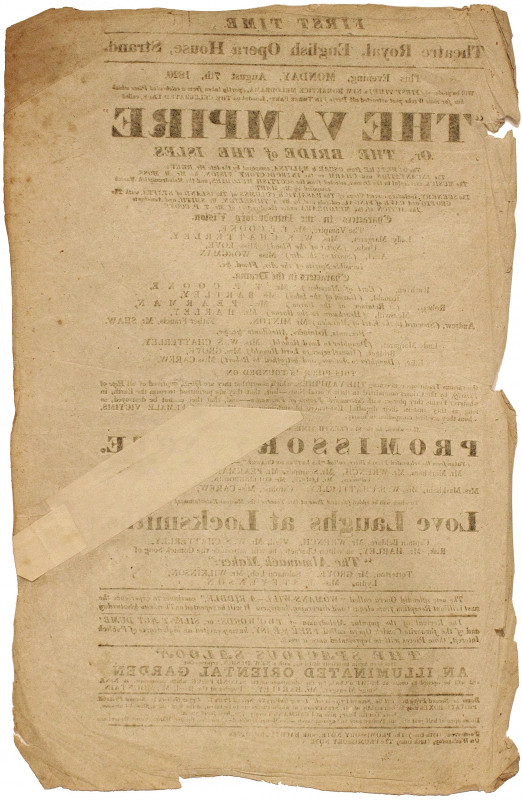 Book Description
THE TRUE FIRST APPEARANCE OF "THE VAMPIRE" ON THE ENGLISH STAGE. Broadside, 12-7/8" x 8-1/2".
Dealer Notes
As stated on the playbill "This piece is founded on the various traditions concerning THE VAMPIRES, which assert that they are Spirits, depraved of all Hope of Futurity, by the crimes committed in their mortal state - but, that they are permitted to roam the Earth, in whatever forms they please, with supernatural powers of Fascination - and, that they cannot be destroyed, so long as they sustain their dreadful existence, by imbibing the blood of female victims, whom they are first compelled to marry."

Opening night reviews were enthusiastic and "was honored with unusually long continued applause". An interesting link between "The Vampire" and "Frankenstein" is that Peter Thomas Cooke who played the title role in The Vampyre at the Theatre Royale in 1820, was also the first actor to play the Frankenstein Monster in the London staging of Presumption. In fact, in 1826 a theatre-goer in London could take in a double bill and be treated to both monsters.

Planche's play "The Vampire" was an adaptation of John Polidori's story "The Vampyre" - or, rather, a translation/adaptation of a French play based on Polidori's tale. It was first adapted for the stage by Charles Nodier and performed in Paris in June of 1820. Advertisement's appeared on Monday Aug. 7, 1820 in "The British Press", "European Magazine", & " London Review" advertising it's debut.

According to the Huntington Library's Larpent collection, the play was licensed June 25th, 1820. Though scheduled to be performed on the 7th it was delayed 2 days out of respect for the death, the previous day, of The Duchess of York and opened on Aug. 9th. We assume that the bulk of these Aug. 7th broadsides were discarded and or destroyed. Exceedingly scarce as the broadside/playbill for the Aug. 9th performance is seldom seen.
Author
PLANCHE, James Robinson: (POLIDORI, John William)
Condition
Edges slightly rumpled but apparently untrimed, closed tear to foredge with an old repair, left side of paper with stab holes presumably bound up at one time, mild toning but overall VERY GOOD.