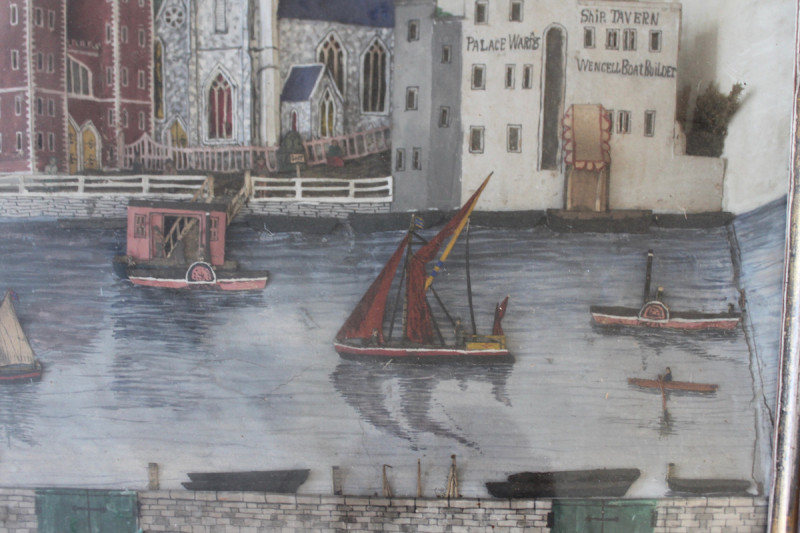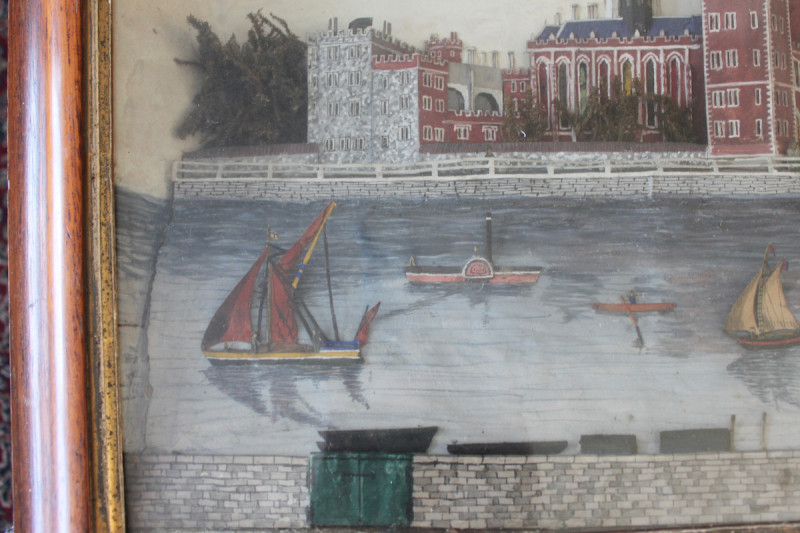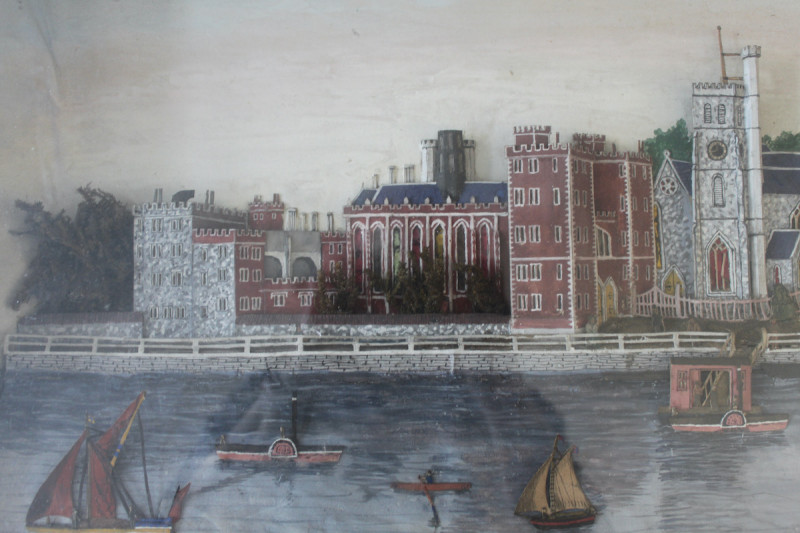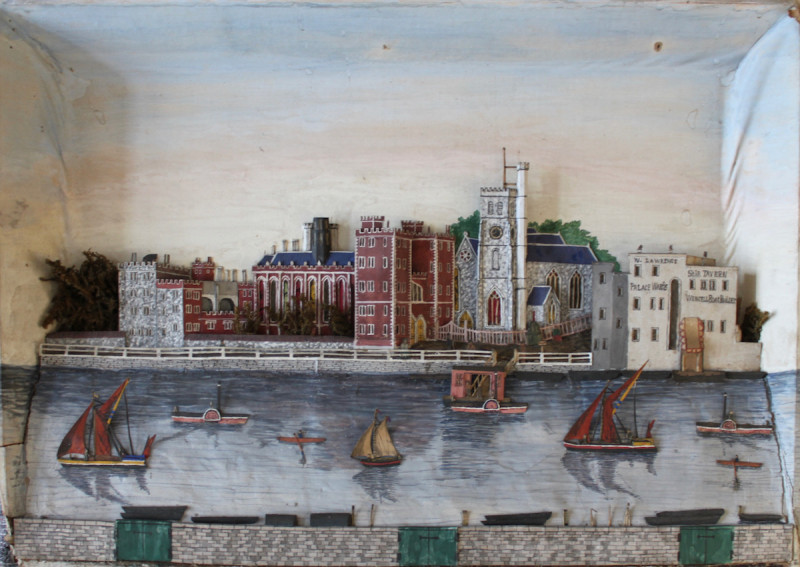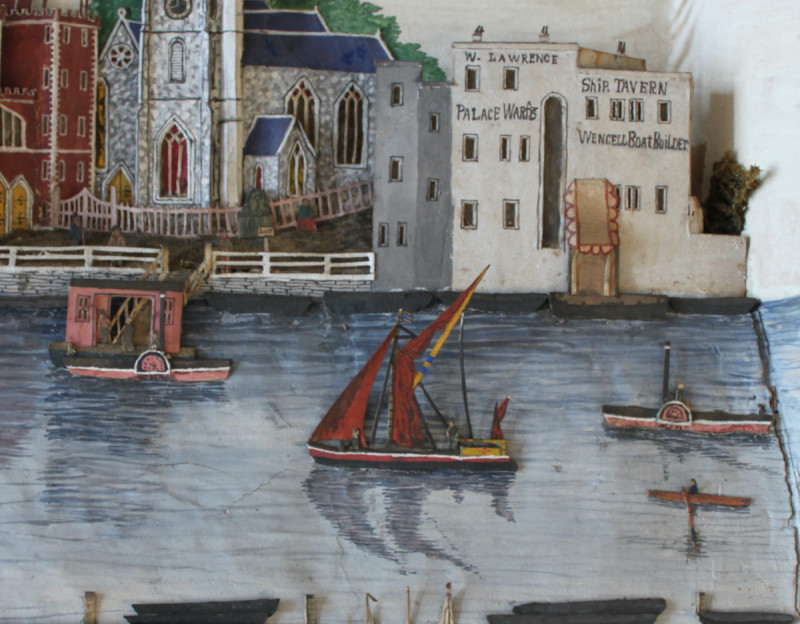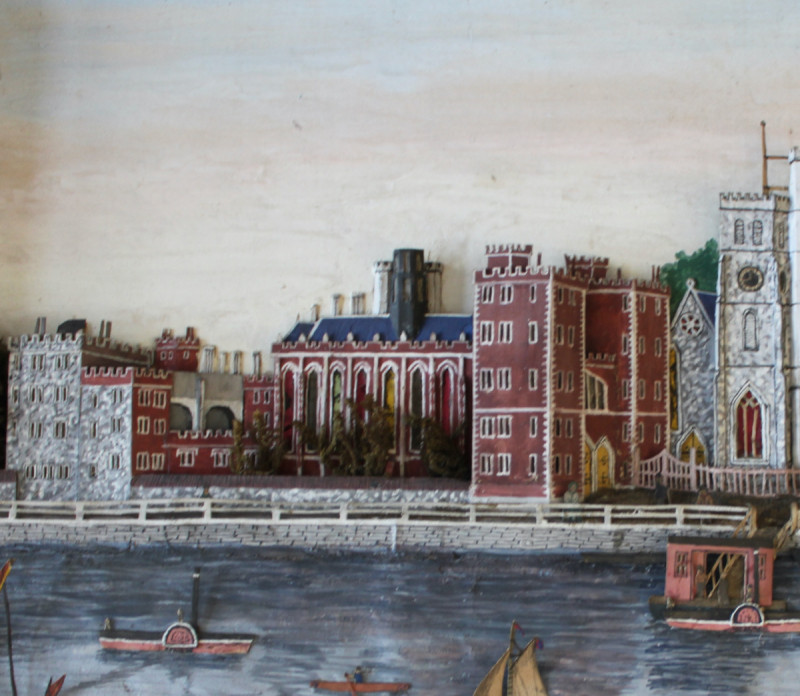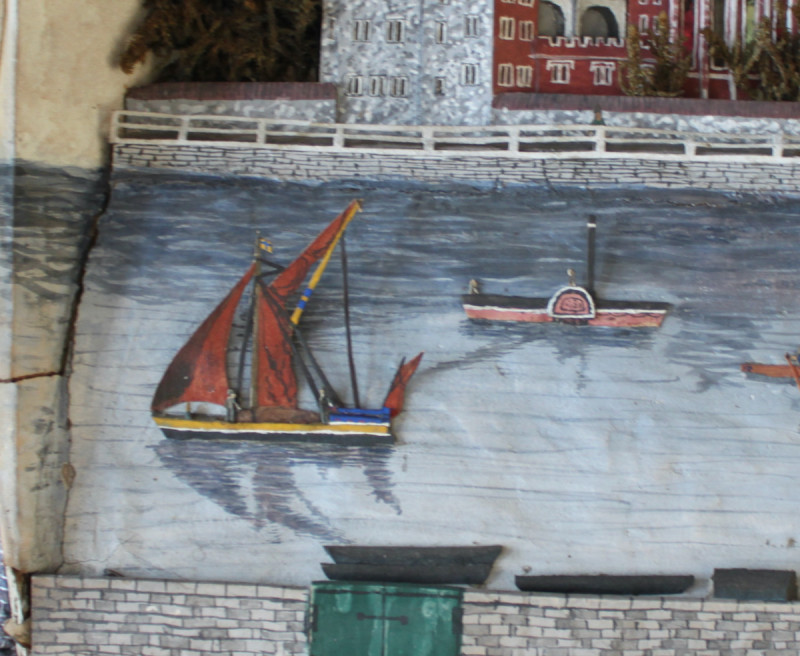 Book Description
A handmade diorama in contemporary wooden glazed frame, measuring 620 x 440 mm. [730 x 550 mm. frame size] Some minor repairs, but apart from the backing paper, all the frame parts and glass are original. A stunning 'miniature' diorama scene of the River Thames at Lambeth, viewed from the opposite bank and showing Lambeth Palace, The Ship Tavern, and Wencell [Wentzell] boat builders. Together with two Thames barges, three small steam tugs and other river craft, this is an attractive and early example of the art of miniature three dimensional imaging.
Dealer Notes
This can be clearly dated within a fairly narrow period: Andrew Gotleip Wentzell (not Wencell) held the Ship Tavern and traded under his own name as boatbuilder from sometime after 1847, his previous partner, Cownden being declared bankrupt in 1847; and perhaps 1852 when he entered into partnership with a Mr. Law. Even if the trading name was never changed on the side of the property, the new Lambeth Bridge (built 1860-2) is not shown, narrowing the date of the image to between 1847 and 1860.
Although dioramas in some form were known in the 18th century, they were popularised in the early 19th century by Bouton and Daguerre who mounted large scenes for viewing by paying audiences. Normally these would illustrate some historical event or an impressive landscape view.
Miniature dioramas, as here, came later and were not suitable for mass audience viewing, probably created for personal display, or small exhibitions. They are now commonly used in museums and galleries throughout the world, but in these early years would have been of limited interest and this survival is extraordinary.
The prominence of the names on the side of the buildings, Lawrence, and Wencell/Wentzell at the Ship Tavern, suggest that this may have been commissioned for one or the other, most likely for display in the Tavern where it would have been much admired. Perhaps the small boats on the Thames were built by Wentzell.