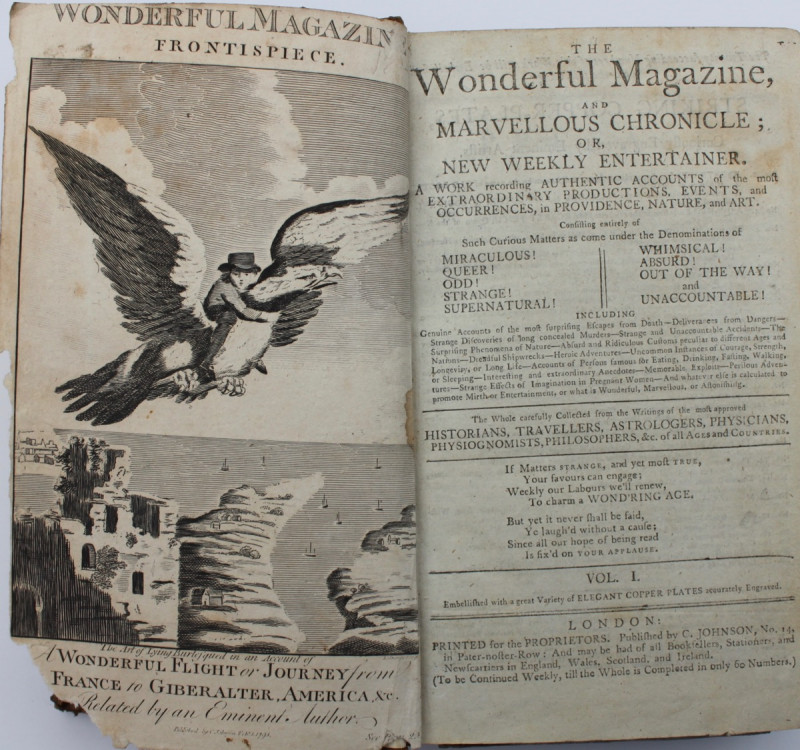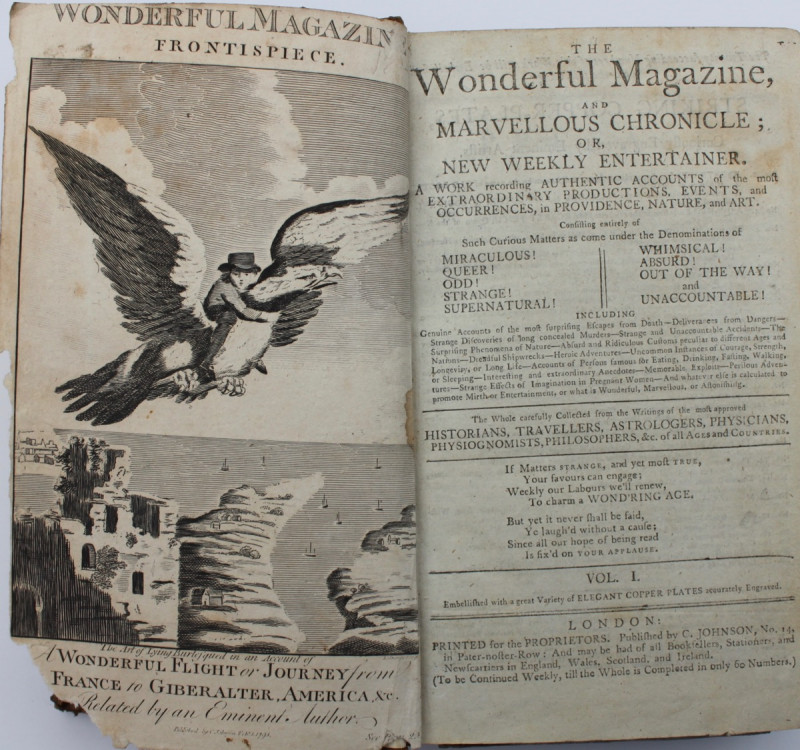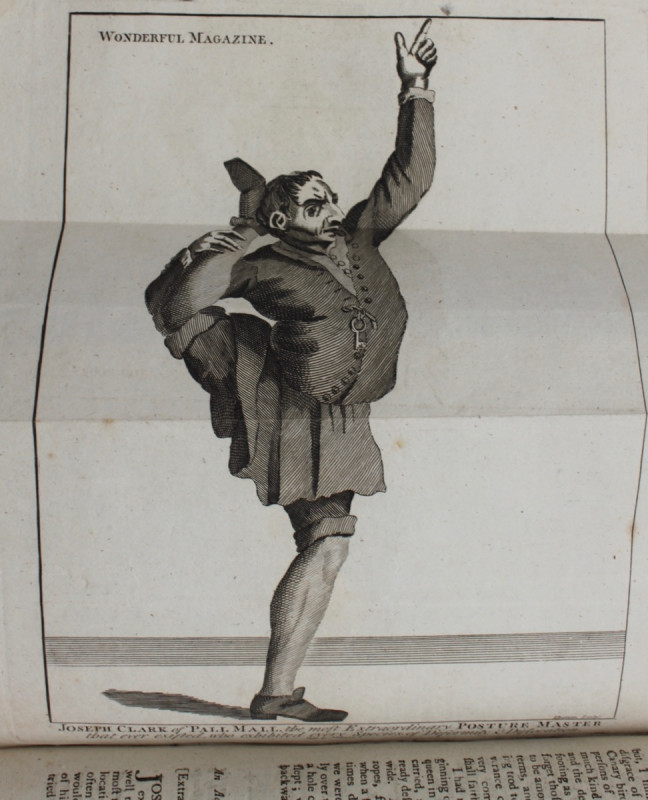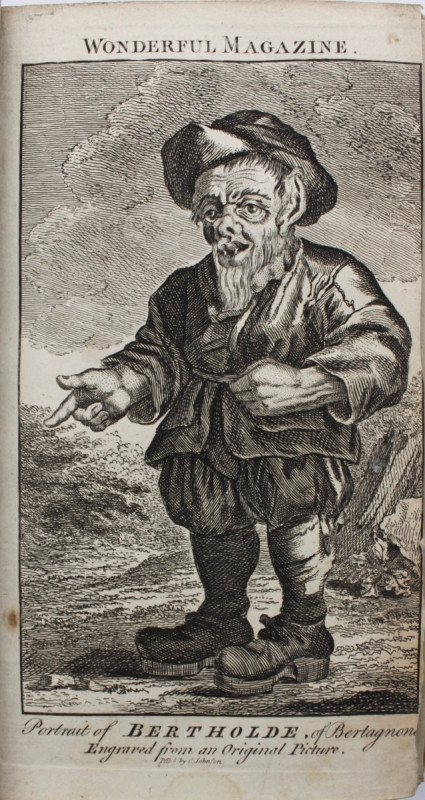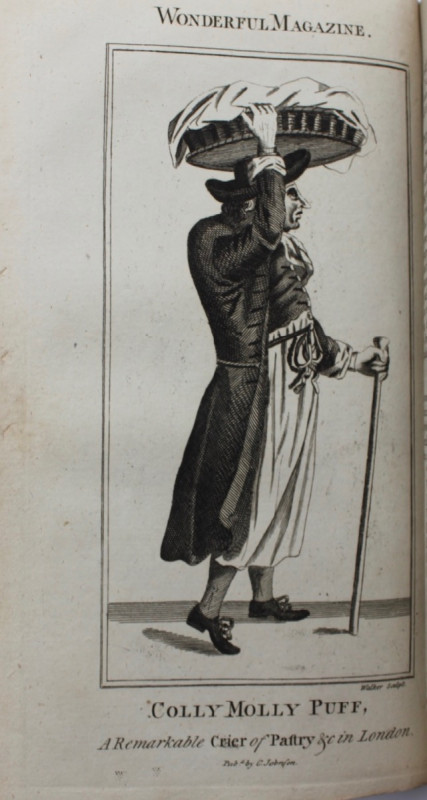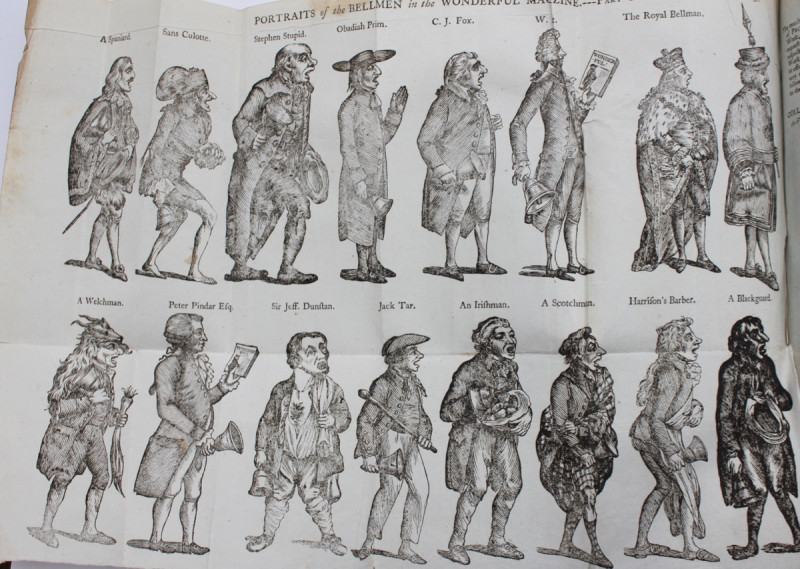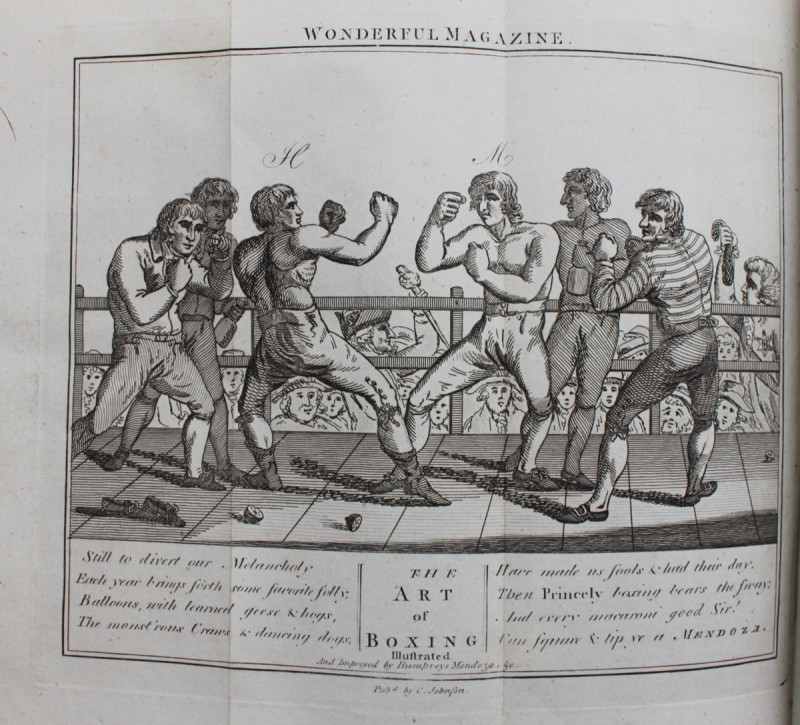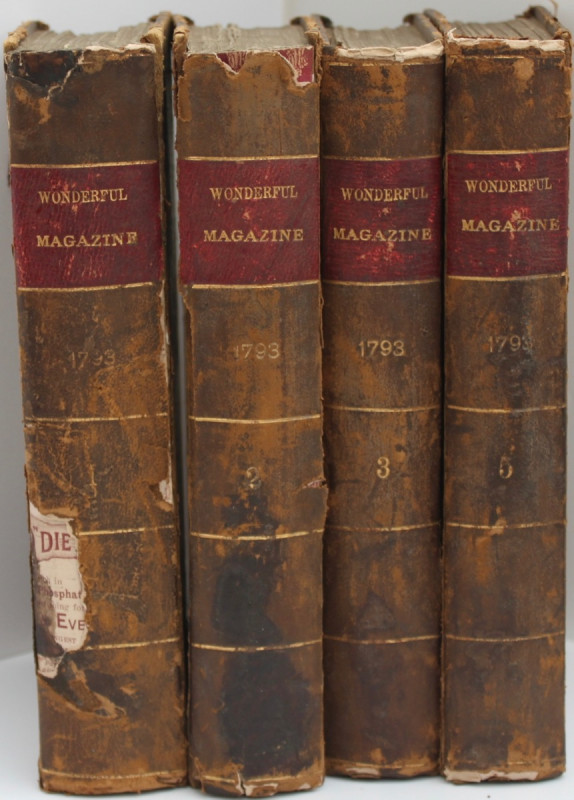 Book Description
The Wonderful Magazine, and Marvellous Chronicle; or New Weekly Entertainer. A work recording authentic accounts of the most extraordinary productions, events, and occurrences, in providence, nature and art. Consisting entirely of such curious matters as come under the denominations of Miraculous! Queer! Odd! Strange! Supernatural! Whimsical! Absurd! Out of the Way! and Unaacountable! C. Johnson, 1793. [Dated on the spines] 1st issues. Volumes 1, 2, 3 and 5 only [of 5]. 8vo. pp. iv, 512: 480: 480: 456; 58 illustrations, a few folded [as called for according to the binder's instructions in the rear of Volume 5]. Some illustrations a little frayed, 4 with slight damage and loss. Full matching contemporary sheep, a little worn, especially the first volume.
Dealer Notes
A full list of the illustrations present:
Vol 1.
1. Wonderful Journey of Flight from France to Gibraltar, America etc. some loss bottom edge
2. Portrait Henry Jenkins aged 169 years edge a little frayed.
3. Portrait Old Boots of Ripon.
4. Portrait Bertholde of Bertagnona
5. Massacre and Execution of Louis XVI King of France.
6. Margaret Finch Queen of Norwood Gypsies. Folding plate. Torn with slight loss.
7. Portrait Edward Bright of Essex who weighed 5 hundred 1 quarter and 21 pounds.
8. The National Convention Bothered.
9. John Bigg, the Dinton Hermit. Folding plate.
10. Portrait Henry Blacker the British Giant.
11. Portrait Bampfylde Moore Carew King of the Beggars
12. Mother Louse of Louse Hall Oxford.
13. Portrait Sir Jeffry Dunstan Mayor of Garrett
14. The Author and His Family
15. Old Scaleits the Sexton of Peterborough
16. Peter the Wild Boy.
17. Dr Ve___D___N the remarkable walking bookseller, quack doctor etc.
18. Foolish Sam, title trimmed off.
19. The Art of Boxing. Folding plate
20. Louis Mandrin captain of a gang of French smugglers
21. Mademoiselle de Beaumont or the Chevalier d'Eon.
Volume 2.
22. The Spanish Bird Hermitt
23. Mr Wright of New York the remarkable modeller in wax.
24. Celebrated Peter Garden of Aberdeenshire, famous for uninterrupted health, gigantic stature and longevity. Folding plate.
25. Thos Britton, the Musical Coal Man.
26. Patagonian Man and Woman
27. Mynheer Wybrand Lolkes the celebrated man in miniature and his wife. Folding plate, torn along one fold, no loss.
28. Omiah, a native Otabeite brough to England by Capt Fourneaux.
29. Daniel, Oliver Cromwell's porter
30. Mother Shipton's Famous mode of travelling.
31. Sam House of Wardour Street. folding plate
32. Mother Damnable the remarkable shrew of Kentish Town.
33. Hyder Ally Cawn, the Great Tyrant of the East, Father of Tippoo Saib.
34. Charles the First.
35. Portrait sof the Bellmen I. Folding plate.
36. Joseph Clark of Pall Mall, the most extraordinary Posture Master. Folding plate.
37. Foster Powell the Celebrated Pedestrian.
Volume 3.
38. J Lackington, the Cobler turned bookseller.
39. Colly Molly Puff.
40. The wonderful brass statue of the Colossus of Rhodes. Folded and damaged
41. Humours of an Irish Wake.
42. Hugh Peters rumoured to be one of the masked executioners of King Charles.
43. William Lithgow in his Turkish dress.
44. Joseph Thayendaneken the Mohawk Chief.
45. The Shah Goest.
Volume 5.
46. Ali Mustapha. Folding plate.
47. The Dropping Well.
48. O Rare Sir John Falstaff.
49. Pharos of Ptolomy. Title damaged.
50. The Pyramids of Egypt.
51. Portrait of the Bellmen. Part II. Folding plate.
52. Hanging Gardens of Babylon.
53. The temple of Diana at Ephesus.
54. The Mausoleum at Caria. Folding with some damage.
55. Stonehenge.
56. Theatre of Rocks near Salzburg. Folding with a little damage.
57. Mount Athos.
58. Matthew Hopkins, the famous witchfinder.
Author
ECCENTRICS, FREAKS, GIANTS & DWARVES