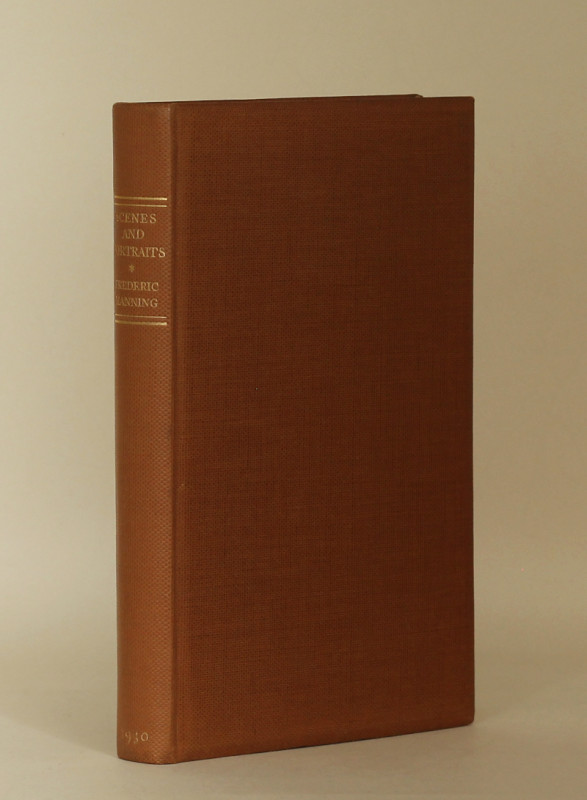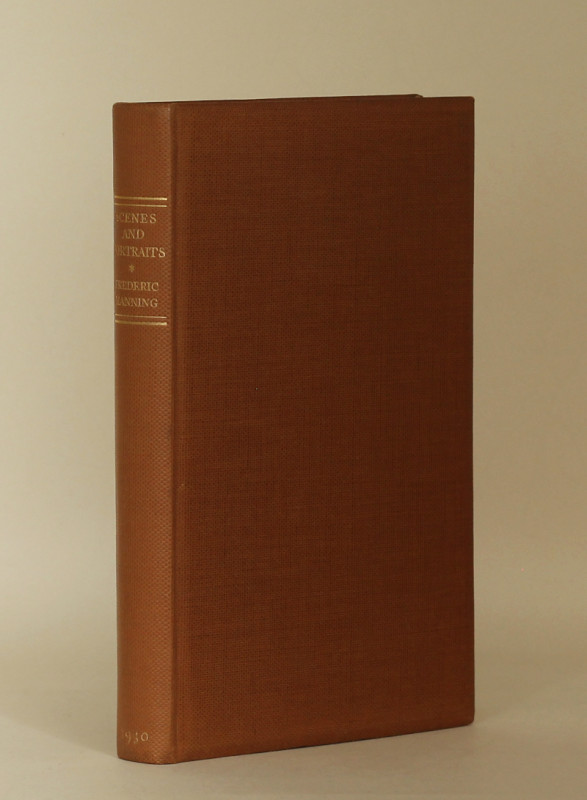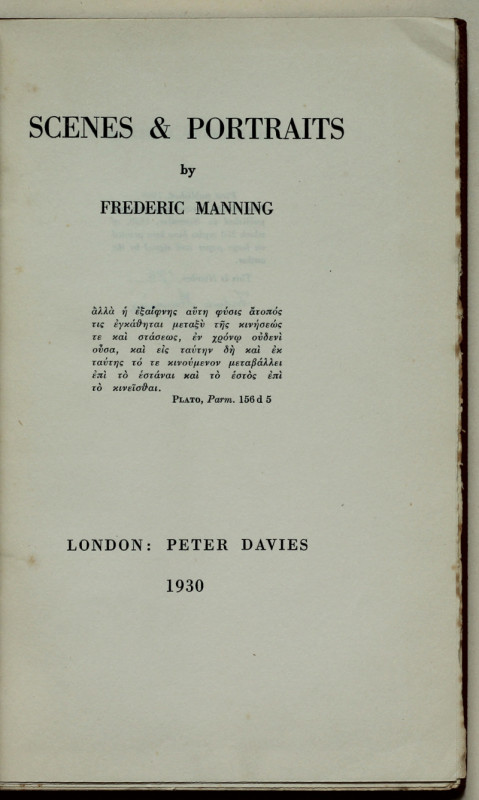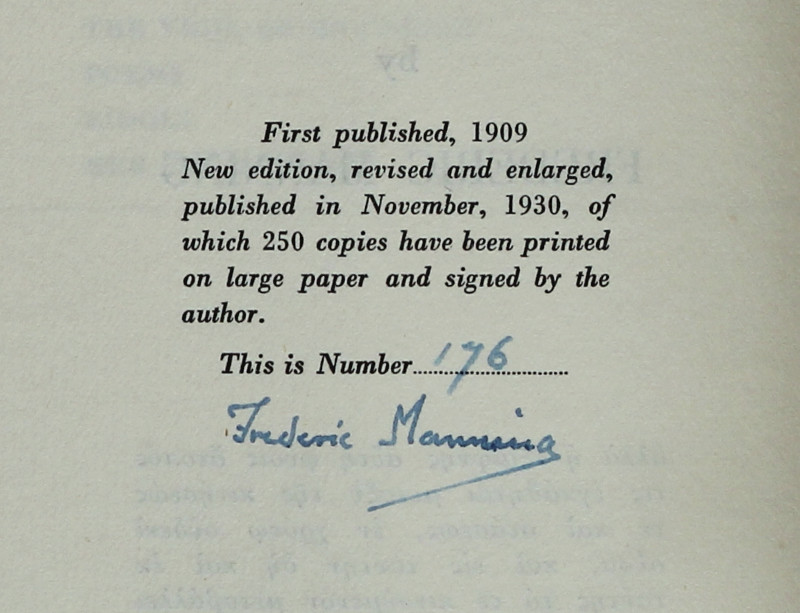 Book Description
THE SIGNED LIMITED EDITION OF MANNING'S 'IRONIC, ELEGANT, INCONCLUSIVE' DEBATES ABOUT RELIGION IN DIFFERENT ERAS, WITH A NEW PIECE DEDICATED TO T.E. LAWRENCE

Octavo (207 x 130mm), pp. [8 (half-title, other works by Manning, title, limitation statement, dedication, verso blank, contents, verso blank)], 291, [1 (imprint)]. (Occasional light spotting, heavier on deckles.) Original light-brown buckram over bevelled boards, spine lettered and ruled in gilt, top edges gilt, others uncut, modern slipcase. (Extremities minimally rubbed, lower corners slightly bumped, small mark on lower board.) A very good, clean copy. Provenance: The Roycroft, 27 Rowe Street, Sydney (early bookseller's ticket designed by Adrian Feint on upper pastedown).
Dealer Notes
Revised and enlarged edition, no. 176 of 250 large-paper copies signed by the author. The writer Frederic Manning (1882-1935), was born in Sydney to the politician and accountant Sir William Patrick Manning and his wife, Honora, who were both of Irish origin. Frederic Manning suffered from asthma throughout his life and was consequently mainly educated at home, and as a teenager he 'formed a close intellectual friendship with Arthur Galton [...], a scholarly Englishman who had moved to Sydney as secretary to the governor' (ODNB). Manning visited England with Galton in 1898, remaining until 1900, and returned in 1903 to take lodgings with Galton, who had been appointed vicar of Edenham, Lincolnshire.

In England, Manning became part of contemporary literary and artistic circles, and counted Max Beerbohm, William Rothenstein, Ezra Pound, and Richard Aldington among his friends – indeed, Pound later said that Manning 'whom he always highly esteemed, had been his first literary companion in England' (op. cit.). Manning's first books – the verse monologue The Vigil of Brunhild (1907) and Scenes & Portraits (1909) – 'were well received by a small, discriminating readership. [...] Manning began to be talked of as an outstanding new talent' (op. cit.). A collection of poetry followed, and then military service during World War I, first as a private (seeing service at the Somme) and then as an officer, but heavy drinking and mental health issues led to his resignation in 1918.

In the postwar era Manning continued to write, but Galton's death in 1921 had deprived Manning of an anchor and 'without a mentor he seemed likely to drift, until in 1929 the publisher Peter Davies persuaded him to write a short novel about the western front. The market for war books was suddenly opening up; urged on by Davies, who allowed no opportunity for revisions, Manning worked fast. Unlike most other authors of the time, he wrote about the troops, using their normal language. The Middle Parts of Fortune appeared anonymously in a small, private edition in 1929 [...]. The expurgated version, Her Privates We, by Private 19022, was published by Davies in 1930' (op. cit.). As Sir William Rothenstein wrote, Manning's friend T. E. Lawrence 'knew [...] Scenes & Portraits almost by heart. Like Max Beerbohm, he thought this book contained the strongest and subtlest prose of recent times' (A.W. Lawrence (ed.), T.E. Lawrence by his Friends (London, 1937), p. 287) and he identified the anonymous author as the writer of Scenes & Portraits.

Assisted by Lawrence's praise, Manning's book became a bestseller and Peter Davies reissued Scenes & Portraits, 'a collection of debates – ironic, elegant, inconclusive – about religion in different periods of society' (ODNB) in a revised and enlarged form for a new readership. This enlarged edition added 'Apologia Dei', a new piece which was dedicated to Lawrence (under his pseudonym 'T.E. Shaw'), and was issued in both a trade edition and the present signed limited edition.

O'Brien, T.E. Lawrence, F701 and sF0599; E. Sudduth, The Joseph M. Bruccoli Great War Collection, p. 142.
Publisher
London: Robert MacLehose and Co. Ltd., The University Press, Glasgow for Peter Davies