The next book fairs will be in SHERBORNE, DORSET (
click here
for details) and BURY ST EDMUNDS, SUFFOLK (
click here
for details), both on Sat 15th Oct.
CLICK
HERE
TO SEE DETAILS OF ALL OUR FAIRS THE AUGUST ONLINE BOOK FAIR IS OPEN. CLICK
HERE
TO FIND OUT MORE.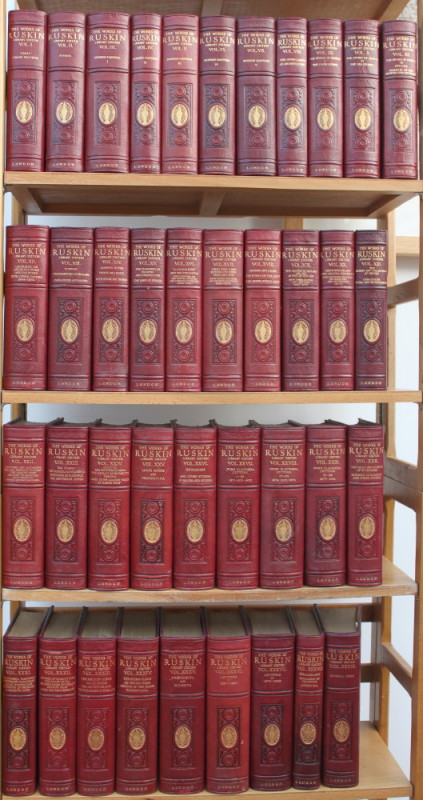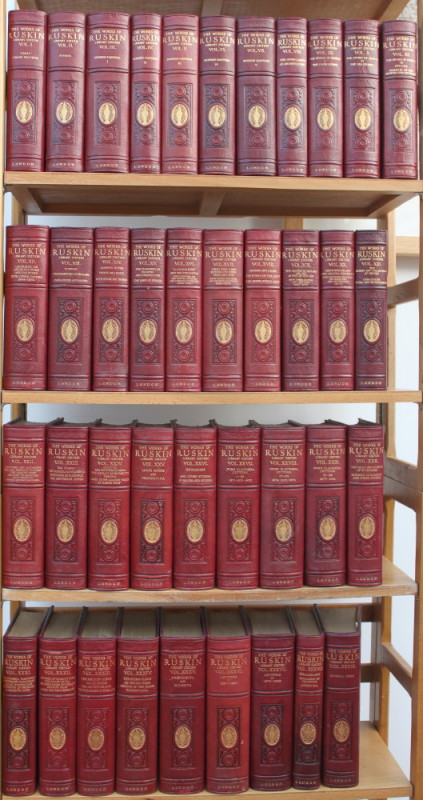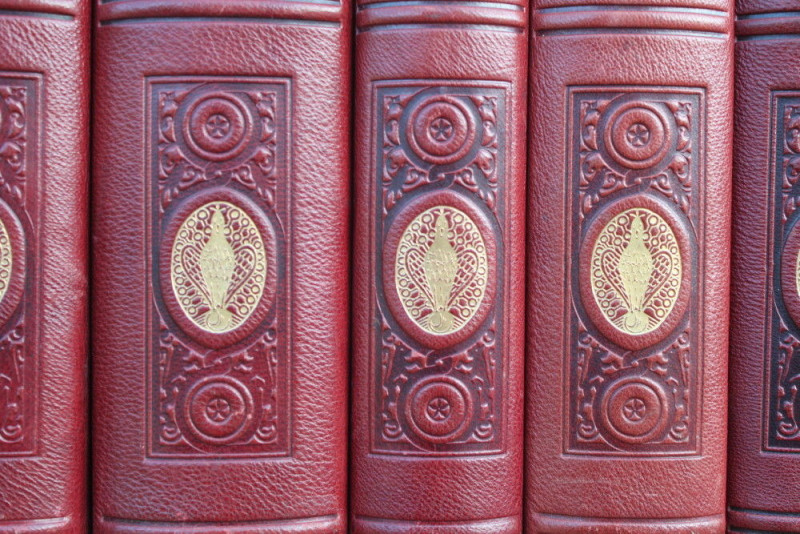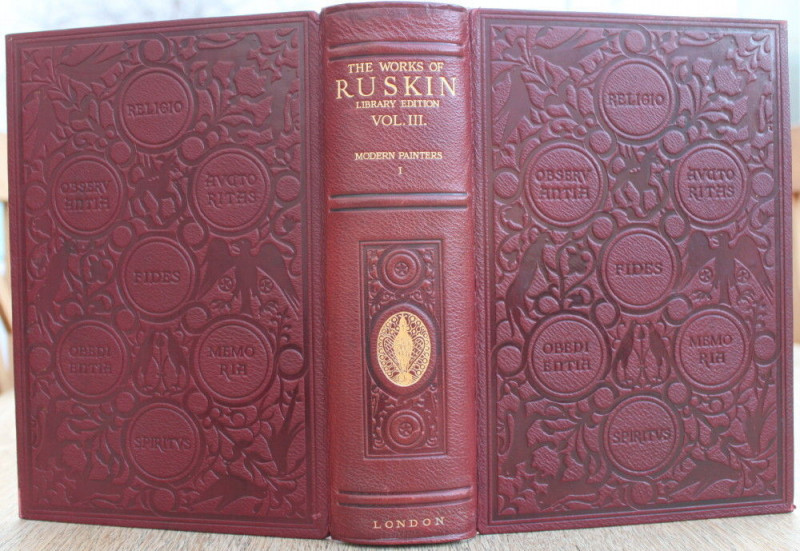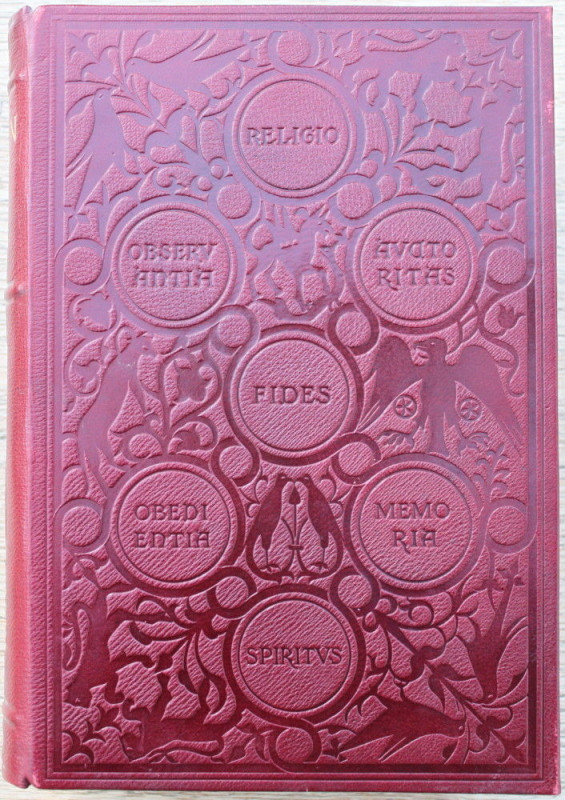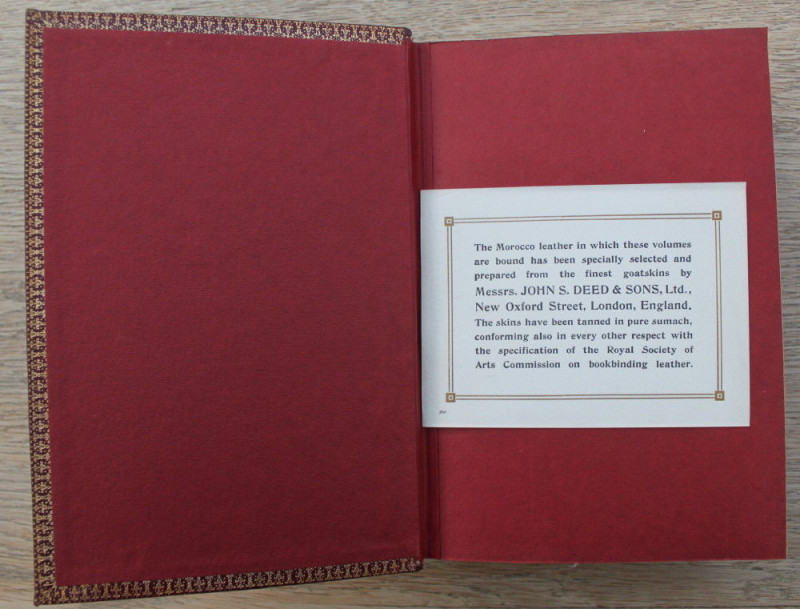 Book Description
The Complete Works of John Ruskin in 39 volumes. The Library Edition. Edited by E.T. Cook and Alexander Wedderburn George Allen and Unwin, 1903 - 1912. The Library Edition of the complete works of John Ruskin completed in 39 volumes over a period of nine years. Comprising the totality of his known works with many letters and previously unpublished material up to that date and forms a tremendous record of the achievement of one of Britain's foremost art critics who was also an accomplished artist in his own right as well as being an important patron, philanthropist and social thinker. Arguably his most important achievements in his lifetime were the championing of the pre-Raphaelites and his important defence of J.M.W. Turner which brought him to prominence early in his life.
Dealer Notes
The edition was the outcome of twelve years work by Edward Tyas Cook and Alexander Wedderburn, although Cook completed the bulk of the editing. The aim of The Library Edition was to provide the complete works of Ruskin both literary and artistic, in uniform volumes. The edition was undertaken by Messrs. George Allen, Ruskin's publishers. Illustrated by 820 wood blocks and 990 full-page plates with 120 facsimiles of MSS., the edition includes 269 plates of Ruskin's own drawings of which 200 had never before been published. Portraits of Ruskin are used as frontispieces to some of the volumes. The press work was carried out by Messrs. Ballantyne of Edinburgh, and the weight of type amounted to nine tons, whilst the printing ink weighed 1800lbs. Printed on hand-made, linen rag paper (about 87tons) with a double watermark of Ruskin's monogram and seal. The edition consisted of 2062 sets, of which 2000 were available for sale to subscribers for the full set. The first volume was published on 27 March 1903. George Allen did not live to see the completion of the edition dying on 5 September 1907, his children taking over the firm.
A Fine set in publisher's deluxe full stamped morocco binding, unused and completely unopened.
This binding is unrecorded in James Dearden's Monograph on the Library Edition and as far as I can trace has only appeared twice at auction in the last 50 years; once in the early 1970's and again in 2003.
Publisher
George Allen & Unwin