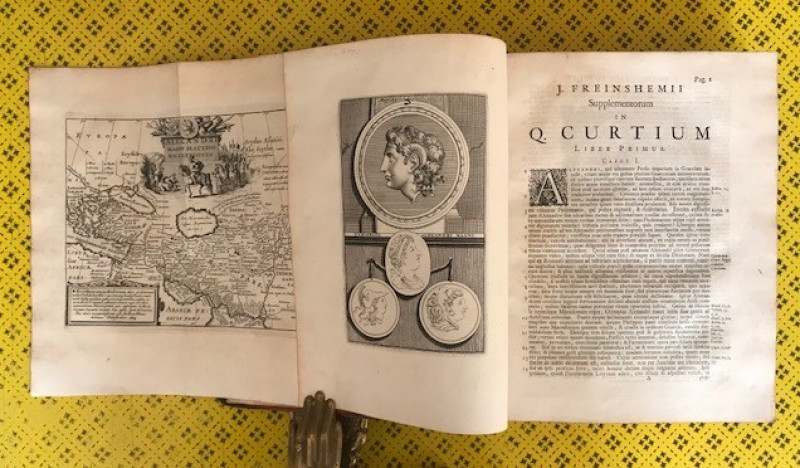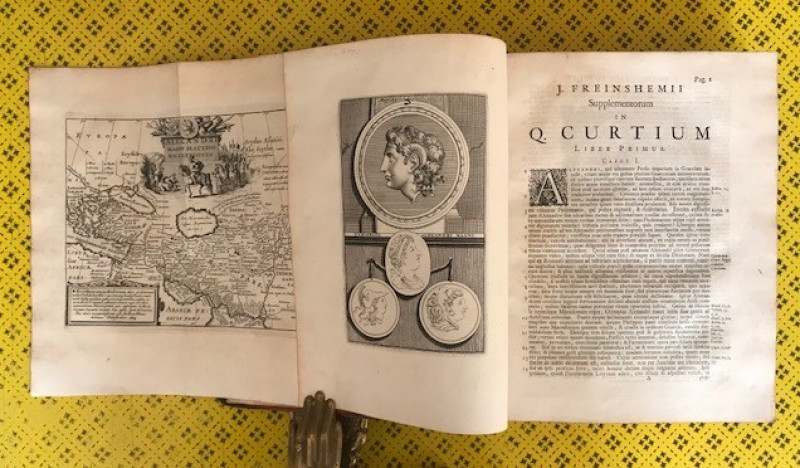 Book Description
First edition thus. 2 parts in 1. 4to., pp. [lxxiv], 472; [ii], 473-824, [ccxxiv] + 1 folding map and 17 further plates. Title-page in red and black with woodcut printer's device, woodcut initials and tailpieces. The plate opposite p.214 is printed on a smaller leaf. Sporadic light foxing, a few stains but very good overall. Contemporary tan calf neatly rebacked preserving gilt spine, corners repaired, edges red, marbled endpapers. A few stains and scrapes to boards, very good. Ownership inscription of John Taylor Coleridge of Park Crescent dated 1851 to preliminary blank. John Taylor Coleridge (1790-1876) was an English judge and the nephew of the poet Samuel Taylor Coleridge (1772-1834).
Dealer Notes
'This is the celebrated quarto Variorum edition of Q. Curtius, by Snakenburg, which contains many valuable extracts from Bruno, Modius, Freinshem, and Cellarius. The text is formed according to the first edit. of Freinshem, from which it never departs but with the most scrupulous caution, and when warranted by a better reading. In compiling the work, Snakenburg consulted one good ancient MS, and two modern ones: but with the early editions of this author he appears to have been ill provided, as he consulted no edition more ancient than the Aldine. "This editor," says Ernesti, "as is too often the case, undertook the publication more from the importunity of the bookseller, than from the conviction of being able to compose a useful work from previous study, and diligent accumulation of materials." It must, however, be confessed that this edition of Snakenburg is a very valuable performance, and is deservedly held in high respect. Dr. Harwood has pronounced a warm eulogium upon it, and the editor is by him declared to have "manifested an accurate knowledge of ancient manners and customs".' (Dibdin)
Schweiger II, 323; Graesse II, 311; Brunet II, 450; Dibdin II, 376-77.
Author
Curtius Rufus, Quintus: (Snakenburg, Hendrik, ed.:)
Publisher
Delphis, & Lugd. Bat. [Delft & Leiden]: apud Adrianum Beman, Samuelem Luchtmans,