An Essay towards a Topographical History of the County of Norfolk, containing a Description of the Towns, Villages, and Hamlets, with the Foundations of Monasteries, Churches, Chapels, Chantries, and other Religious Buildings [...].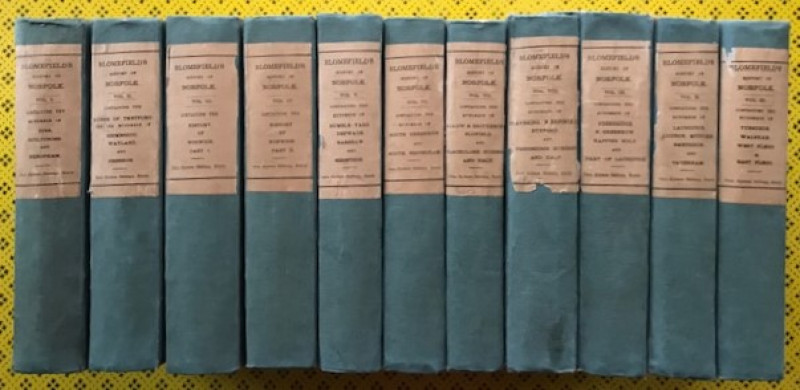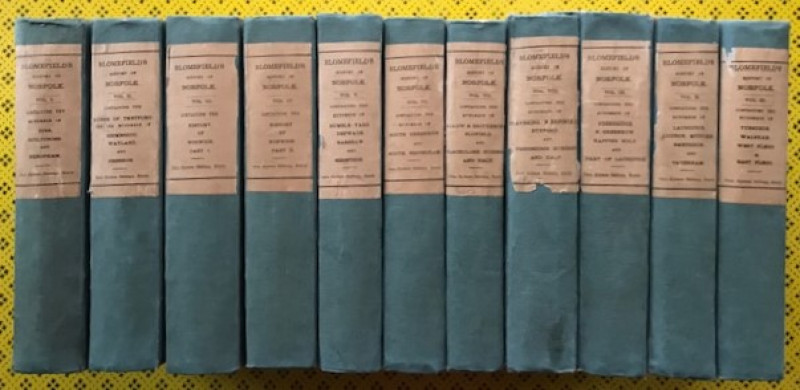 Book Description
Second edition. 11 vols, 8vo, pp. [5], [viii-xvi], 548 [iv] + illustrated frontispiece, 4 folding tables, 5 plates (2 folding); [4] 559 [5] + 3 folding tables and 1 folding plate; [viii] 671 [1]; [viii] 580 + 7 plates, 1 folding map and 2 folding tables; [4] 527 [5]; [4] [ii-vii] [1] 521 [3] + 5 plates and 1 folding table; [4] 520 [4] + 4 plates (2 folding) and 2 folding tables; [4] 548 [iv] + 7 plates (4 folding) and 3 folding table; [2] 527 [5] + 4 plate (2 folding) and 1 folding map; [4] 479 [5] + 3 folding tables; [6] 402 [2], 83 [1] [18] + 1 plate, with engraved headpieces and woodcut text illustrations. Edges uncut, a little dusty, slight yellowing, occasional light marginal foxing, I: half-title a little torn at gutter, II: small stain affecting two words to L4, III: lower outer blank corner of 3C4 and 3G2 torn, IV: plates slightly browned, couple of small tears along folds of 2 folding plates, 1 with small repair, V: 1 plate somewhat browned, VIII: small paper flaw to lower outer blank corner of N1, crude repair to upper outer corner of 2A2 just touching text, bifolium 2N2-3 loose at lower gutter, IX: last gathering loosening, X: small marginal tears, XI: bifolium b*2-3 loosening. Contemporary publisher's blue boards, later endpapers, publisher's paper label to spine, boards sympathetically cleaned, corners a little rubbed, I: joints partly split at head and foot but firm, II: upper hinge starting at head but firm, V: lower hinge starting at foot but firm, publisher's advertisements to front pastedown of vols I, VII: upper joint minimally split at foot, X: lower hinge loosening. Inscription to half-titles: 'Lucy Jane Davey Given by her Aunt Lydia Jan 7 1827'.
Dealer Notes
Second edition of this illustrated topographical survey of Norfolk and its ancient families. The Rev. Francis Blomefield (1705-1752) initially issued the book in parts from a private press at his ecclesiastical living in Fersfield. The work was continued after his death by the Reverend Charles Parkin (1689-1765), and finished by a hack writer employed by the printer.
A remarkably unsophisticated copy internally, rarely found in its original publisher's blue boards, with paper labels specifying 'Price Eighteenth Shillings, Boards' on each volume. It includes the plate 'A Map of Marsh land by Sir William Dugdale' (Vol. IX, p. 166) often lacking. Vols I and III feature on the front pastedown a publisher's advertisement, the first advertising the possibility to add the author's portrait to the copy (as here) for an extra 5 shillings, as well as the publication of vols II-IV, the second apologising for not including the plan of Norwich with the city seals, as promised (here present in vol. IV), due to 'the Engraver having disappointed him [the publisher]'. The last few pages of vol. XI include a list of subscribers and 'Directions to the binder' divided by volume, separating plates and pedigrees.
Author
Blomefield, Francis: [Parkin, Charles:]
Publisher
London: Printed for William Miller [...] by W. Bulmer [...]