De Episcopis Ultraiectinis, recogniti et notis historicis illustrati ab Arn. Buchelio […]: Accedunt Lamb. Hortensii […] Secessionum Ultrajectinarum libri, et Siffridi Petri […] Appendix ad historiam Ultrajectinam.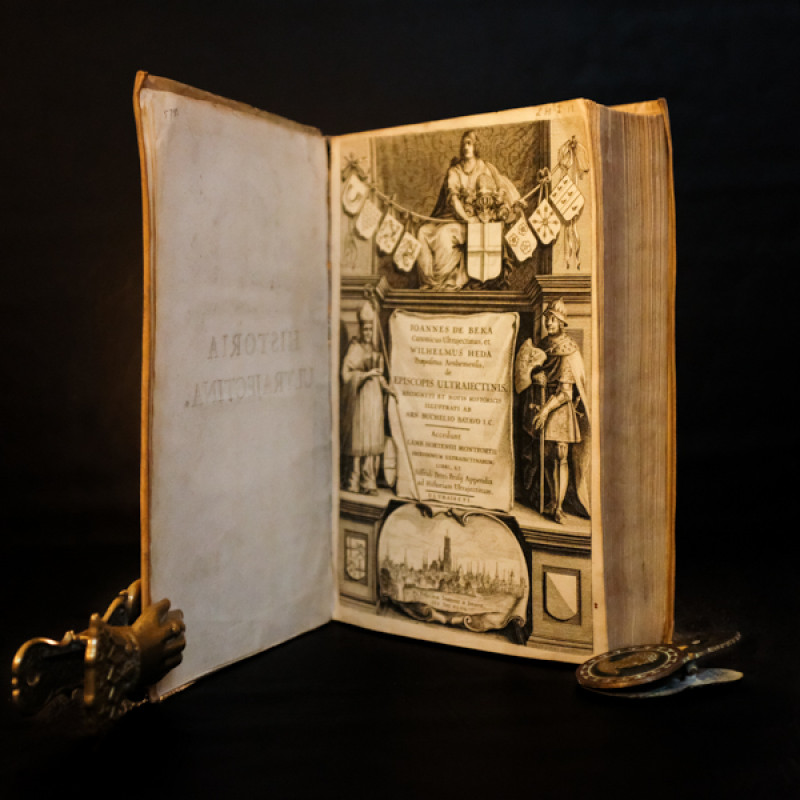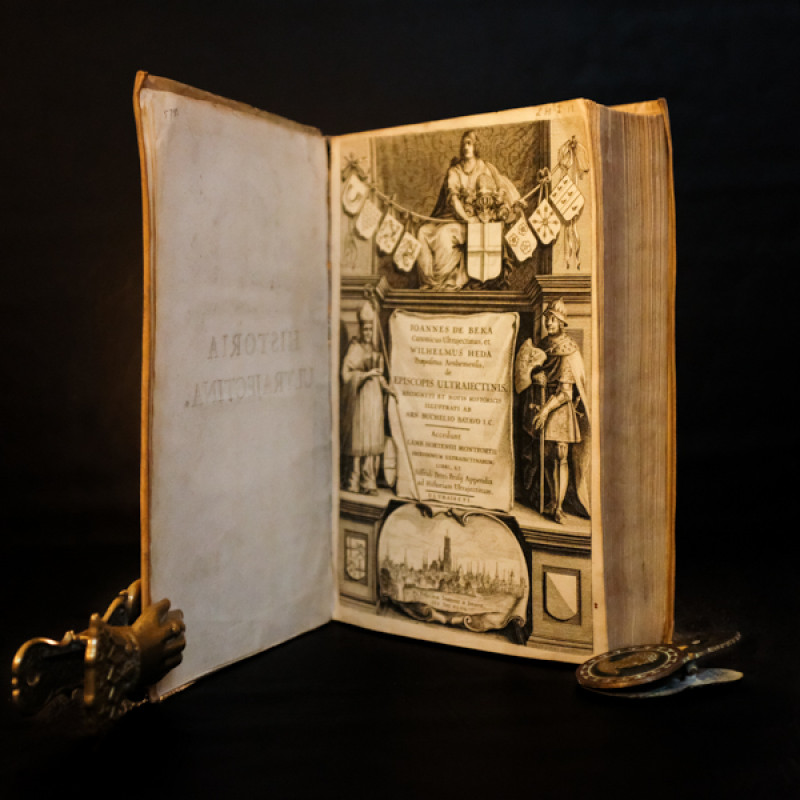 Book Description
First edition. Folio in 6s. 3 parts in 1. pp. [xx], 191, [xv]; [iv], 331, [i]; 12, [xxxii]; [iv], 180, [xxii] + engraved title-page and folding map of Utrecht. With half-title, each part with its own title-page. Additional illustrations in the text of coins and seals. Woodcut initials and endpieces. Occasional very light damp staining at fore-edge, small sporadic worm trail to gutter margin near head. Contemporary vellum, title inked to spine. Spine a bit darkened, a few smudgy marks, very good.
Dealer Notes
A generally very clean copy of the first edition of these famous Dutch medieval chronicles, illustrated by a handsome, double-page engraved map of the provinces. Known as the 'Heda and Beka', they were first published by Suffridus Petri in 1612. Arnoldus Buchelius (1565-1641) worked painstakingly on editing the texts anew, leaving an unfinished manuscript upon his death; his work was finalised by L. van Waveren. The first part provides Johannes de Beka's 14th-century account of the early history of the Netherlands to 1393, with appendixes by later scholars to the year 1456. The second part is Wilhelmus Heda's (d.1525) account of the history of the bishops of Utrecht, with a life of Heda himself. The third features Lambertus Hortensius's 16th-century chronicle of Utrecht, with a life of the author and the text of Pope Clement VII's confirmation of the submission of the province of Utrecht to the Emperor Charles V.
Author
De Beka, Johannes & Heda, Wilhelmus:
Publisher
Utraiecti [Utrecht]: ex officina Ioannis a Doorn,