The next book fair will be EDINBURGH PREMIER (with ABA) on Fri 24th & Sat 25th March (
click here
for details).
CLICK
HERE
TO SEE DETAILS OF ALL OUR FAIRS. THE FEBRUARY ONLINE BOOK FAIR IS NOW OPEN. CLICK
HERE
TO FIND OUT MORE.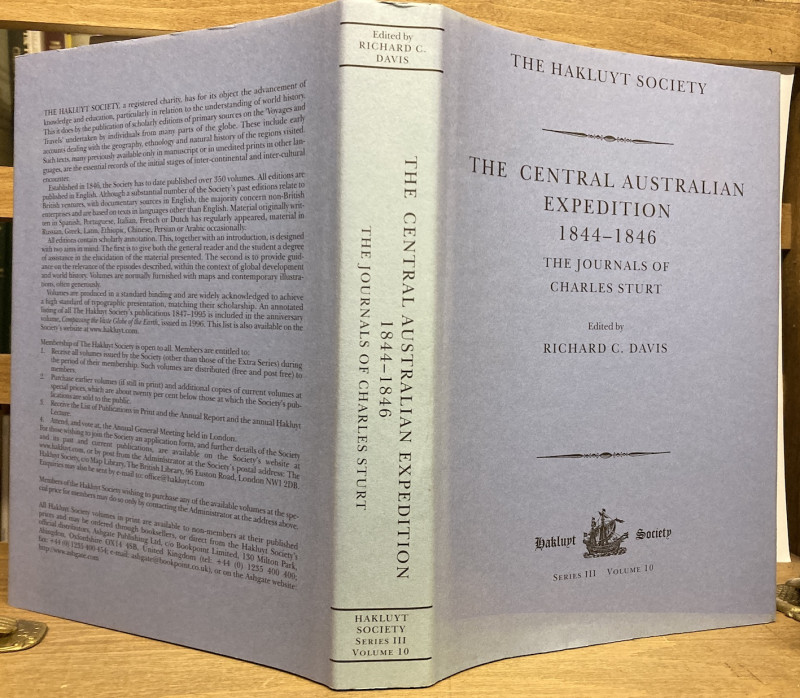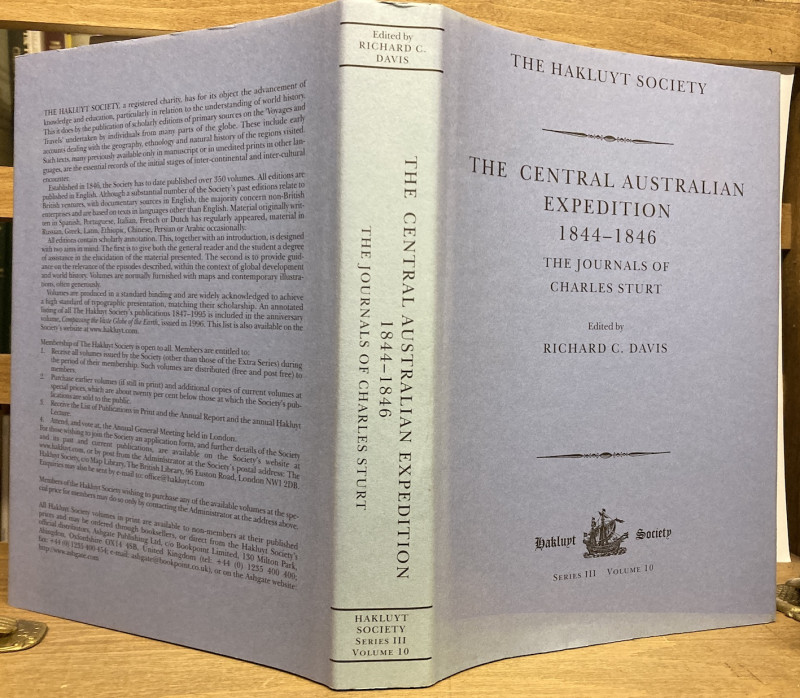 Book Description
2002, London, The Hakluyt Society, small 4to, pplxxi + 366, black and white illustrations, colour frontispiece, blue cloth in dustwrapper.
Dealer Notes
In August 1844, a heavily-laden party led by Captain Charles Sturt lumbered out of Adelaide, administrative seat of the young colony of South Australia. The seventeen-man expedition had just been feted at a public breakfast.Soon after, it turned north toward the centre of the continent. Among the procession of saddle horses, bullocks, sheep, and wagonloads of scientific equipment and provision for a year, rolled a light cart on which sat a boat.While many geographers had given up the notion of an inland sea lying in Australia's interior, Sturt had not. He set out to find it, doggedly certain that he would discover arable lands and stimulate the island's pastoral economy. He was equally certain that he would be amply recognized and rewarded for such valuable public service.
Six months later, trapped at an isolated waterhole and surrounded by hundreds of miles of parched land, the party waited for rain. No inland sea had revealed itself on the journey inland; in fact, permanent water of any description was rare. Parched creek beds lay dry for months on end. Finally, in July 1845, after having been unable to advance or retreat from the waterhole, the party rejoiced in falling rain. But by then the provisions were all but gone, and the men still faced the long journey back to Adelaide. One man died of scurvy, a debilitating scourge that ate away at the leader as well. Nonetheless, Sturt took a few of his healthiest men and pushed even farther towards the centre, until - barely able to stay astride his horse - Sturt ordered the entire party home.
Although he neither found and inland sea nor reached the centre of the continent, Charles Sturt's considerable efforts revealed the nature of much of the mysterious land. And in a manner uncharacteristic of his times, he established respectful and co-operative relations with the Indigenous peoples encountered along the way.
Binding
blue cloth in dustwrapper.
Publisher
The Hakluyt Society