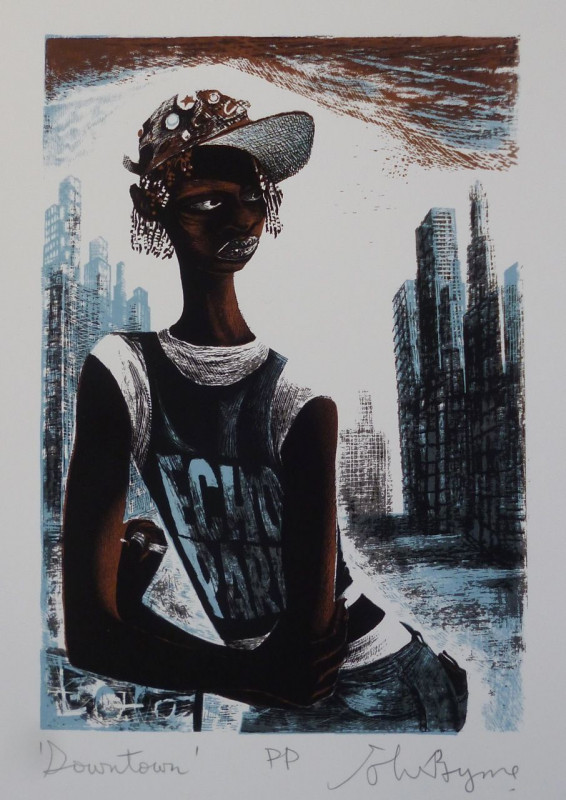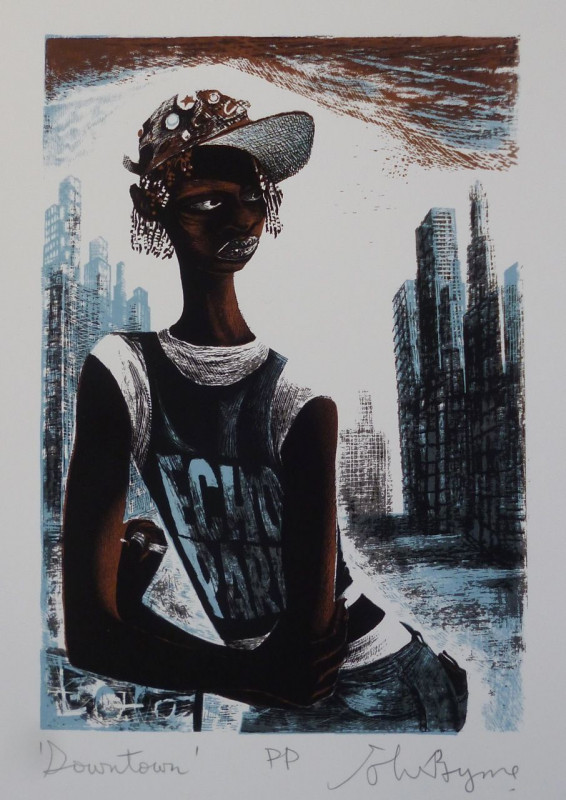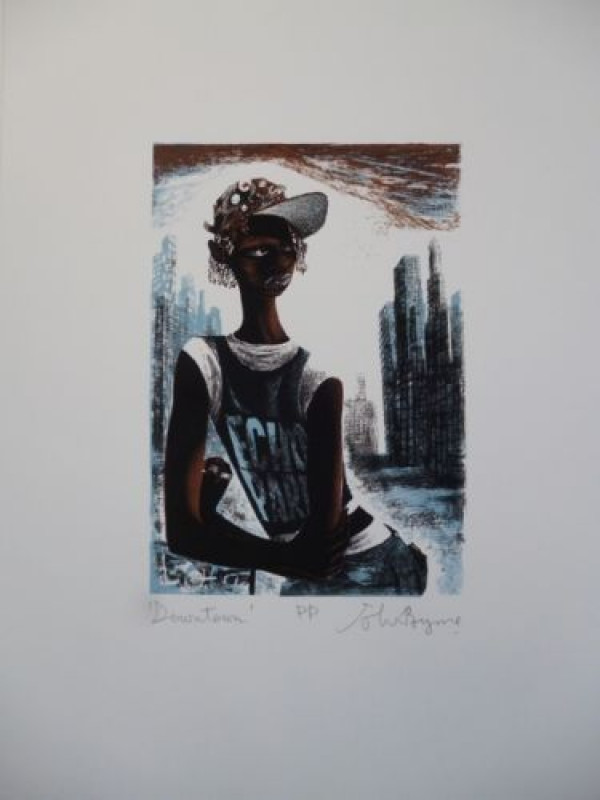 Book Description
Original coloured screenprint titled 'Downtown'. Printed in an edition of 10 titled, numbered and signed copies on Somerset fine art paper at the Glasgow Print Studio, Glasgow. This copy titled, designated 'PP' (printer's proof) and signed by the artist. Image size: 38cm x 26.5cm; sheet size 71.5cm x 51.5cm. Unframed. condition.
Dealer Notes
John Byrne was born in 1940 in Paisley, Scotland and attended the Glasgow School of Art from 1958 - 63 where he excelled. In his final year he was awarded the Bellahousten Award, the school's most prestigious painting prize, and spent six months in Italy, returning a masterful and confident young artist.

When Byrne first started as an artist in the 1960s, he found it difficult to have his work exhibited in London's galleries. He therefore released a series of faux-naïf paintings under the name "Patrick" claiming the work to been made by his untrained father. "Patrick" became a star and was feted by London's chattering classes, even having The Beatles commission "Patrick" to paint a cover for their 1968 White Album (it was later used on their Ballads compilation in 1980). When Byrne eventually revealed himself as creator of "Patrick's" work, not everyone was entirely happy with his ruse, however by then, Byrne had established himself as a successful painter.

During the 1970s and 1980s, Byrne produced a series of album covers for his friends Gerry Rafferty, Billy Connolly and Donovan. Byrne's style is instantly recognizable. His work is held in major collections in Scotland and abroad. Several of his paintings hang in The Scottish National Portrait Gallery in Edinburgh, the Museum of Modern Art and the Kelvingrove Art Gallery and Museum in Glasgow.

Byrne is not just a respected artist but is also a successful playwright and script writer. His plays include "The Slab Boys" which originally starred Robbie Coltrane, and later Sean Penn, Kevin Bacon and Val Kilmer in the 1983 Broadway production "Cuttin' a Rug" and "Still Life", collectively known as The Slab Boys Trilogy. For television he wrote the dramas "Tutti Frutti" starring Robbie Coltrane and Emma Thompson and "Your Cheatin' Heart" starring Tilda Swinton and John Gordon-Sinclair.
Publisher
Glasgow: Glasgow Print Studio (Undated, 2012 or earlier.).
Condition
Fine condition.