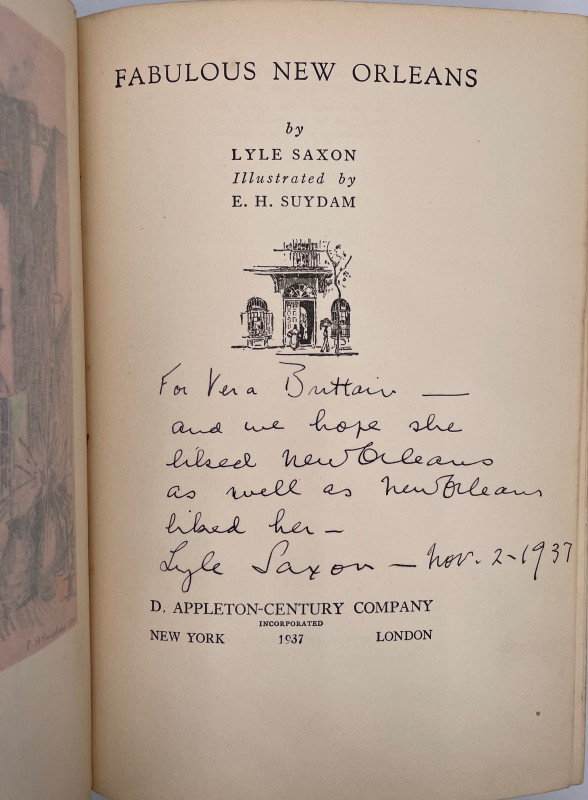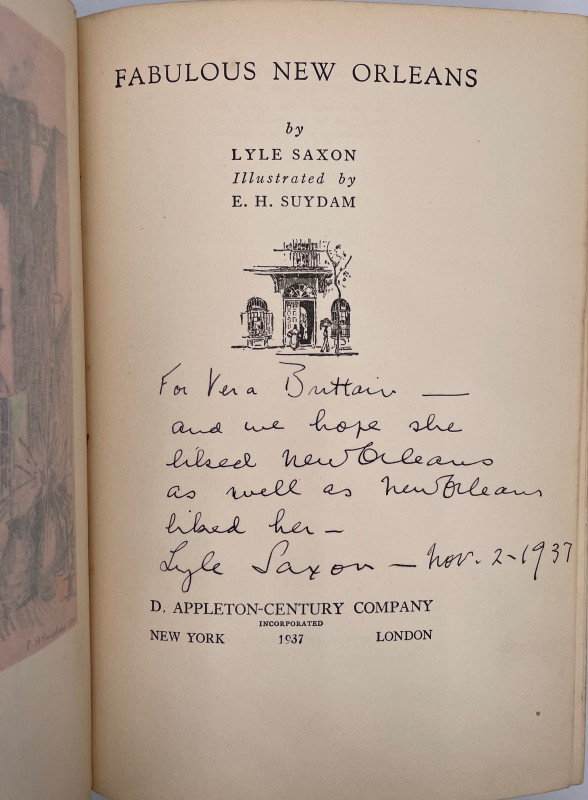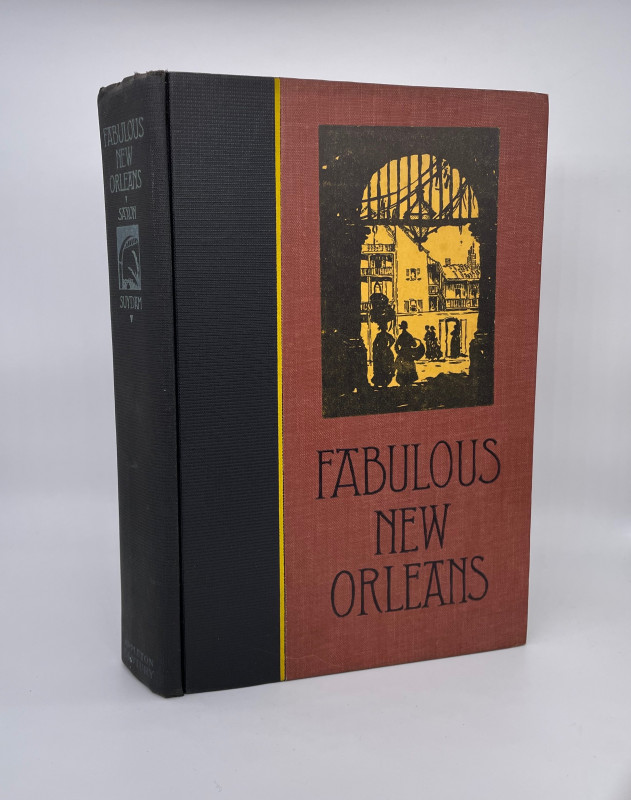 Book Description
Reprint, WARMLY INSCRIBED BY AUTHOR TO VERA BRITTAIN. Large 8vo, pp. xii, 334 + colour frontis, b/w plates and headpieces by Suydam. Quarter black buckram, lettered in lilac, rust boards, upper board lettered in black, with illustrated label in black and yellow. Fore- and bottom edges untrimmed, one pair of uncut leaves. Illustrated endpapers. Pushing to spine ends, lightest wear to extremities. Edges toned, top edge spotted. Inscribed by Saxon in black pen to title page: "For Vera Brittain —/ and we hope she / liked New Orleans/ as well as New Orleans/ liked her —/ Lyle Saxon —Nov. 2- 1937". Ink offsetting to frontis tissue guard. Else, clean and tidy. Very good. A pleasing copy that speaks to an otherwise unrecorded meeting of two quite different literary celebrities, who both mined (or fabricated) their own lives for their works.
Dealer Notes
Brittain likely visited New Orleans, and met Saxon, during her second American lecture tour (of three), undertaken between October and November 1937. The month of dedication (November) also saw the British publication of Winifred Holtby's South Riding, which Brittain, as Holtby's literary executor, had arranged. It was a significant year for Brittain in yet another respect: she became a convinced and public pacifist: in late 1936, she had been invited to become a Sponsor for Dick Sheppard's secular pacifist organisation, the Peace Pledge Union (PPU). Brittain accepted the invitation in January 1937, having taken a public platform with Siegfried Sassoon earlier that month. Later the same year, she also joined the Anglican Pacifist Fellowship.

Lyle Saxon (1891–1946) was a New Orleans writer and journalist on The Times-Picayune, who wrote six books about his home city; known as "Mr New Orleans," his output, and role as state director of the Louisiana Writer's Project (1935-43), were central to framing the city for automotive tourists. One of his most popular titles, Fabulous New Orleans examined waning Creole life in New Orleans, recounting its history through "fictitious personal reminiscences" of his first Mardi Gras (Stanonis, 2001). The inscription year saw the publication of both Saxon's novel Children of Strangers and the New Orleans City Guide, considered "one of the literary gems in the American Guide Series". Saxon, a gay man, "exploited New Orlean's negative national stereotypes" of the city as "a Southern fleshpot where sexual permissiveness, alcoholic indulgence, and wild revelries of every sort were commonplace" (ibid). Saxon commented on this bias, writing: "Protestant ministers in far-away New England preached sermons on the new Sodom at the river's mouth—a city they had never seen, but of which they had heard fabulous stories." Towards the end of his life Saxon lamented: "I began as a writer [...] and I end as a souvenir [of New Orleans]."

As the grandson of the Southern writer and suffragist, Elizabeth Lyle Saxon, Saxon may very well have had sympathy with Brittain's politics, as his warm inscription perhaps attests.

Anthony Stanonis (2001) '"Always in Costume and Mask": Lyle Saxon & New Orleans Tourism' in Louisiana History, 42:1, 31-57 [ref: 2373]
Author
[BRITTAIN, Vera]; SAXON, Lyle; SUYDAM, E. H. (illustrator).
Publisher
New York: D. Appleton-Century Company