The next book fair will be STAMFORD (for details
click here
) on SAT 27th MAY.
(Please note: LINCOLN FAIR - 4th June - CANCELLED)
CLICK
HERE
TO SEE DETAILS OF ALL OUR FAIRS. THE MAY ONLINE BOOK FAIR OPENS MON 29th MAY at 12 NOON. CLICK
HERE
TO FIND OUT MORE.
'By Virtue of the Power and Authority in me vested by His Majesty, and reposing especial Trust and Confidence in your Loyalty, Courage and Good Conduct, I do hereby constitute and appoint you...'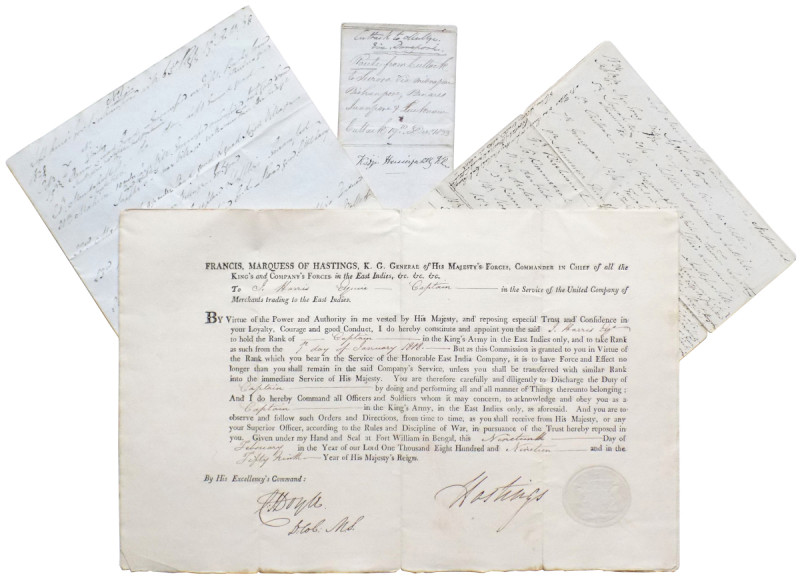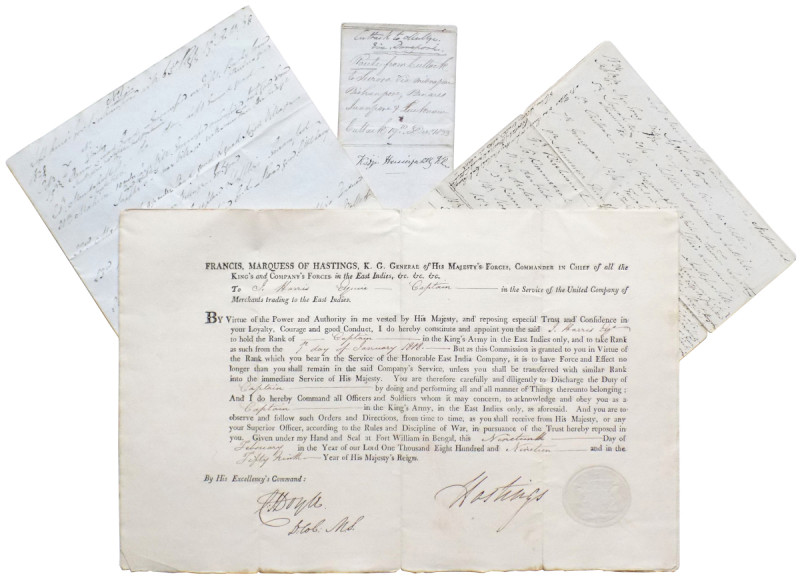 Book Description
An East India Company military commission, printed on a bifolium, approx. 15 x 10", completed by hand for dates and personal details, signed to lower right by Hastings and to lower left by C. S. Doyle, embossed Company seal to right margin, folded and addressed to verso "1st January 1818 J. Harris Esq. Captain Bt. King's Commission", slightly soiled to external folds and panels; together with three MS documents detailing routes followed during troop movements in 1824 (3pp. with splits to folds), 1828-9 (8pp. on two bifoliums, possibly missing a third), and 1833 (3pp. in columnar form, in a different hand).
Dealer Notes
This commission was signed at Fort William in Bengal by Francis Hastings in his capacity as Commander in Chief of all the King's and Company's Forces in the East Indies, and appoints J. Harris to the position of Captain in the King's Army in the East Indies. The accompanying routes detail several journeys: the first from Neemuch to Cawnpore (Kanpur) in September-October 1824; the second from Kansi to ? Berhampore in October 1828-January 1829; and the third from Cuttack to Secrora from December 1833 to March 1834. It is not clear how the routes relate to the commission.
Author
[East India Company.] [Francis Hastings, 1754-1826.]
Condition
See description