PLEASE NOTE - OUR TELEPHONE NUMBER HAS NOW CHANGED TO 01763 248921OUR THEMED FEBRUARY ONLINE FAIR IS NOW OPEN.
1000's OF BOOKS/ITEMS ON OFFER TO SUIT EVERYONE!
CLICK
HERE
TO FIND OUT MORE...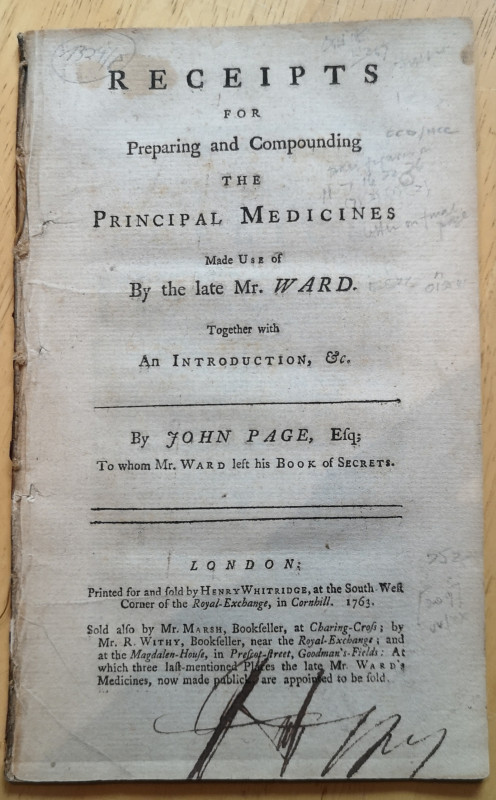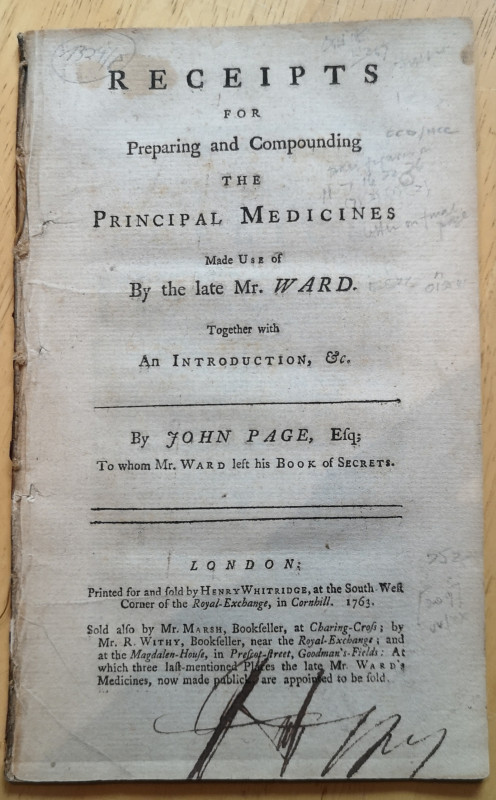 Book Description
First edition (variant issue), 8vo, pp. [2], 33, [1], slight browning, title and verso of last leaf a little dusty, pen doodle to title just touching imprint, disbound.
Dealer Notes
Famous 'book of secrets' edited by John Page on the basis of the manuscripts left to him by the Quack doctor Joshua Ward (1685-1761). He became known and notorious for his pharmaceutical inventions, especially Friar's Balsam, which were meant to cure any illness but actually often contained toxic (and often lethal) quantities of antimony. However, he also established hospitals and free clinics for the poor in London.
ESTC N13541 (lists 1 copy in the UK and 3 in the US); Wellcome IV, 283.
Author
Ward, Joshua; Page, John.
Publisher
London, H. Whitridge,
Price: £100.00
Offered by Mayfly