Regretfully, due to Covid-19, all our fairs up until the end of December have now been cancelled.
OUR XMAS ONLINE BOOK FAIR CONTINUES TO RUN SO PLEASE DO BROWSE THROUGH THE COLLECTIONS!
Arithmetica demonstrada theorico-practica para lo mathematico y mercantil. Explicanse las monedas, pesos, y medidas de los Hebreos, Griegos y Romanos y de estos Reynos de España, conferidas entre sí ...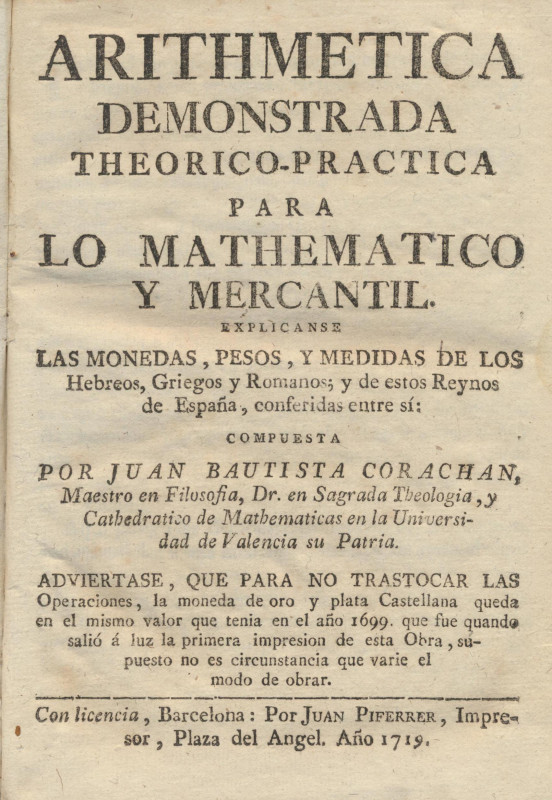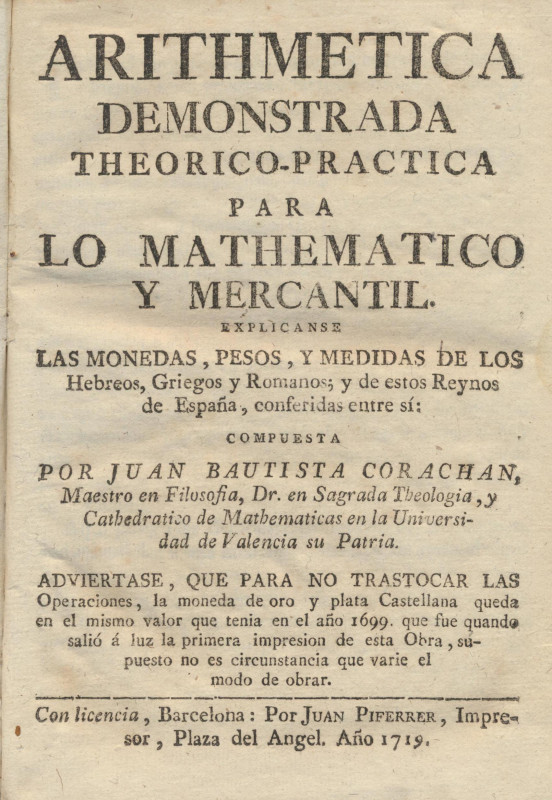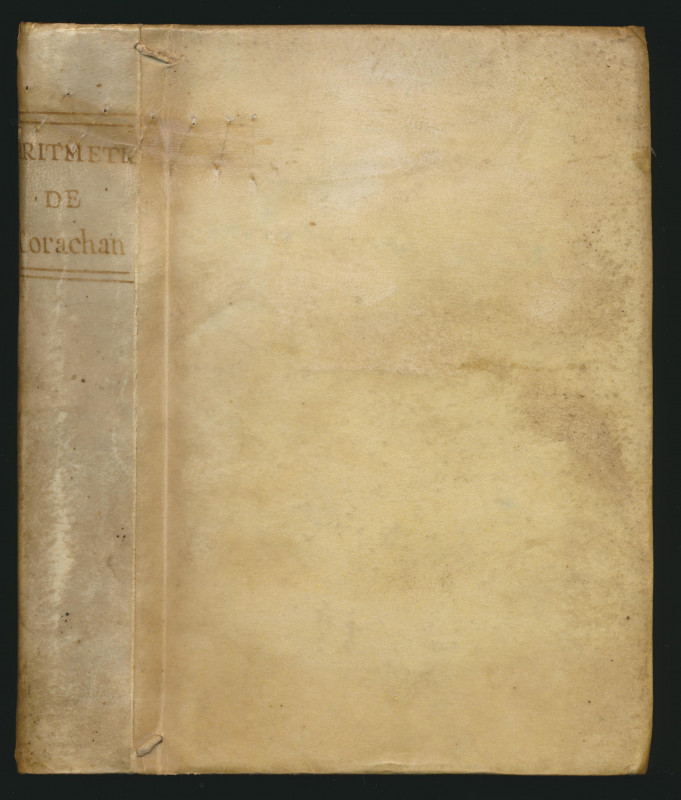 Book Description
Second edition of this rare Spanish handbook of arithmetic, first published in 1699. The appendix, beginning with page 470, contains chapters on guessing numbers someone else has imagined, numerological entertainments inspired by Kabbalah, geometric calculations, musical intervals, and music theory. Juan Bautista Corachan (1661-1741) of Valencia was appointed professor of mathematics at the University of his hometown in 1696, and participated in the scientific salons of the city at the turn of the 17th and 18th century. He is the author of a number of books aiming at popularizing the sciences.
Dealer Notes
See Palau IV, p. 95 for the first and the 1735 edition only; OCLC locates three copies of the first edition in the US, at Berkeley, University of Michigan and Columbia University; the present edition is located at Yale, University of Michigan and in New York Public Library.
Author
CORACHÁN, Juan Bautista.
Binding
contemporary Spanish vellum, spine lettered in ink; rear hinge broken, rear cover with vellum missing along lower margin; Spanish ownership inscription by Manuel Huarte, dated 1882, on front fly-leaf.
Publisher
Barcelona, Juan Pifferer,
Condition
4to, pp. [iv], 494, [14]; occasioanl light browning of foxing, one gathering browned throughout;