The next book fairs will be BURY ST EDMUNDS (
click here
for details) and SHERBORNE (
click here
), both on SAT 1st APRIL
CLICK
HERE
TO SEE DETAILS OF ALL OUR FAIRS. THE MARCH ONLINE BOOK FAIR IS NOW OPEN! CLICK
HERE
TO FIND OUT MORE.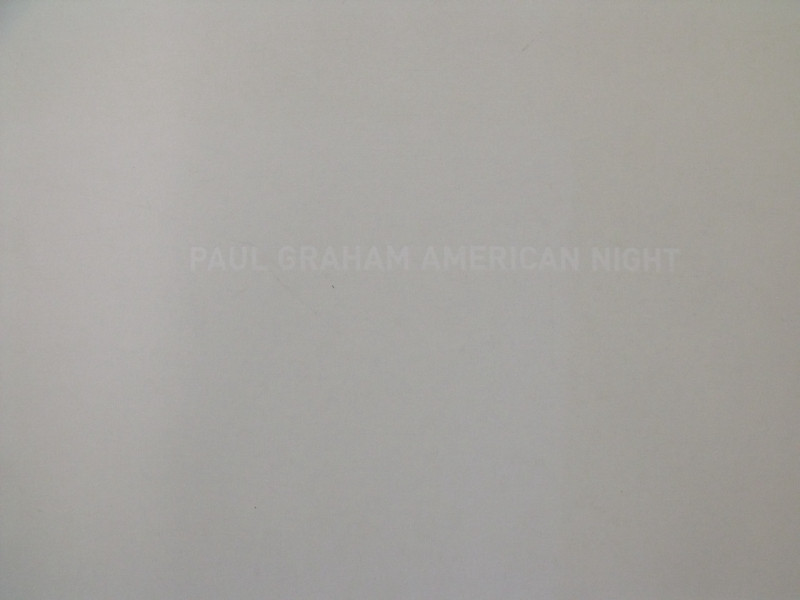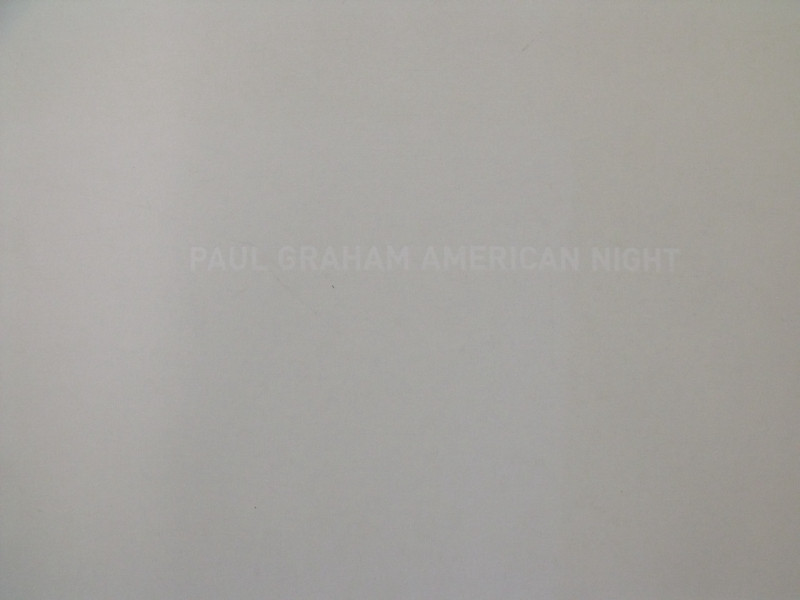 Book Description
Embossed white on white hardcover. Light soiling to covers and slight soiling to spine. Light bleaching to front cover. Dark line to bottom edge of covers near front corners.
Dealer Notes
"American Night explores the plight of the African-American underclass at the outset of the 21st century. The book contains 63 landscape-format photographs divided into three distinct groups. The largest group consists of 46 bleached-out images of urban blacktops and parking lots beside which solitary African-Americans wander and wait. Interspersed among these are seven pictures of middle-class suburban homes, all but identical and devoid of humanity. Finally, two-thirds of the way through the plates, Graham presents us with a block of ten street portraits of African-American men and women, many of whom appear to be suffering from some form of physical or psychological impairment; the patches over the eyes of the self-absorbed individuals who frame the section are especially noticeable. Encountering Graham's strongly coloured images in the midst of his blindingly white landscapes is a startling experience and throws the houses and people into sharp relief. The buildings radiate an implausibly vivid, mirage-like quality while the portraits give off a heavy, claustrophobic intensity. Conversely, we strain to discern the distant figures in the landscapes; it is as if we have just stepped from the shadows into the unrelenting midday sun and our eyes have not yet accustomed themselves to the glare. Graham's work often attracts vociferous opinion and there is little doubt that American Night will generate a comparable outcry as the photographer, a perennial outsider, draws attention to a society outwardly insensible to the consequences of systemic racial inequity." Paul Bonaventura, 'Blinding white', Tate Research Publication, 2003, https: //www.tate.org. Uk/art/artists/paul-graham-2337/blinding-white

Paul Graham's photographs touch upon the social fracture of America - the great divide between the included and excluded, blacks and whites, haves and have-nots. Taking on a simple topic, of late dealt with only through cliché photojournalism, American Night embraces neglected territory in a series of shocking images that sit on the fence between art and document. Graham's images blind and overwhelm the viewer with a feeling akin to stepping out of a sheltered place and into the sunlight. Drained of color, shadow and form, they resonate with the lives of those they portray... And then the sequence snaps, either to a vibrant full-color image of a freshly minted dream house, complete with a blue sky and green grass of unattainable perfection, or to an intensely dark street portrait... Before returning to the endless blinding whiteness of everyday life. Beyond their paucity or wealth of color these images contrast one another in their content: These perfect homes are unobtainable to those walking in the burnt landscape; they are a mirage, a dream or promise that can almost never be reached. Here is the chasm between promise and actuality, hope and reality, dream and truth. Shot between 1998 and 2002 in locations across America, including Los Angeles, Memphis, Detroit, New York City and Atlanta.
Binding
Contemporary cloth
Publisher
Steidl Verlag, Gottingen