OUR LIVE FAIRS ARE BACK! THE NEXT ONE WILL BE AT BAKEWELL, DERBYSHIRE, ON SAT. 14th AUGUST
CLICK
HERE
TO SEE DETAILS OF ALL OUR FAIRS.
IMPORTANT - SOCIAL DISTANCING MEASURES WILL BE IN PLACE AT ALL OUR FAIRS AND VISITORS ARE STRONGLY URGED TO WEAR A MASK.THE JULY ONLINE BOOK FAIR IS OPEN. 1,000s OF BOOKS/ITEMS ON OFFER. CLICK
HERE
TO FIND OUT MORE.
1717 ~ STURT'S BOOK OF COMMON PRAYER IN A BLIND-TOOLED SOMBRE BINDING AND ENGRAVED THROUGHOUT ~ POST FREE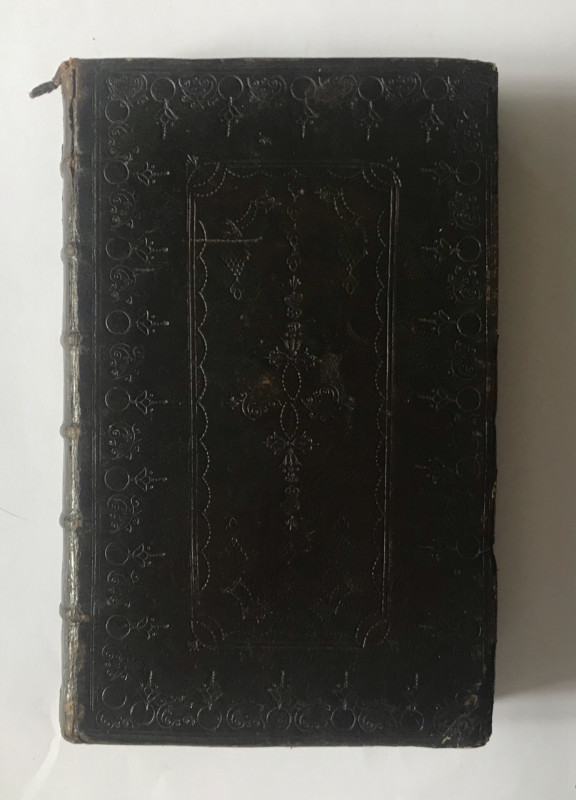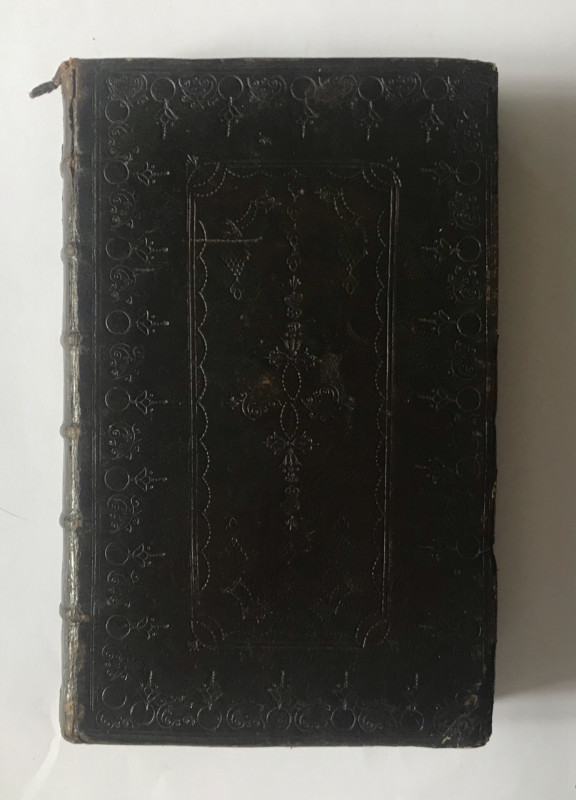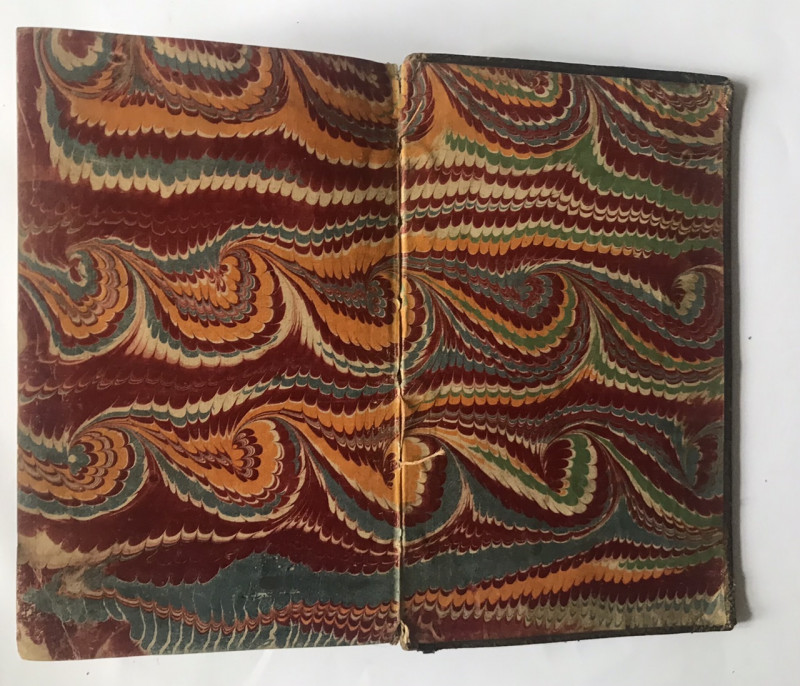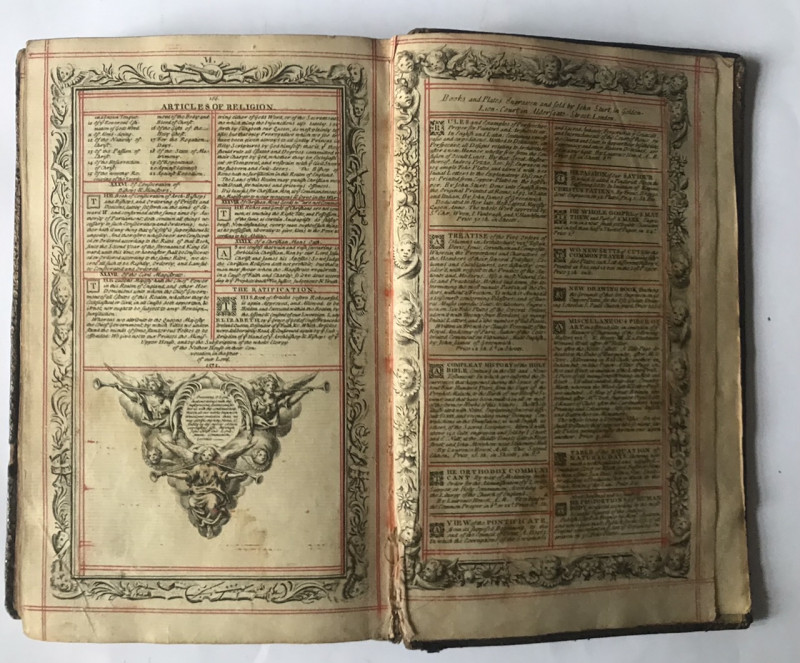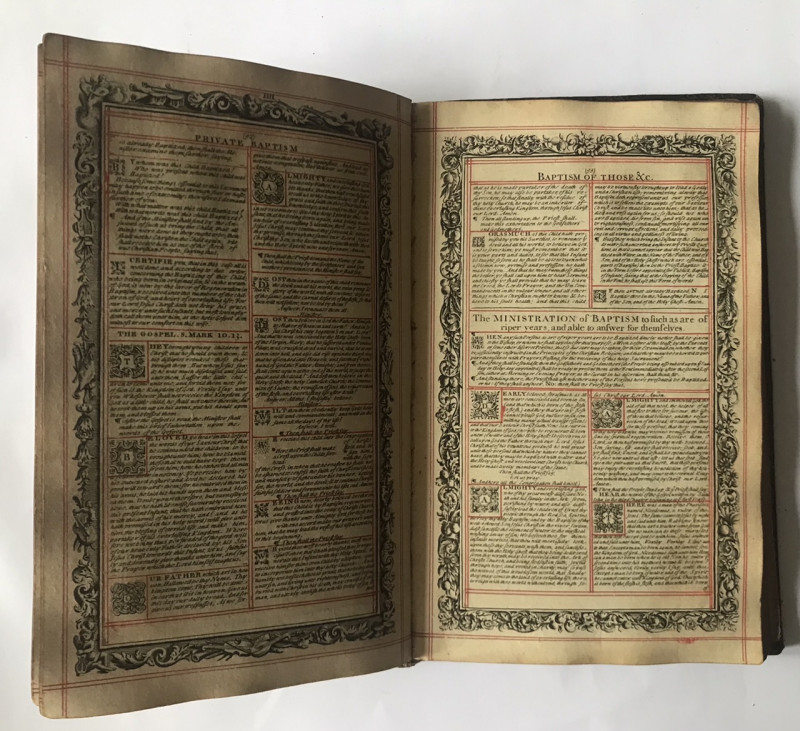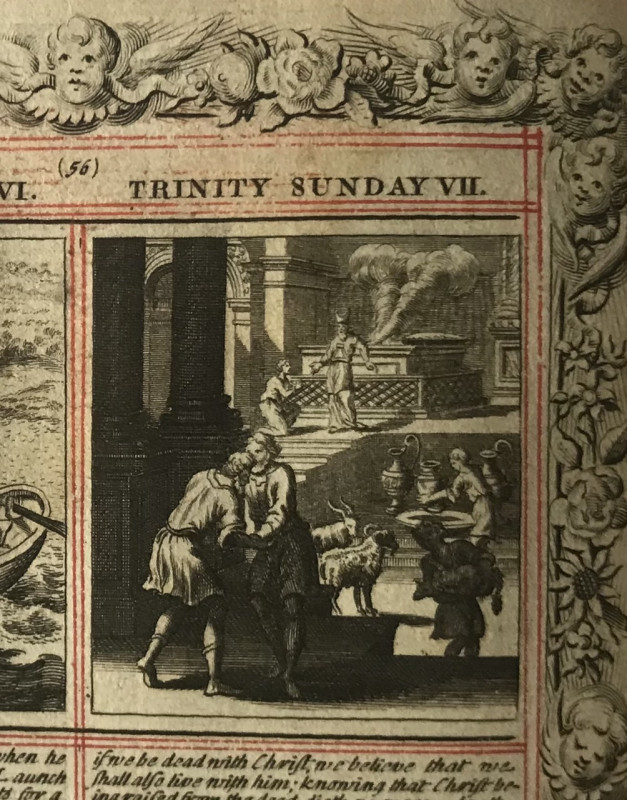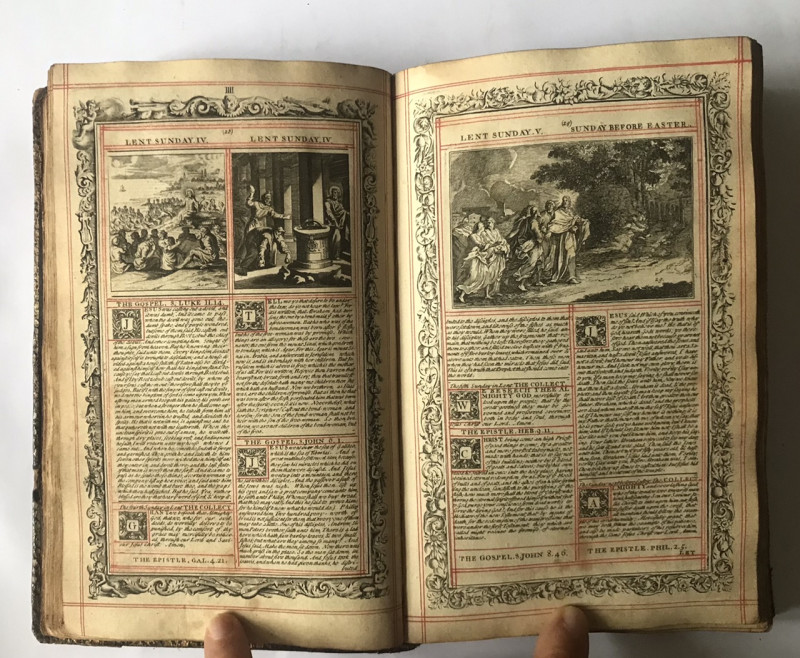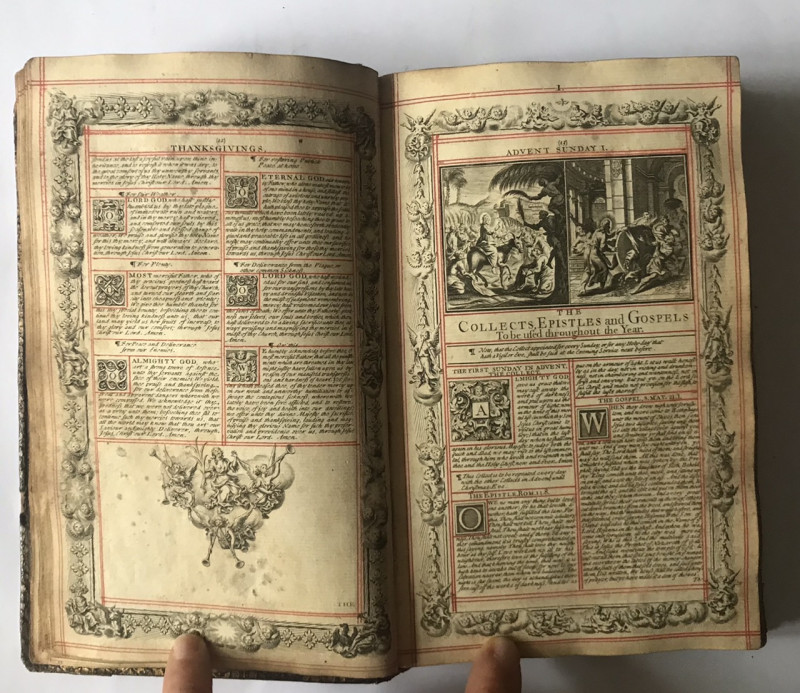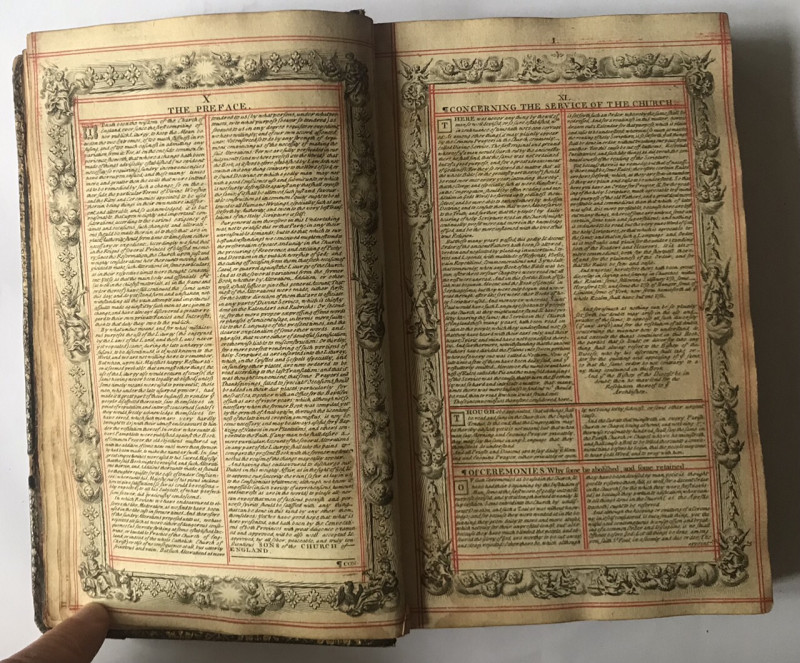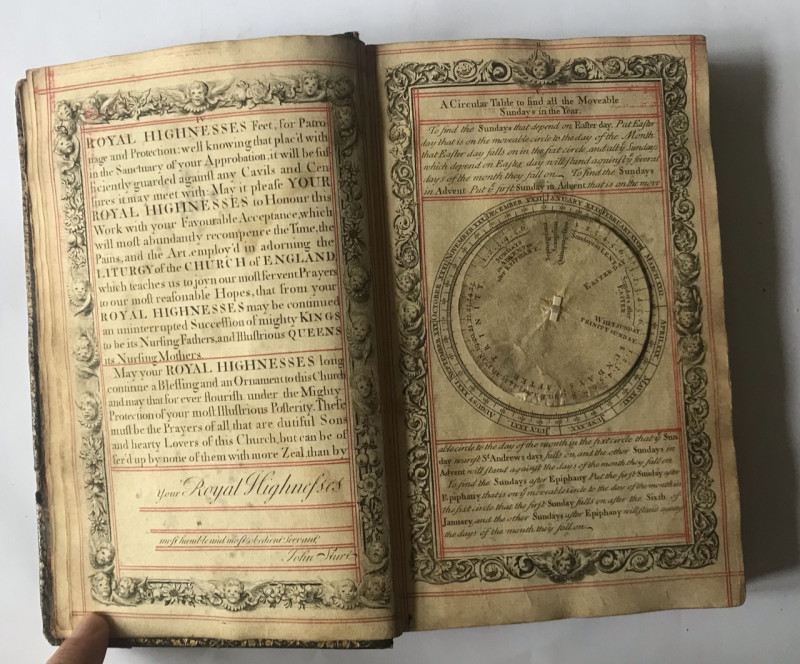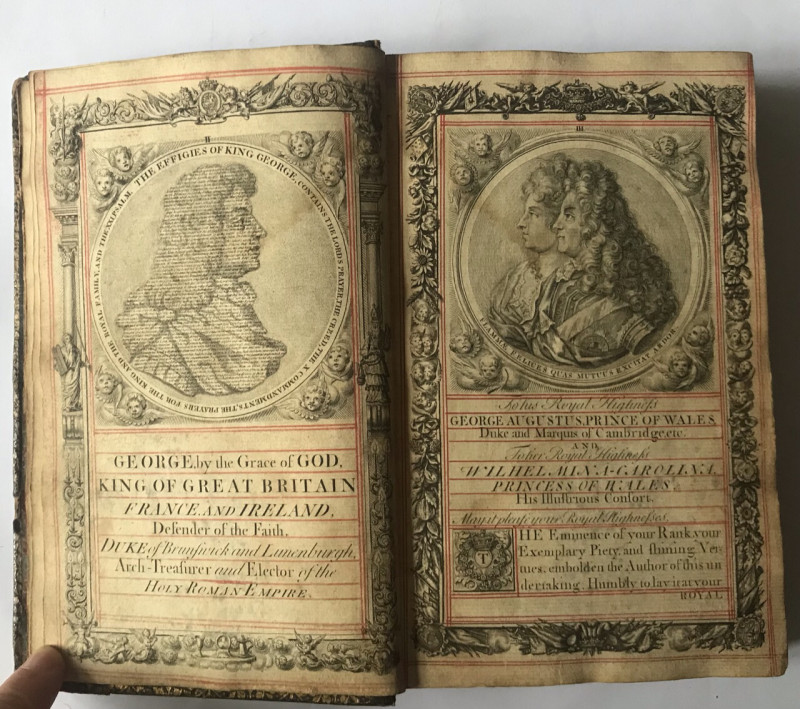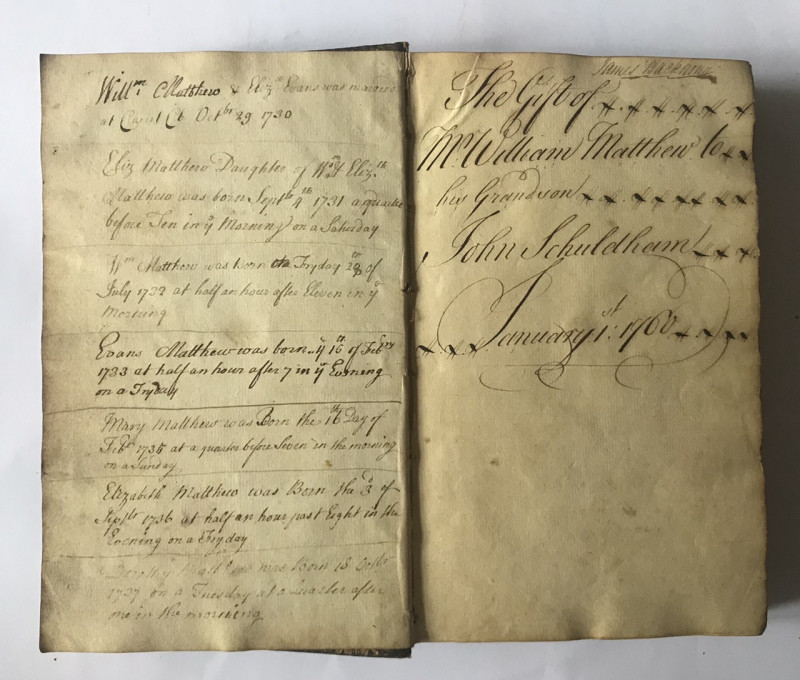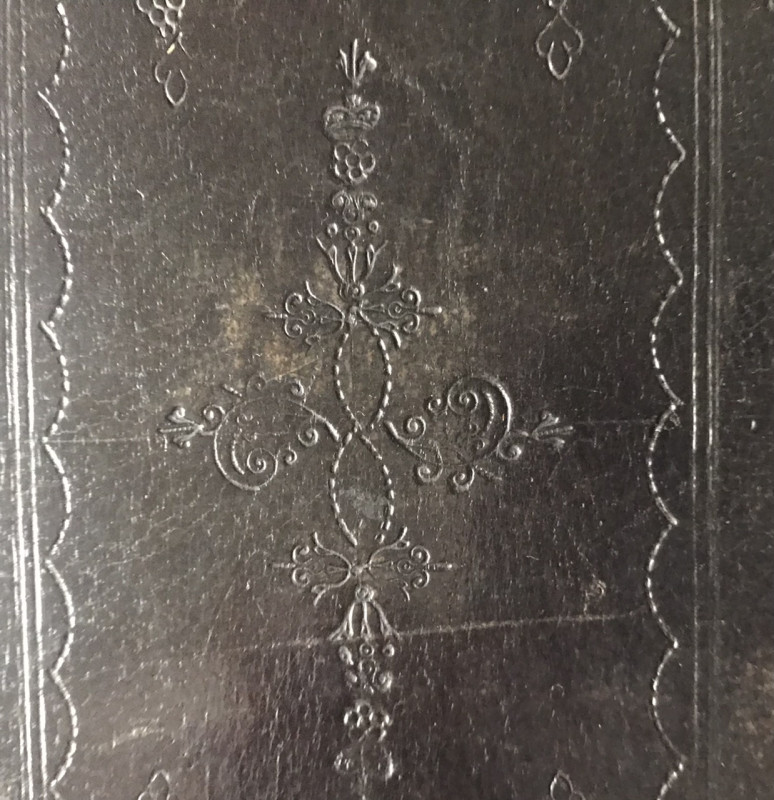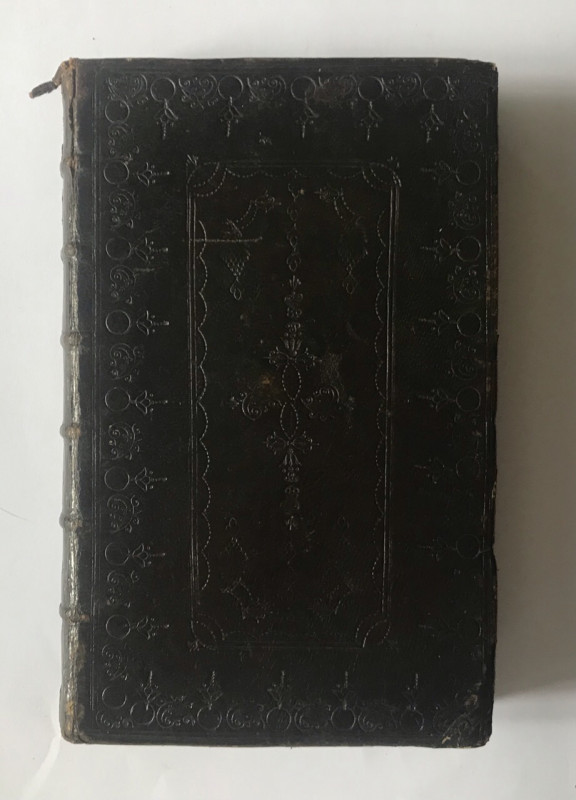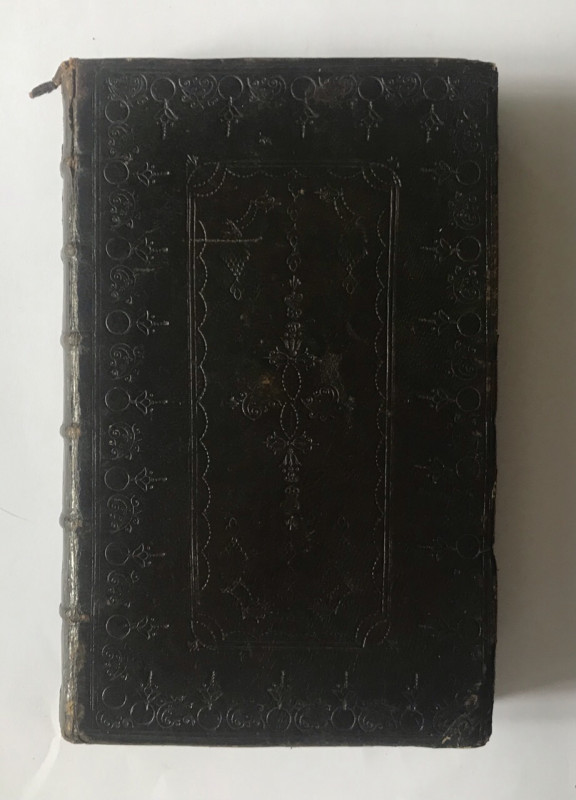 Book Description
Full title reads: The book of common prayer and administration of the sacraments and other rites and ceremonies of the church according to the use of the Church of England together with the Psalter or Psalms of David pointed as they are to be sung or, said in churches. London : Engraven and printed by the permission of Mr. John Baskett printer to the Kings Most Excellent Majesty 1717. Sold by John Sturt engraven Golden-Lion-Court in Aldersgate Street 1717. 8vo (size). Approximately 22cm x 12.2cm. pp xxii,166,[2]. Printed in black, ruled in red. Engraved throughout, in an extra-ordinary small italic script, and many finely executed illustrations, engraved capitals, head and tail pieces, and illustrated borders. Volvolle present to page V, though it is detached where it has worn the paper beneath. With a final advertisement leaf, and list of subscribers to the prelims. Sometime suffered from coming into contact with water, with resulting marks to prelims and to final leaves, and to a less extent within the body of the book. Pages 70 and 71 somewhat browned, where stitching has become loose and spine has cracked. IN A CONTEMPORARY SOMBRE BINDING: black calf, all edges gilt, with blind tooling on spine, and both panels, slightly rubbed to head and foot, spine cracked, but intact, marbled endpapers, all edges gilt. In this printing, there are cherubs to the middle of each border on Page V, and at the head of the leaf is the Roman numeral 11. To the flyleaf is written in a large but neat contemporary hand, The gift of Mr William Matthew to his Grandson, John Schuldham, January 1st 1760, later signature to top, James Backhorn. To the opposite leaf, are notes of the marriage of William C Matthew and Eliz. Evans, October 29th, 1730, and a note of their six children in turn.
Dealer Notes
A remarkable artefact: Sturt took three years to demonstrate his consummate craft, engraving a separate silver plate for each plate, the lettering being so small often as to need a magnifying glass to read it. It is notable not only for its illustrations, but also the frontispiece of King George, which is engraved in tiny letters that when enlarged spell out prayers, including the Lord's Prayer. A masterpiece of the art. The book too, has an interesting binding: sombre bindings were held to be more appropriate for discrete worship after the rise of puritanism in the seventeenth century, and this custom continued into the eighteenth. Though the book has seen some wear during its life, the binding is intact, with the blind-tooled decoration clear. The marbled endpapers, and the gilt edges, as well as the red rules and intricate text contrast with the discrete binding to give a sense of wealth and opulence. It must have been a noble gift in its time: the Matthew and Schuldham family if not aristocracy, would have been certainly well-off gentry to have obtained and preserved this work over the generations. This setting of page V is not recorded exactly in ESTC, but it appears to be closest to ESTC T141242. ~ POST FREE ~
Author
Book of Common Prayer
Binding
Contemporary black calf, with blind tooling.
Publisher
John Baskett printer to the Kings Most Excellent Majesty
Condition
Sometime received water damage, but intact and collated complete and correct.