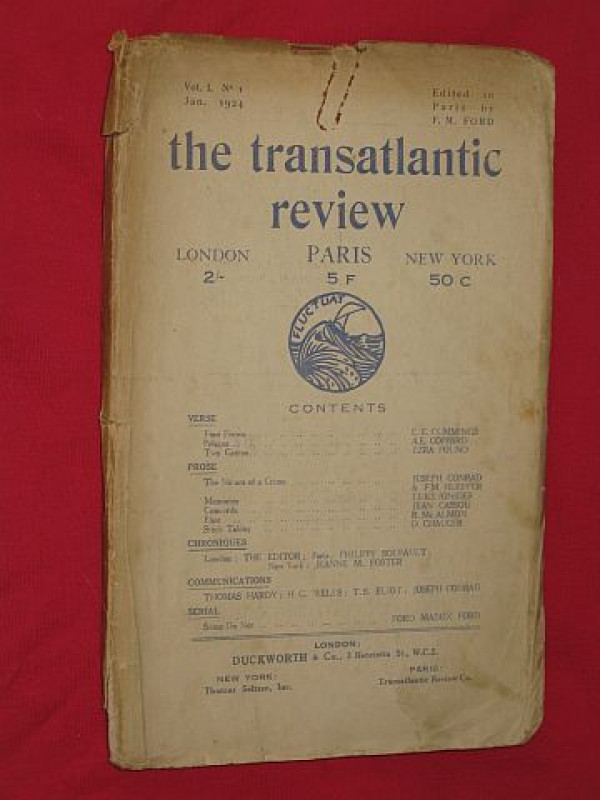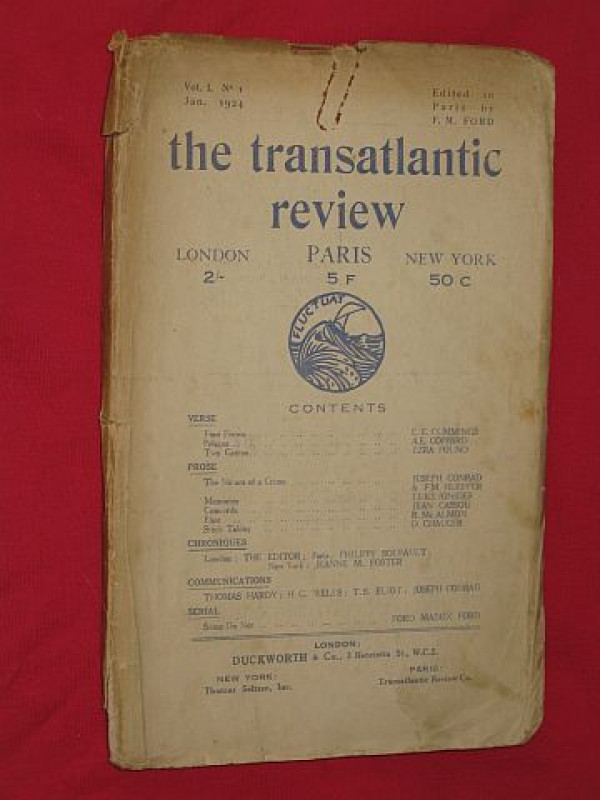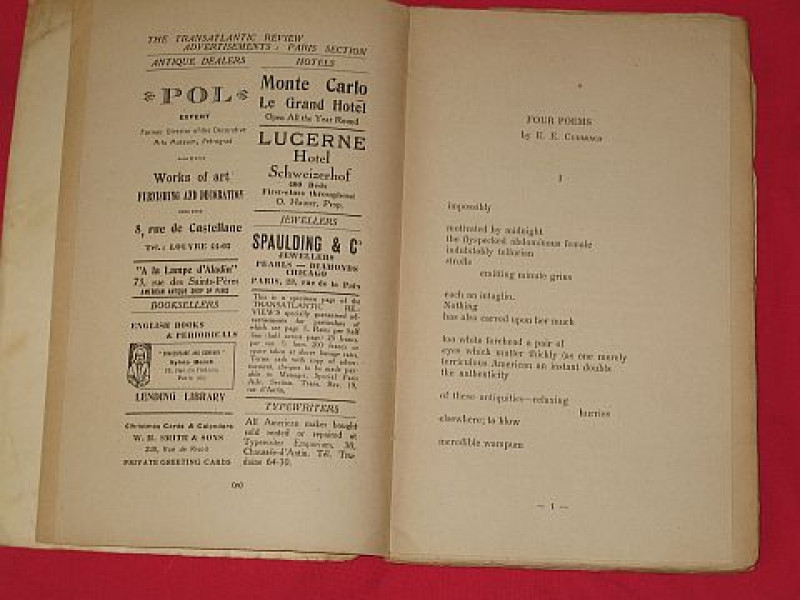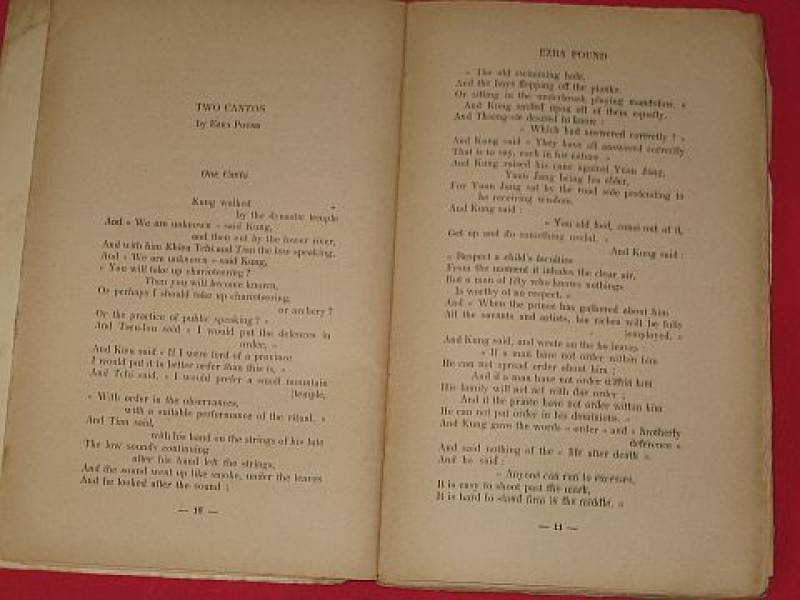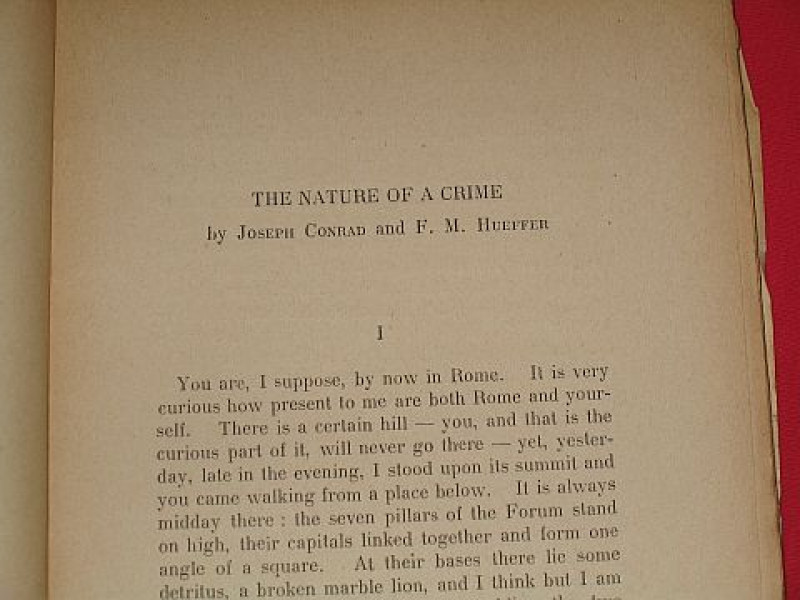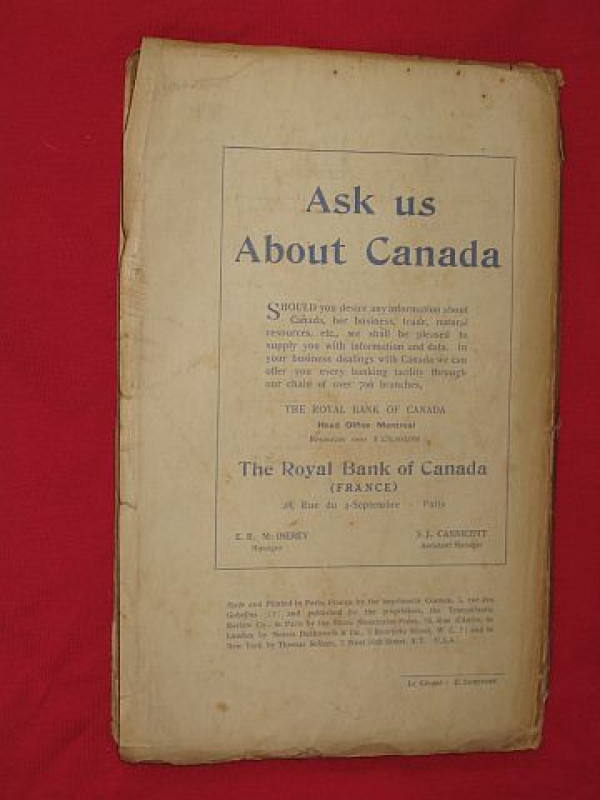 Book Description
London edition of the first issue of this important and influential literary journal edited in Paris by Ford Madox Ford. Includes two early "Cantos" by Ezra Pound, four poems by E. E. Cummings & one by A. E. Coppard and the first instalment of 'The Nature of a Crime', a book Ford had written some years before in collaboration with Joseph Conrad but which only now received official recognition. To conclude the opening section of the review, there is a sketch in French on the Place de la Concorde by Jean Cassou; a short story, "Elsie", by Robert McAlmon; and "Stocktaking" by "Daniel Chaucer", the pseudonym adopted by Ford for his literary observations. Luke Ionides' "Memories" - an interesting series of reminiscences of Whistler, Wilde, and numerous Pre-Raphaelites also made its first appearance in this issue & ran through the life of the magazine. In the second section of the magazine came the "Chroniques", whose purpose was to provide a survey of artistic and literary achievement in Paris, London, and New York. After a section containing "Communications" from well-wishers such as T. S. Eliot, Thomas Hardy, H. G. Wells and Joseph Conrad, the 120-page number closed with the first instalment of Ford's own novel, 'Some Do Not'. The Transatlantic Review, although it published only 12 issues - one in each month in 1924 - had an influential impact on early 20th-century English literature. 8 pages of adverts to front & rear. Some pages uncut.
Dealer Notes
First Edition; 8vo - over 7¾" - 9¾" tall; Blue titles to covers; light wear to edges & rust mark from paperclip to top front edge; Some wear to bottom of spine, browned with age & has some splits to bottom edges etc.
Author
Ford, Ford Madox (Ford Madox Hueffer, editor.), Joseph Conrad, Ezra Pound, E. E. Cummings, Luke Ionides, A. E. Coppard, Jean Cassou. et al.
Publisher
Gerald Duckworth & Co Ltd.; London
Condition
Good Condition (no Dust Jacket as published.)170