THE HISTORY OF THE YORK AND LANCASTER REGIMENT " The York & Lancs Regiment " [Original Manuscript ] Together with Dr Payne's own copy of his British and Foreign Orders,War Medals and Decorations' FIRST EDITION 1911.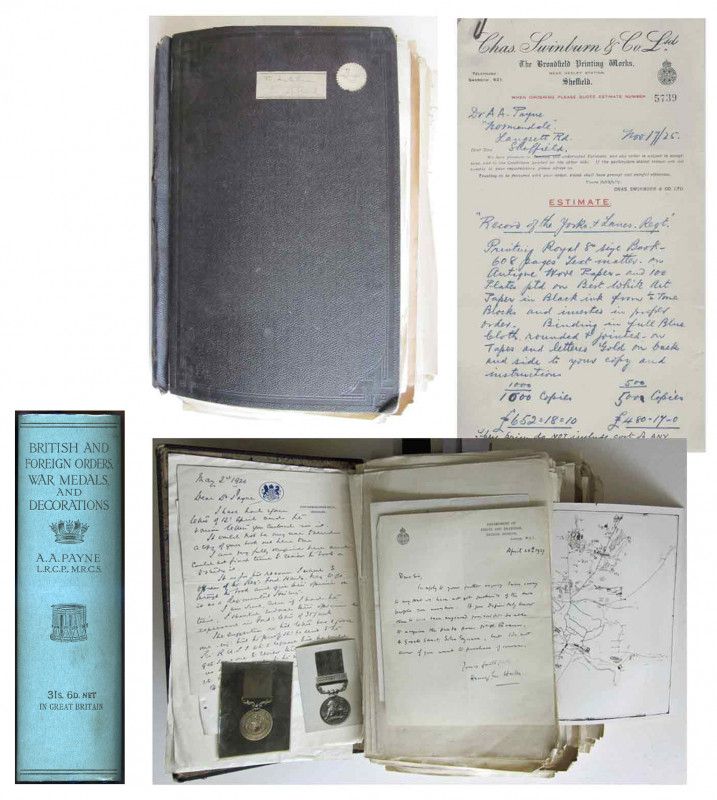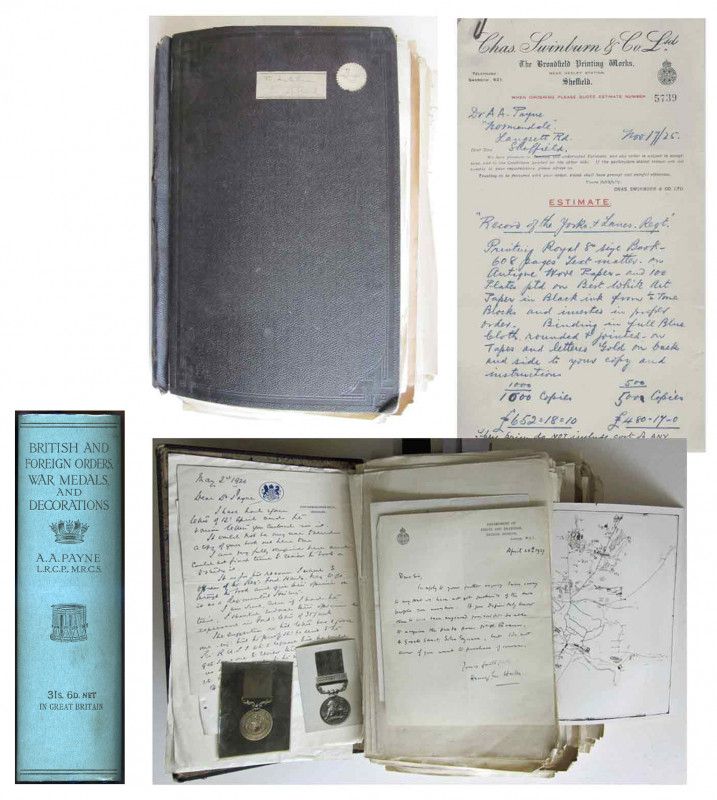 Book Description
Original Manuscript of Dr Payne's unpublished 600 page ' Historical Record of the York and Lancs Regiment from its being raised as a 2nd Battalion of the 12th Foot, 21st August 1756,and its becoming a distinct corps under the title of the 65th Foot ,21st April,1758 to the present time. ' Dedicated to Field Marshall Lord Herbert Charles Onslow Plumber. G.C.B., G.C.M.G.,G.C.V.O.,&c. The preface begins... 'Complying with the request and by the encouragement of Lieut-Colonel V.T.R.Ford,D.S.O. I have written in more detail the History of the York and Lancaster Regiment and have essayed to retrieve from oblivion the glorious deeds of this gallant regiment etc. Extensively corrected in typescript and holograph with original and copy photographs, drawings,letters etc. Together with a quotation for its printing by Chas. Swinburne & Co Ltd. The Broadfield Printing Works. Sheffield dated November 1925. The cost excluding the extensive blockmaking required was £652 18s 10d for a run of a thousand copies.Further estimates are attached for 50 copies in half calf at 4/- each and an edition in two volumes [perhaps influenced by the bulkiness of his 'British and Foreign Orders,War Medals and Decorations' 1911 which Northends had produced.] Payne had of course already published a concise history of the regiment of just 51 pages [and it has been brought to our attention that further parts of the manuscript exist in the York & Lancs Regiment Archive in Rotherham] Also included is a small notebook containing 'Subscriptions towards the publication ... listing names & sums in cash or cheque and a further list of orders. The complete archive is in a clean ordered state & contained in its original Foolscap folder. [Together with a FINE COPY IN DUSTWRAPPER (Dr Paynes own) of British and Foreign Orders,War Medals and Decorations' FIRST EDITION 1911. Many more scans available on request.
Author
Payne, A.A. [Algernon, Archibald, Payne. L.R.C.P., M.R.C.S., M.B.N.S., &c.]
Publisher
Sheffield. ' Normandale ' Langsett Road. 1925 and 1911.