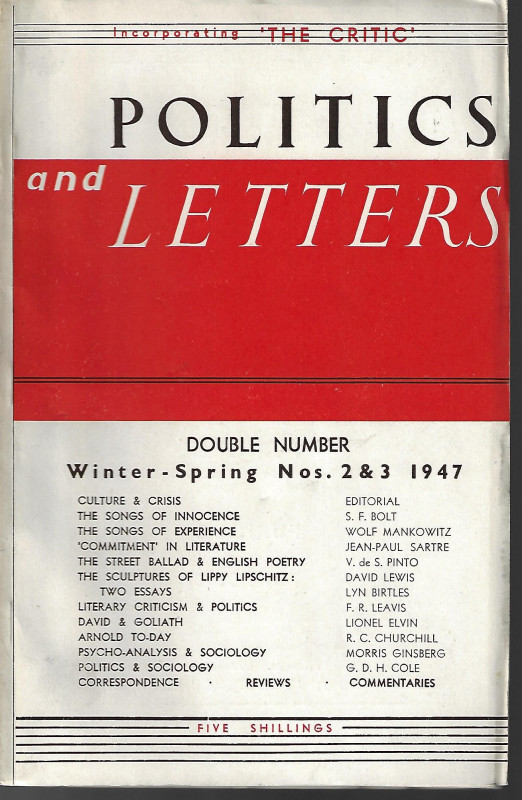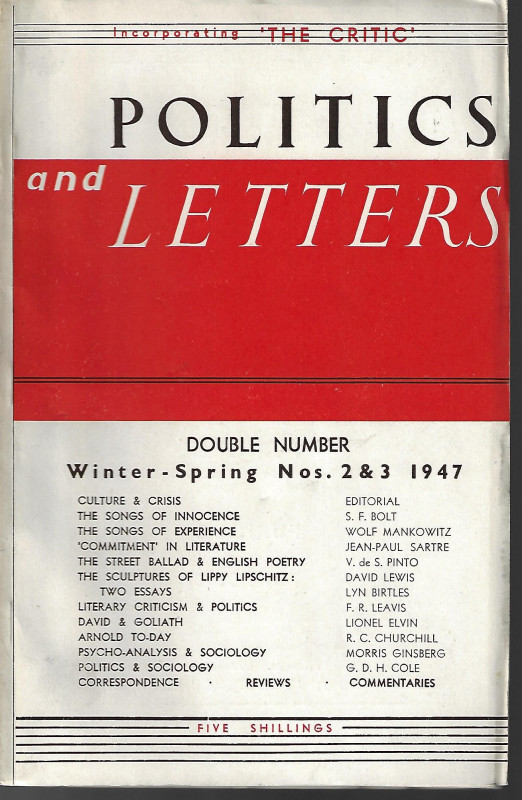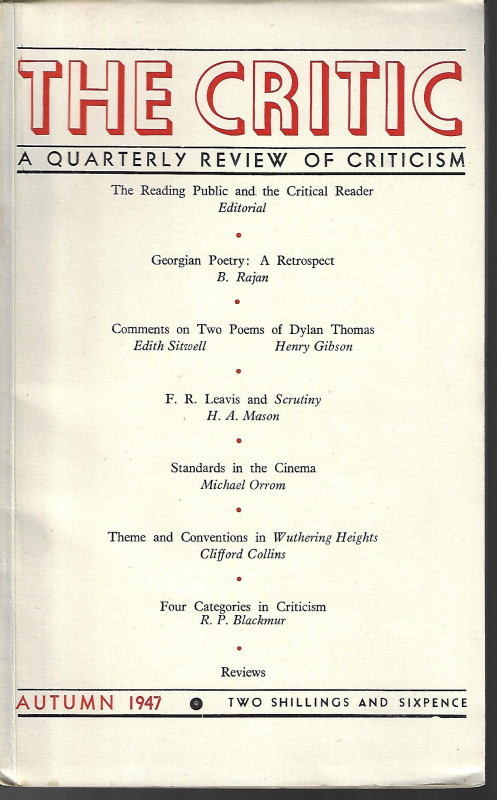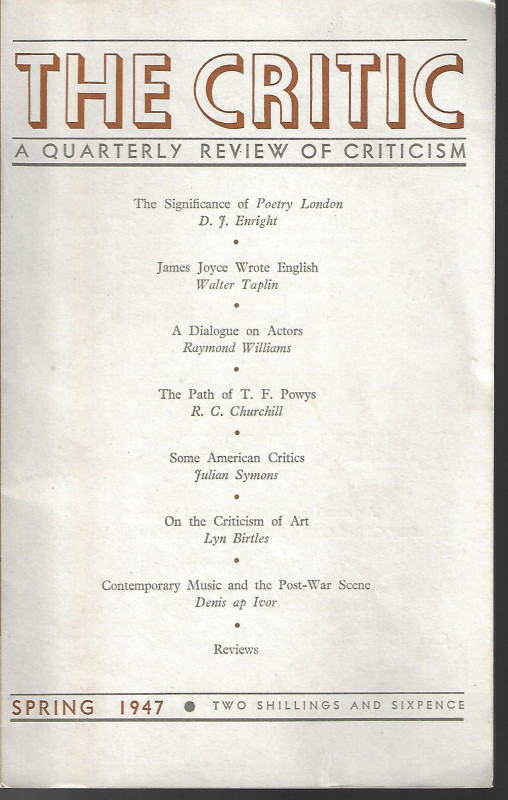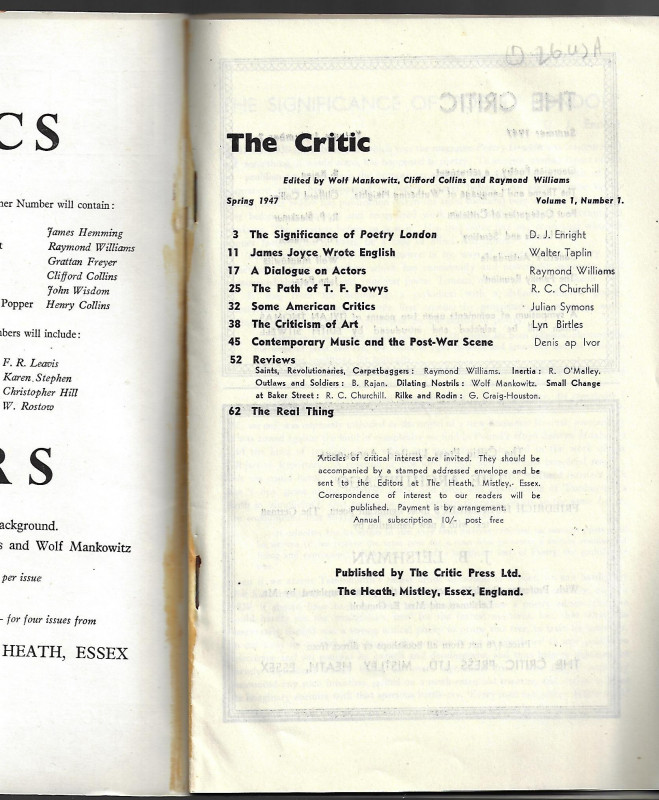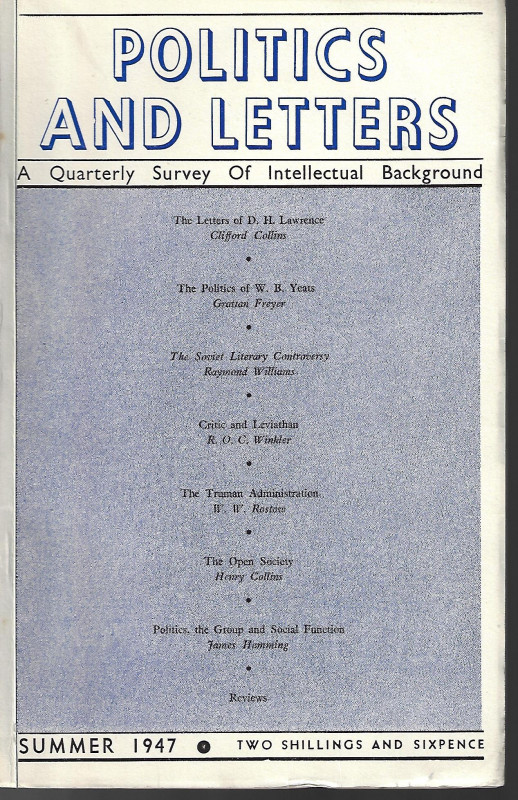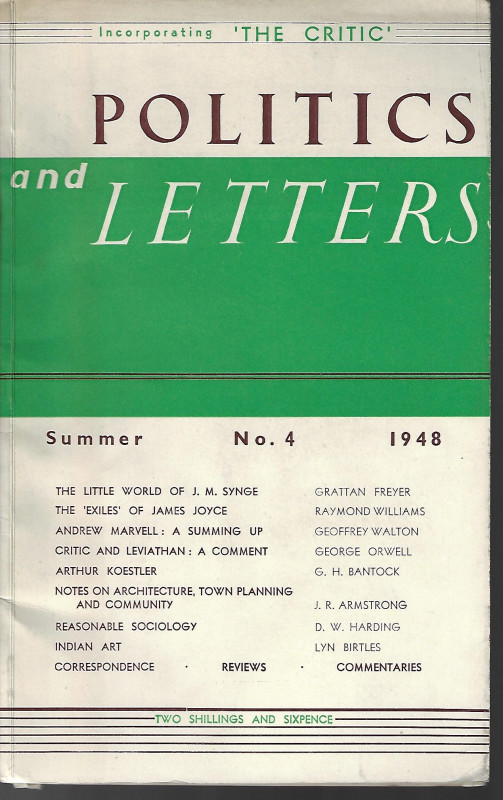 Book Description
The Critic, 1947 (numbers 1 &2, 2 issues) together with Politics And Letters, 1947-1948 (numbers 1-4, 3 issues). Comprising: The Critic A quarterly Review Of Criticism; Spring, 1947, Volume 1, Number 1 + Autumn,1947, Volume 1, Number 2 (2 issues, all published) together with Politics And Letters A Quarterly Survey Of Intellectual Background; Summer, 1947, Volume 1. Number 1 + Politics and Letters Incorporating 'The Critic' A review of literature and society; Winter-Spring, 1947 Volume 1, Numbers 2 & 3 + Summer, 1948, Volume 1, Number 4 (3 issues, including 1 double number, apparently all published). Contributors include Edith Sitwell, Julian Symons, Michael Orrom, Raymond Williams, Grattan Freyer, Jean-Paul Sartre, F.R. Leavis, George Orwell.
Dealer Notes
A set of 5 issues of this overlapping periodical. 'Announcement' in the Winter/Spring double number of 'Politics And Letters' states; 'Henceforward Politics and Letters will incorporate The Critic. This measure has been necessary because of difficulties of production and distribution ....'. Receipt from The Critic Press tipped in to first page of Politics and Letters, number1.
Author
Mankowitz, Wolf; Collins, Clifford & Williams, Raymond (edited by)
Binding
Original card covers. 25x16cms.
Publisher
The Critic Press, Mistley then London.
Condition
Covers little soiled, scuffed and edge worn. Contents generally clean, some have staining along the spine from the glue used in the binding.