The next book fair will be EDINBURGH PREMIER (with ABA) on Fri 24th & Sat 25th March (
click here
for details).
CLICK
HERE
TO SEE DETAILS OF ALL OUR FAIRS. THE FEBRUARY ONLINE BOOK FAIR IS NOW OPEN. CLICK
HERE
TO FIND OUT MORE.
Satyre Menippee de la Vertu du Catholicon d'Espagne... Supplement ou suitte du Catholicon ou Nouvelles des regions de la Lune. où se voyent despeints les beaux & generaux faicts d'armes de feu Jean de Lagny....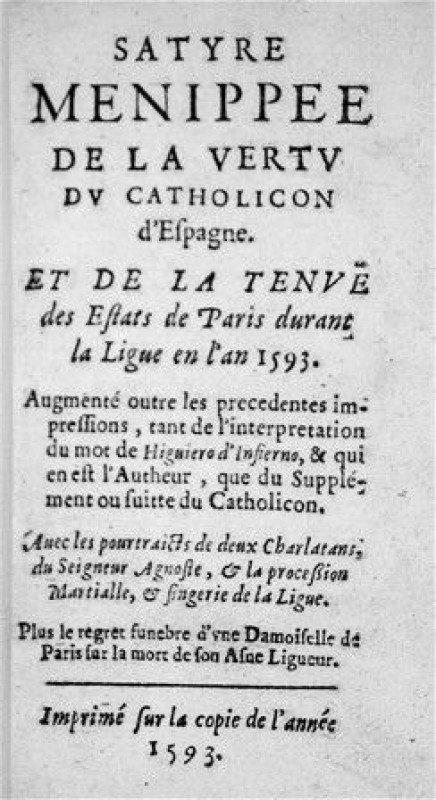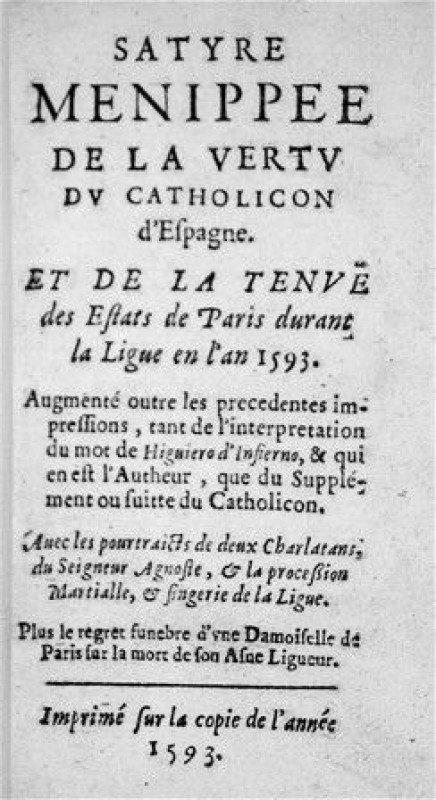 Book Description
12mo, a12, B-Z12, aa6, (Q6 mis-signed "R6") 566pp, 2 folding woodcuts, 4 woodcuts in text, 19c. polished calf, fully gilt spine, morocco labels, a.e.g., by Bedford, hinges expertly renewed, a very good copy.
Dealer Notes
An undated, but early, edition of this famous satirical work the first portion of which was published in Tours in 1593. It uses political satire to criticize the excesses of the Catholic League and Spanish pretensions during the Wars of Religion in France. The philosophy of the group of writers who collaborated on its production is that of the "Politiques", a group of moderate catholics who favoured peace, urged a separation of State and Church, sought political accommodation with the Huguenots and encouraged an alliance of the people and the monarchy to save the nation. By the end of the civil wars they had become an exceedingly troublesome thorn in the side of the Catholic League.
The supplement containing "News from the Moon" is among the earliest texts to suggest the moon be inhabited.
The text of this biting satire, a major weapon in their fight against the League, was constantly being honed, augmented, and re-published with many editions throughout the 17th century. Of the present edition we find apparently three copies (same number of pages, and imprint), 1 at Bib. Sainte Genevieve, Paris, and 2 copies at Bibliotheque nationale. [ FRBNF34023167]

OCLC493364257 Brunet V. cols. 143-5 (not noticing this edition)
Marjorie Nicolson: Voyages to the Moon pp. 20, 106, and 260.
Author
[LEROY, Pierre, Jean PASSERAT, Pierre RAPIN, J. GILLOT, et al.] attributed to
Publisher
N.p., n.d., Imprime sur la copie de l'annee 1593