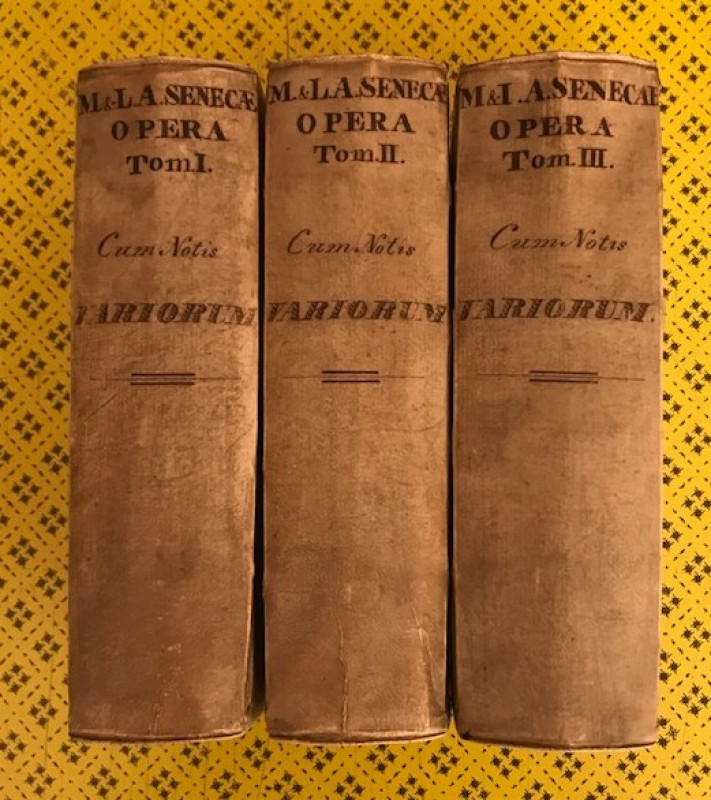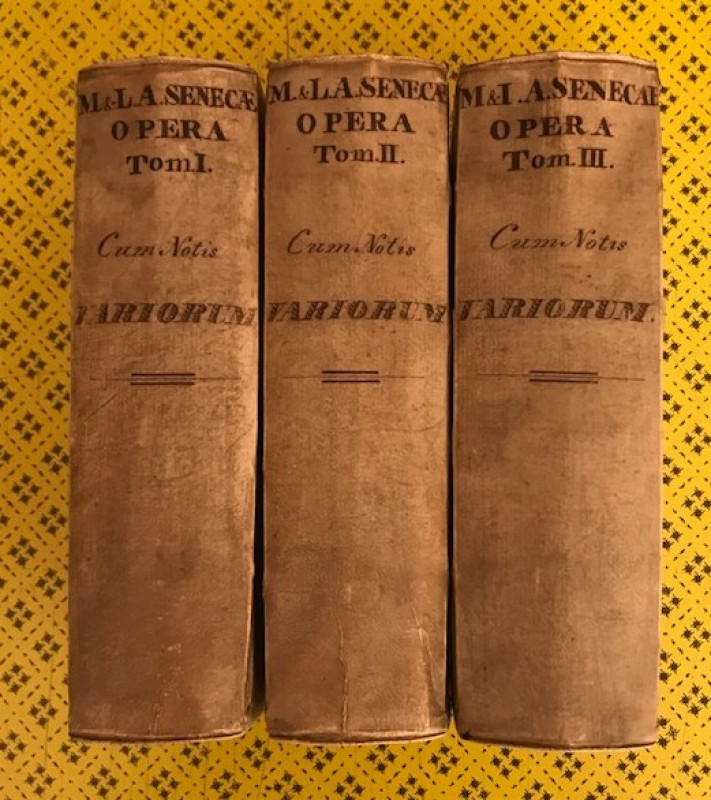 Book Description
First edition thus. 3 vols., pp. [lviii], 869, [iii]; [iv], 998, [lxxxiv]; [xxiv], 750, [ii], 316, [xxviii]. Vol I with extra engraved frontispiece and further illustrations in text. Woodcut printer's device to title-pages with motto 'Ne extra oleas', woodcut initials, head- and tail-pieces. Marginal notes in several different old hands to the first two volumes. Head margins faintly toned, occasional light spotting and a bit of foxing to vol. III, vol. I with unobtrusive repair to final leaf. Contemporary vellum with titles very nicely inked to spines, fore-edges turned in, edges lightly sprinkled blue. Vellum a bit dusty, a few small marks, very good indeed. Vol. I has an illegible ownership inscription in an old hand to its ffep, and a second inscription (possibly reading 'W.W. Kosteri') to the title-page.
Dealer Notes
According to Harwood "the most beautiful and correct edition of Seneca.". Dibdin considers it "one of the rarest and dearest of the octavo Variorum classics: its typographical beauty is equal to its editorial correctness. Scholars who possess it will do well to treasure so valuable and commodious a work." This Elzevier edition is unusual in presenting in its third volume the writings of the younger Seneca, which Dibdin notes are omitted in the Antwerp editions. It contains the best notes available: those of the first great modern Senecan, Justus Lipsius in the late sixteenthcentury, and those of the second great Seneca scholar, J. F. Gronovius.
Daniel Elzevier's dedication, to Simon Arnauld, Marquis de Pomponne, covertly discusses the part which Elzevier played as printer for an orchestrated anti-Jesuit campaign.
Willems 1477; Schweiger II, 913; Dibdin II 398-399.
Author
Seneca, Lucius Annaeus ('the Elder') & Seneca, Marcus Annaeus: (Gronovius, J.F., et al. eds.:)
Publisher
Amstelodami [Amsterdam]: Apud Danielem Elsevirium,