The next book fair will be STAMFORD (for details
click here
) on SAT 27th MAY.
(Please note: LINCOLN FAIR - 4th June - CANCELLED)
CLICK
HERE
TO SEE DETAILS OF ALL OUR FAIRS. THE MAY ONLINE BOOK FAIR OPENS MON 29th MAY at 12 NOON. CLICK
HERE
TO FIND OUT MORE.
ON THE VARIOUS CONTRIVANCES BY WHICH BRITISH AND FOREIGN ORCHIDS ARE FERTILISED BY INSECTS AND ON THE GOOD EFFECTS OF INTERCROSSING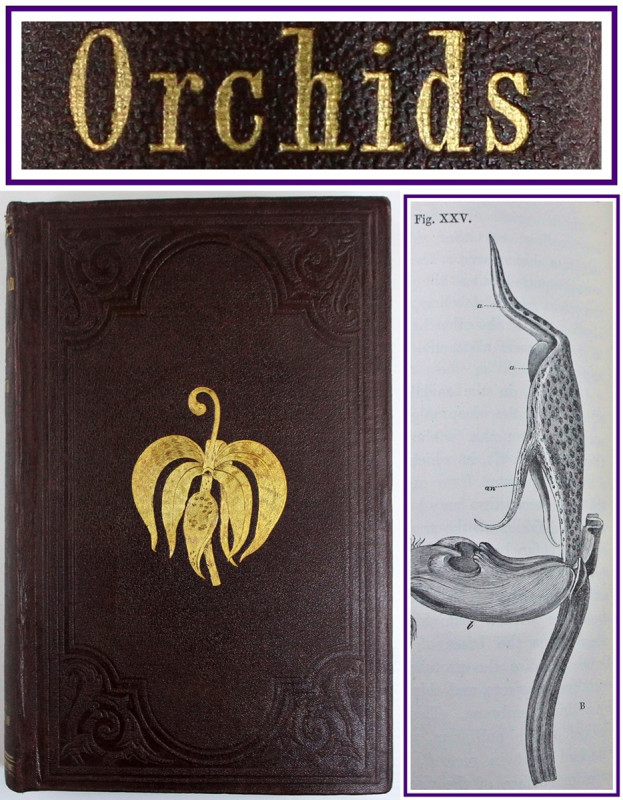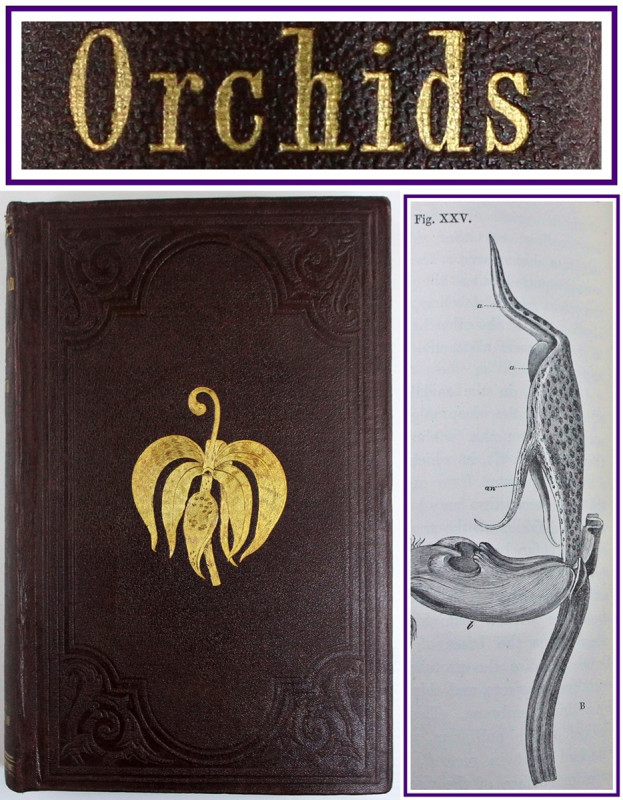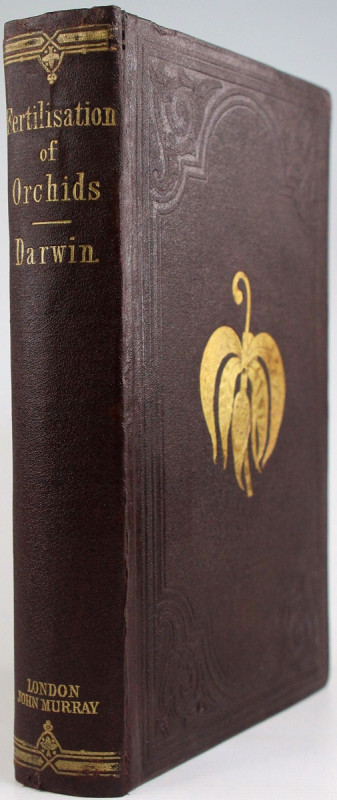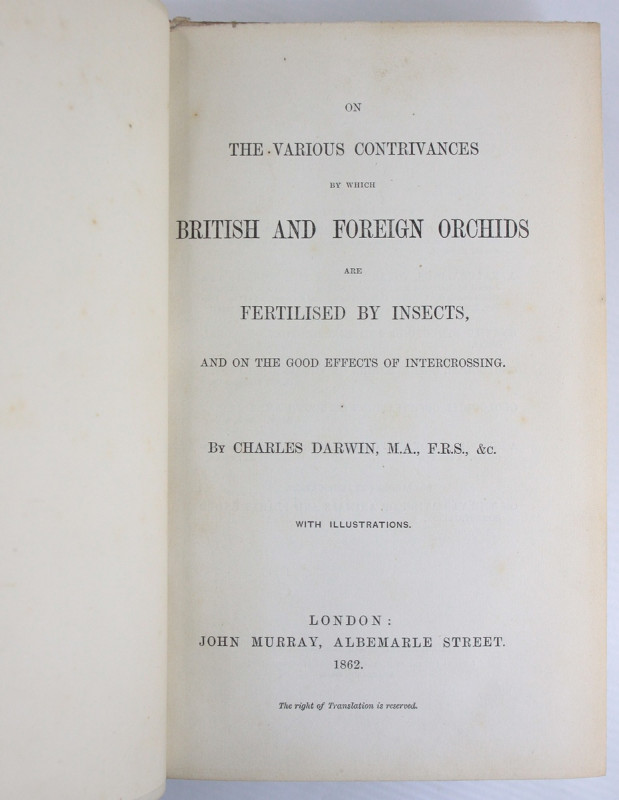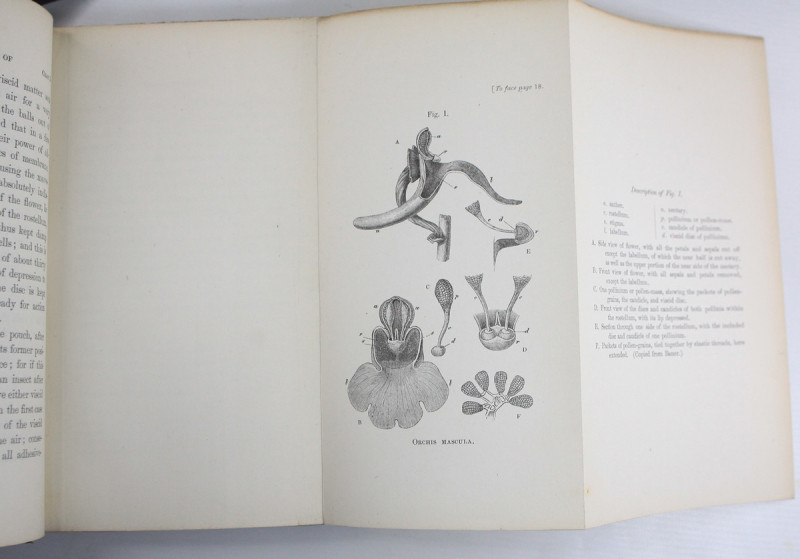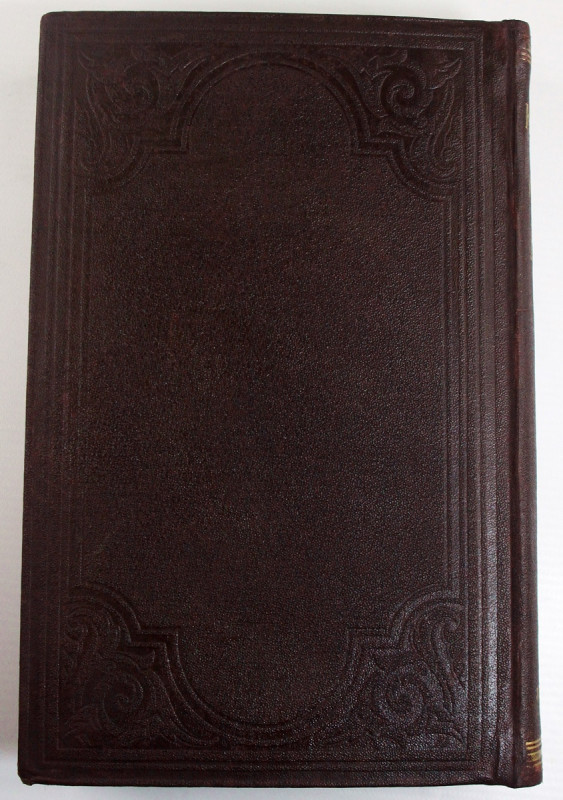 Book Description
1st Edition, later issue, 8vo (22cm) vi, 365pp, index, adverts (32pp, dated April 1868). Folding plate (Figure I.) and 33 other black and white text illustrations (figure II - XXXIV). Publisher's dark purple cloth, blind tooled borders and gilt orchid to front board. The original binding has been very skilfully repaired and restored. Very tight and square. A little wrinkling to spine. Slight loss to gilt of spine. Original brown endpapers have new joints made with matching paper stock. Generally very clean throughout with a few minor marks and smudges. An old name appears to have been erased from the fly-leaf. A presentable copy of a distinctive Darwin 1st edition, that is very hard to find in presentable condition. The 1st issue was in ribbed cloth, which tends not to survive well. This later issue purple cloth is not so prone to sunning and wear.
Dealer Notes
A very presentable restored copy in original cloth.
Darwin described the origins and writing of this book in his autobiography: "On May 15th, 1862, my little book on the Fertilisation of Orchids which cost me ten months' work, was published: most of the facts had been slowly accumulated during several previous years. During the summer of 1839, and, I believe, during the previous summer, I was led to attend to the cross-fertilisation of flowers by the aid of insects, from having come to the conclusion in my speculations on the origin of species, that crossing played an important part in keeping specific forms constant."

Life and letters (Vol. III, p. 274) quotes Asa Gray as saying that "if the Orchid-book (with a few trifling omissions) had appeared before the 'Origin' the author would have been canonised rather than anathematised by the natural theologians', and notes that a review in the Literary Churchman found only one fault 'that Mr. Darwin's expression of admiration at the contrivances in orchids is too indirect a way of saying, "O Lord, how manifold are Thy works."
Darwin himself wrote to John Murray on September 24th, 1861, "I think this little volume will do good to the 'Origin', as it will show that I have worked hard at details'...
Binding
Publisher's cloth (restored)
Publisher
London, John Murray