Regretfully, due to Covid-19, we have decided to cancel our fairs up until the end of December. However, at this stage, we cannot confirm if our London Christmas Fair will take place but we will keep you updated.
OUR NEXT ONLINE FAIR OPENS ON 29TH OCTOBER AT 12 NOON.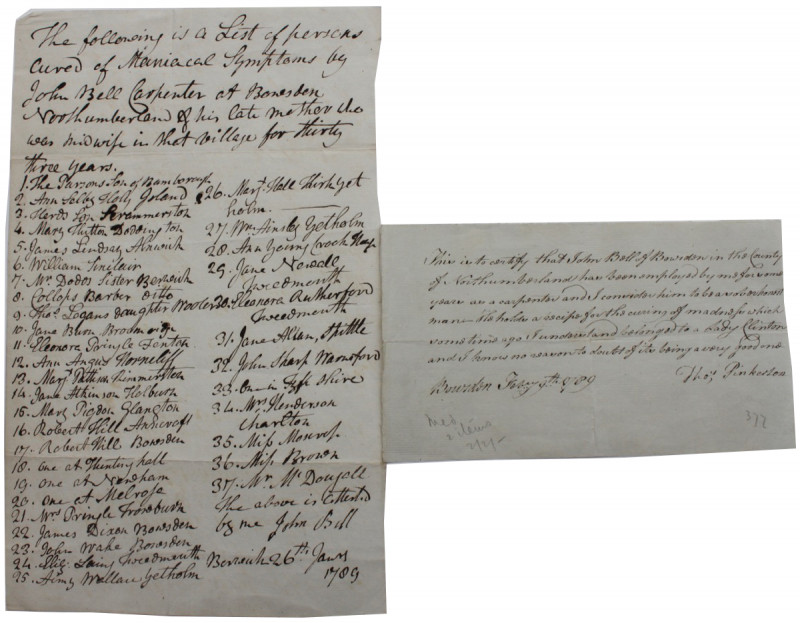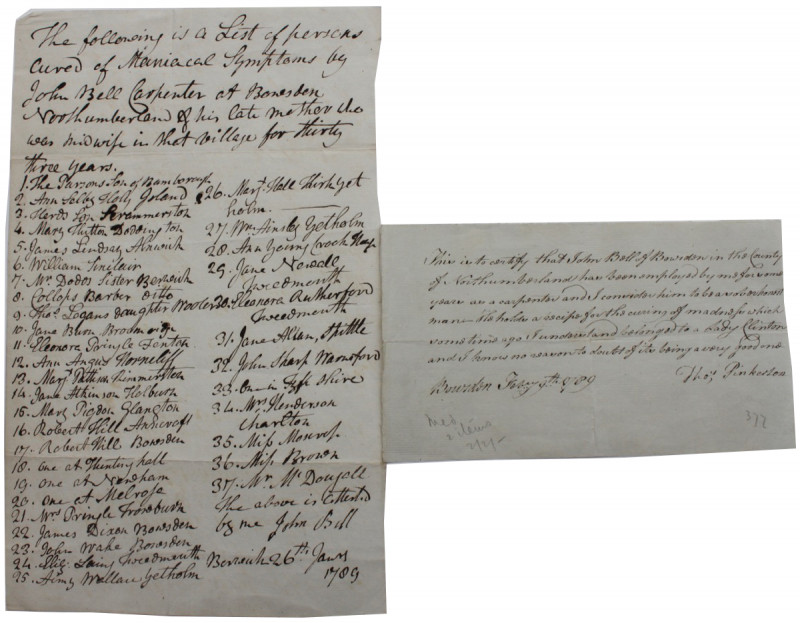 Book Description
John BELL The following is a List of Persons Cured of Maniacal Symptoms by John Bell, Carpenter at Bowsden, Northumberland & his late mother who was midwife in that village for thirty three years... Manuscript, 1789. Single sheet, 305 x 190mm,a list of 37 numbered names with parish, followed by signed attestation by John Bell, Berwick 26th January 1789. Also included is a separate reference for John Bell "This is to certify that John Bell of Bowsden in the County of Northumberland has been employed by me for some years as a carpenter and I consider him to be a sober & honest man. He holds a recipe for the curing of madness which some time ago I understand belonged to a Lady Clinton and I know no reason to doubt of it being a very good one. Bowsden Febry 9th 1789."
Dealer Notes
An unusual and intriguing document. It was not until industrialisation and the concentration of the population into towns and cities that the treatment or madness was considered the responsibility of society as a whole. Prior to that large towns may have had a private asylum [like Bethelm in London]where the families of the well-off could hide their unfortunates, but rural communities would have had to depend on the work house or the local 'wise woman' for treatment and cures.
Friends of the PBFA
For £10 get free access to our fairs, updates from the PBFA and much more.