PLEASE NOTE - THE PBFA TELEPHONE NUMBER HAS NOW CHANGED TO 01763 248921OUR MARCH ONLINE BOOK FAIR IS OPEN
1000's OF BOOKS/ITEMS ON OFFER TO SUIT EVERYONE
CLICK
HERE
TO FIND OUT MORE...
IL VIAGGIO ALL' INDIE ORIENTALI DEL PADRE F. VINCENZO MARIA DI S. CATERINA DA SIENA; [with:] SECONDA SPEDITIONE ALL' INDIE ORIENTALI DI MONSIGNOR SEBASTIANI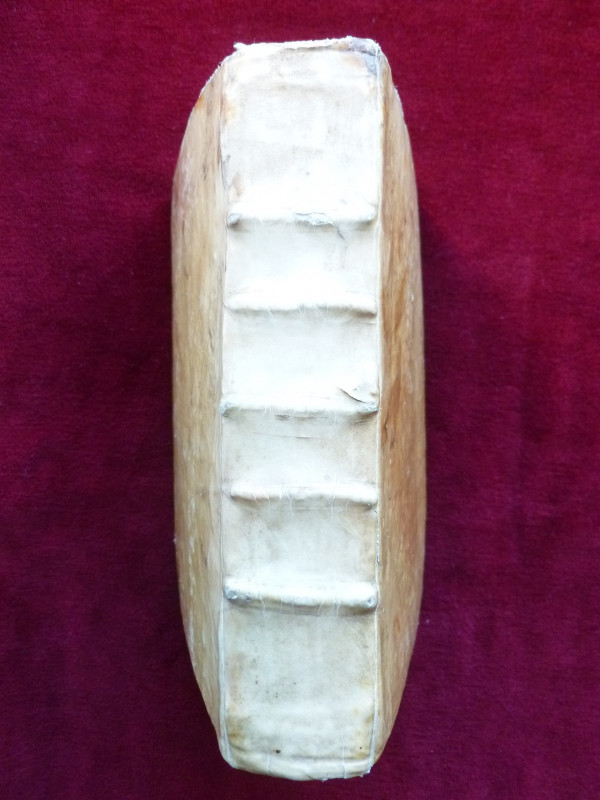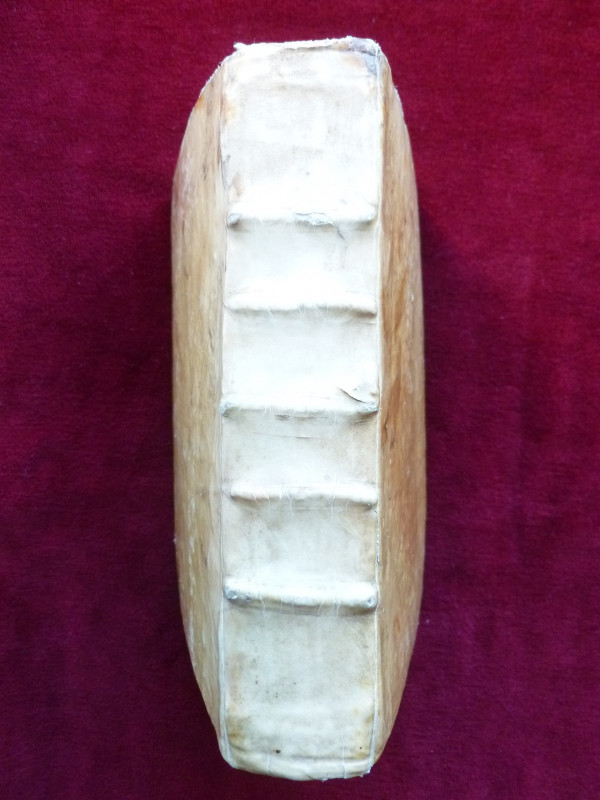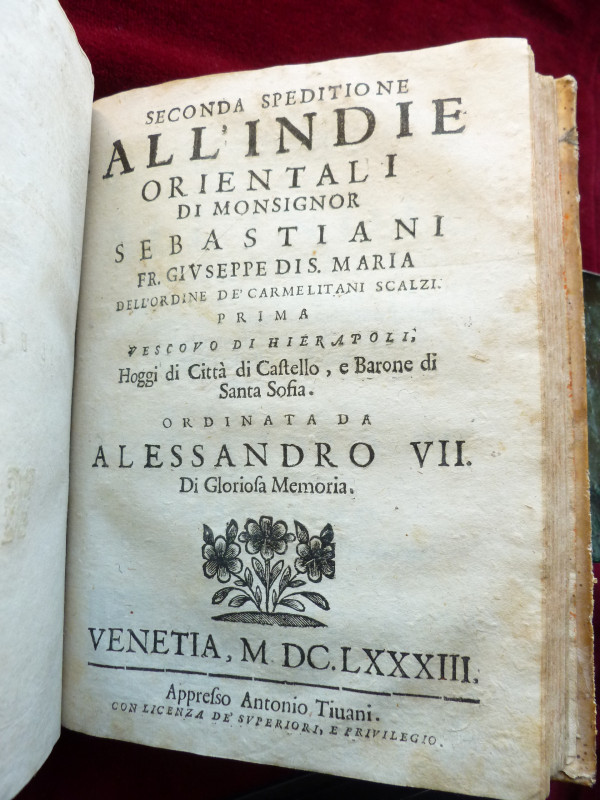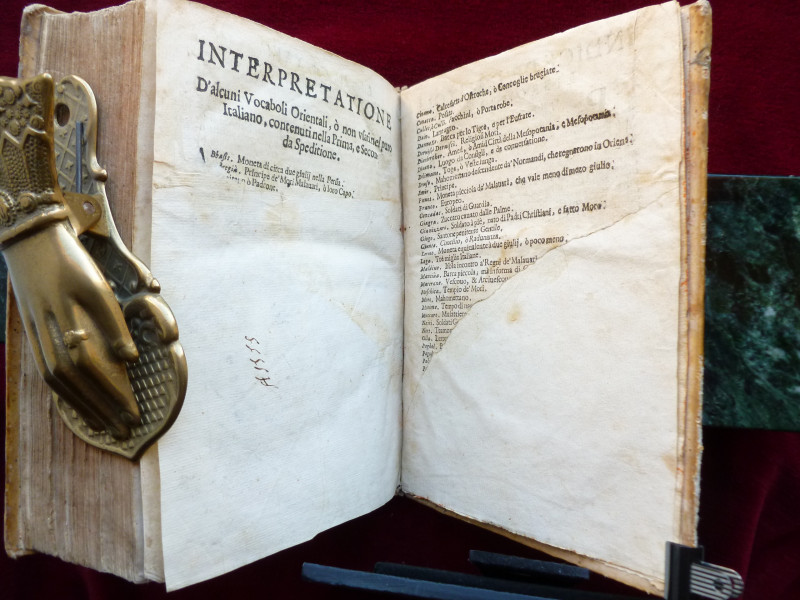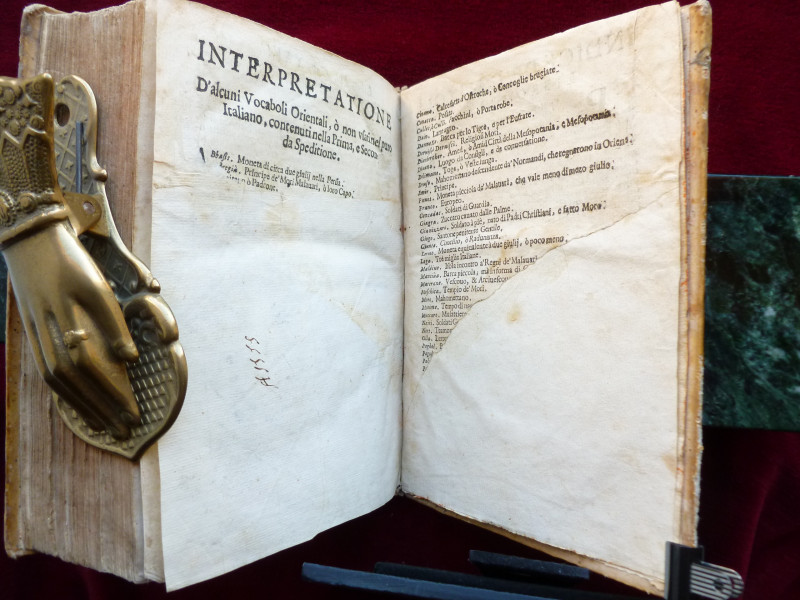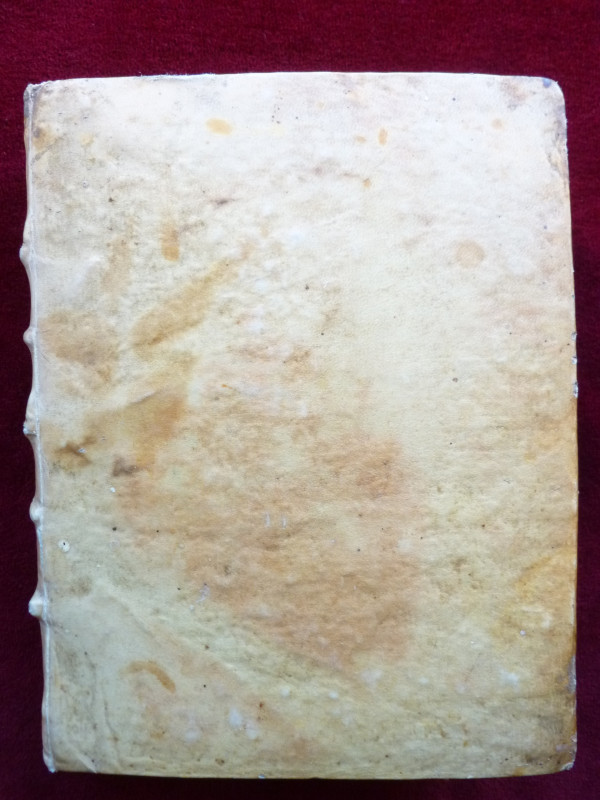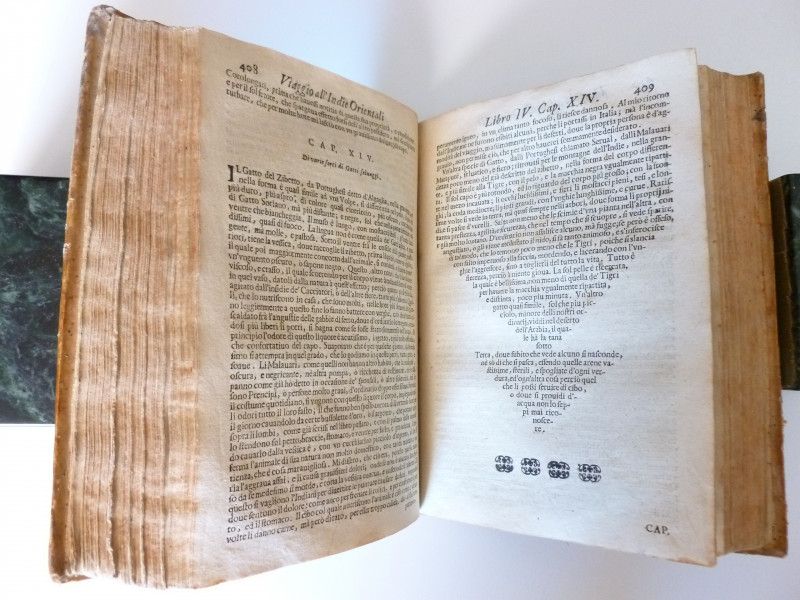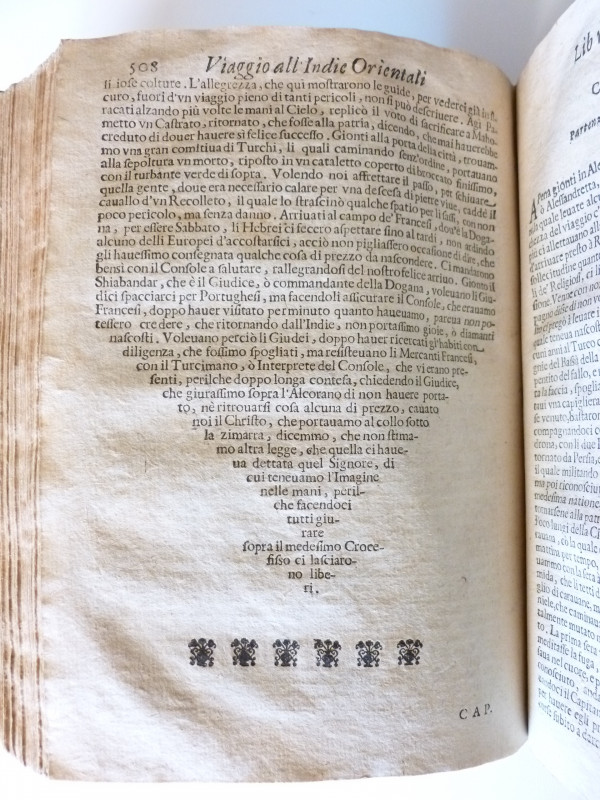 Book Description
Full title: Padre Vincenzo Maria di S. Caterina da Siena (Antonio Murchio), Il viaggio all'Indie Orientali del Padre F. Vincenzo Maria di S. Caterina da Siena procuratore generale dei Carmelitani scalzi, con le osseruazioni, e successi del medesimo, i costumi, e riti di varie nationi, e reconditissimi arcani de' gentili, cavati con somma diligenza da' loro scritti con la descrittione degl'animali quadrupedi, serpenti, uccelli, e piante di quel mondo nuouo, con le loro virtu singolari. Diuiso in cinque libri. Opera non meno utile, che curiosa. Con la Nuoua Aggiunta della Seconda Speditione all'Indie Orientali di Monsignor Sebastiani. Third and last edition, the first to add the "Seconda spedizione" to Syria and India of G. M. Sebastiani. Small 4to (195 x 145mm), woodcut ornaments, ornamental typography. Two volumes in one. The first volume wants the title page and first leaf of 'to the reader', the second volume is complete save for text loss to the three last leaves. Atabey, The Ottoman World 1297
Dealer Notes
Murchio, Vincenzo Maria, active 17th century. An extensive travel account of Barefoot Carmelite Vincenzo Maria of Saint Caterina of Siena to India via Turkey and the Middle East, covering a wide range of topics, notably of the customs and rites, politics and government, fauna and flora. "Many of his botanical references appear here for the first time, in an Italian text and in some few cases in an European one." --Andrea Drocco, 'Il lessico botanico ne "Il Viaggio all'Indie Orientali" ' in Kervan – International Journal of Afro-Asiatic Studies (2016)
Mgr. Sebastiani, Fr. Giuseppe di Santa Maria (1623-1689), of the Order of the Scalzi Carmelites, First Bishop of Hierapoli (Greece) and First Baron of the Hagia Sophia. In his communication from his Seconda Speditione all'Indie Orientali, he marvels at the musicianship of the 'Canarins': "Non può credersi quanto rieschino nella Musicaquei Canarini, come ci si esercitino, e con quanta facilità." 'Canarin' is a generic term for all non-white inhabitants of Goa at the time, or did it indicate a social group distinct from the Brahmins and Chardós, terms that the Portuguese and visitors were already using in their descriptive writing even in the 1500s? ----cited by Luis Dias in Choral music, Goa, History, In Print, Music, Opera, Thoughts, Voice (https://luisdias.wordpress.com/2017/10/08/carissimi-and-the-jesuits/)
Author
[Vincenzo Maria Murchio]; Giuseppe Maria Sebastiani
Binding
Full period vellum
Publisher
Venice: Appresso Antonio Tiuani
Condition
Several pages expertly restored but wanting title p. and "Al lettore" r.v. of vol. 1; 3 last leaves of vol. 2 restored with loss of text (see images). Occasional light browning, else a nice copy..
Pages
pp. [xx], 518, [xx]; 147, [i, iv]