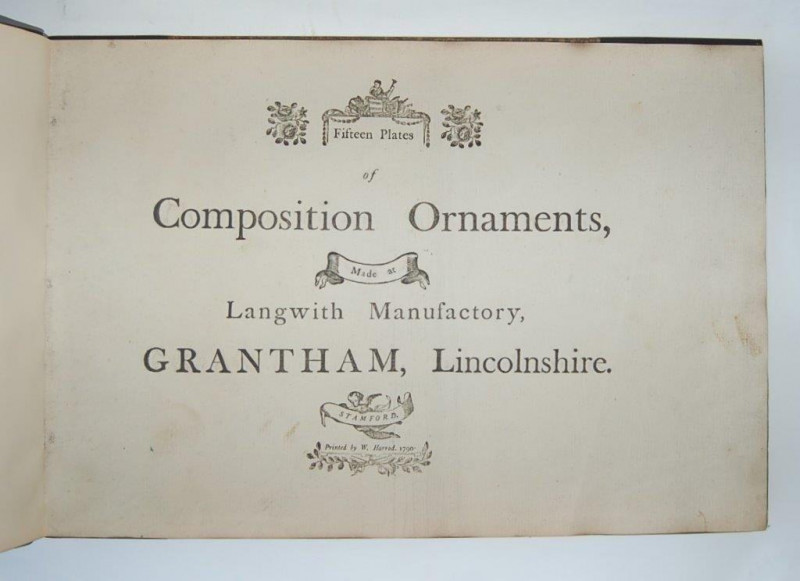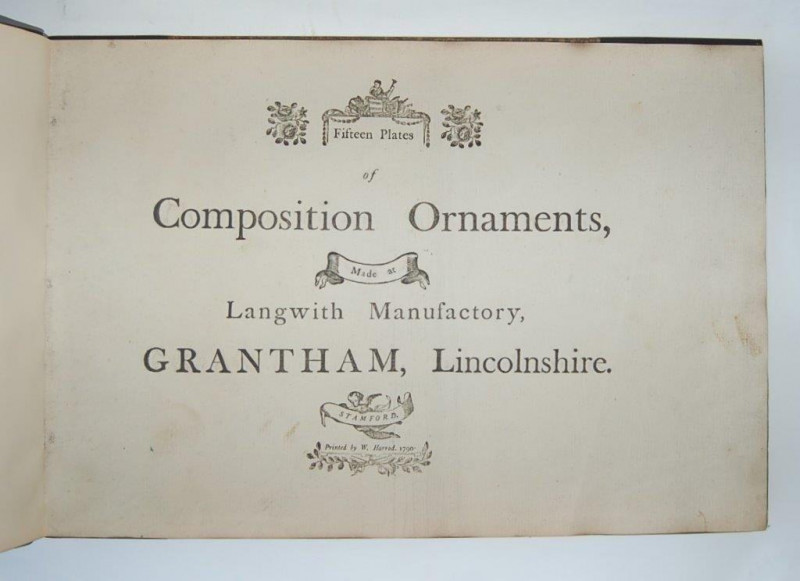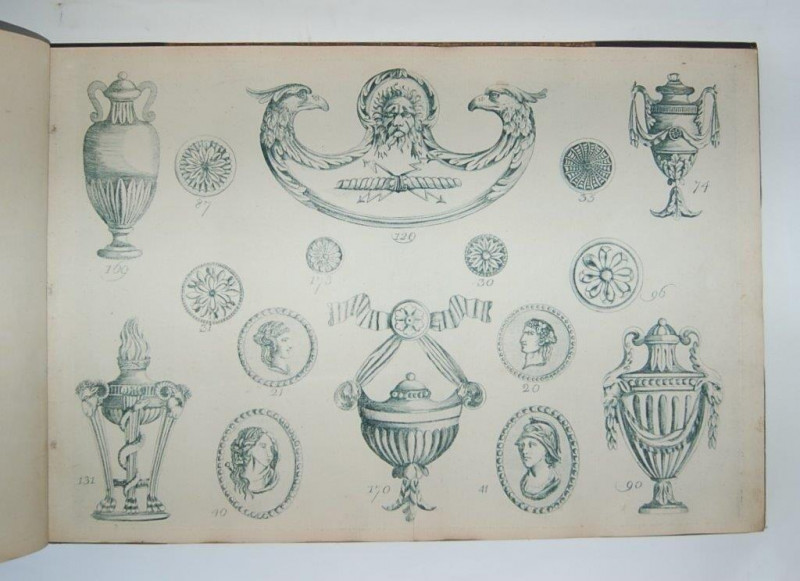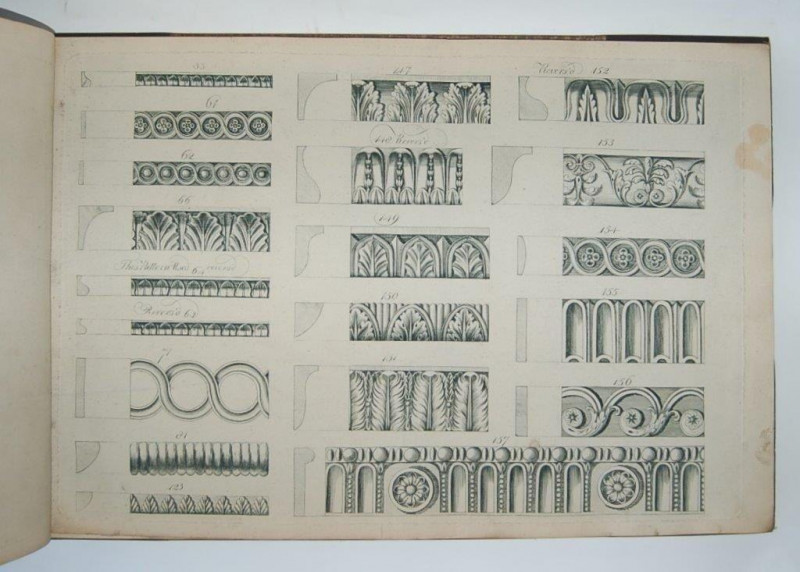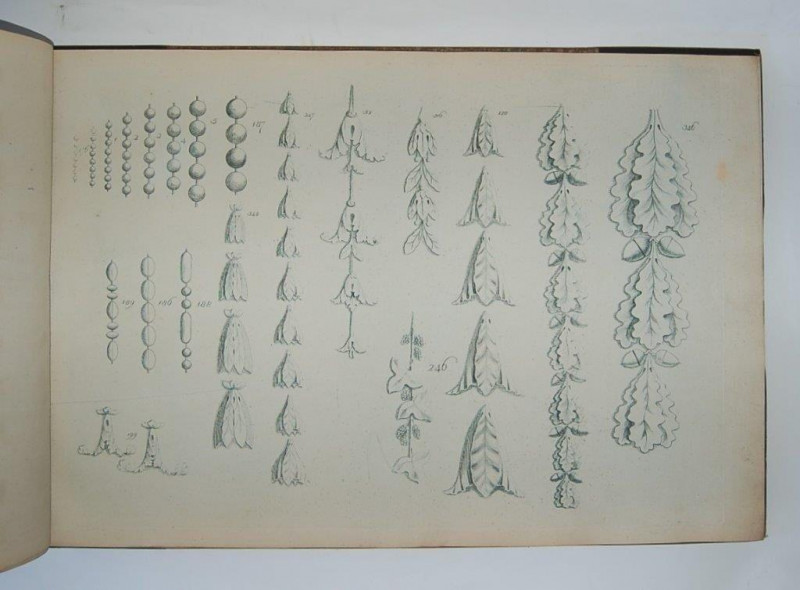 Book Description
Oblong folio (335 x 500 mm), printed on thick laid paper, letterpress title with wood-engraved decorations, approximately 250 illustrations of architectural ornaments, including stock numbers (not in order), engraved on fifteen well executed copper plates, some printed in blue, 2 with aquatint, some light soiling, occasional spotting, a few stains, mainly to last two plates, nineteenth-century half calf, marbled boards, rubbed, foot of spine chipped, but overall a very good copy.
Dealer Notes
This is not only an exceptionally rare and unrecorded provincially printed pattern book, but it is also highly unusual as being a named pattern book produced for a firm of provincial architects and builders.

John Langwith Sr. (c.1723-1795) was an architect and builder who worked at Grantham in Lincolnshire. Syston Park was designed by Langwith for John Thorold, 9th baronet, and constructed between 1766-73. Syston was a fine house, built of limestone ashlar with pedimented or corniced windows. Langwith's 35-page bill for his labours survives today.1 He was also responsible for Vine House, 5 Vine Street, Grantham c.1764, as well as many local buildings of note including the George Hotel, Grantham (1780). In 1785 Langwith was one of three architects who submitted designs for the Castle Gaol at Lincoln, but those of William Lumby were accepted.

By 1789, John Langwith Jr. (c. 1753-1825) was taking the lead in his father's business as a builder and surveyor at Grantham. The 1780s and early 1790s witnessed a boom in construction in Grantham. This related partly to the general economic cycle and is reflected, amongst others, in the brick tax returns. In July 1791, Langwith advertised initially for an apprentice to a carpenter and joiner and, in November, his need was for 'Twelve Journeymen joiners and carpenter wanted immediately', adding 'sober men may have constant employ.'2

He held several civic offices and eventually became an alderman, despite bankruptcy in 1803, from which he recovered. His recorded works include Grantham Vicarage, (now the Rectory) in Church Street, which he rebuilt in 1789 in a pleasant vernacular Georgian style at the cost of some 788 pounds; Barkston Rectory, Lincs., 1801; and designs (perhaps not executed) for a prison at Grantham, 1811.3 Lincoln Race Stand c.1818. Langwith was the architect and contractor for the Race Stand, this was replaced by the existing Race Stand of 1897 by William Mortimer.

The architectural pattern book produced by John Langwith can thus be attributed with a high degree of certainty to John, junior, published at the height of a building boom. The location of the Manufactory is not known but is perhaps most likely to have been in the Back Lane (now Elmer Street), as an affidavit sworn by lawyer George White, dated 1836, refers to the burial of John Langwith, builder and surveyor, of Back Lane, Grantham.4

1 The invoice is summarised in Richard Wilson and Alan Mackley, Creating Paradise. The Building of the English Country House 1660-1880. (2000), p. 197.
2 Lincoln, Stamford and Rutland Mercury (LRSM), 29 July and 11 November 1791.
3 H. M. Colvin, Directory of English Architects (1995) p. 599.
4 LA: 1 FANE 11/14.

Not recorded by ESTC, JISC, OCLC or any of the appropriate reference works.
Author
LANGWITH MANUFACTORY, GRANTHAM, LINCS.
Publisher
Stamford: Printed by W. Harrod,