Regretfully, due to Covid-19, we have decided to cancel all fairs from May to August. Keep checking our website for updates. Unfortunately, our York National Book Fair in September has been cancelled and our rescheduled Oxford Book Fair for October has also been cancelled.
Dudley Inventor and Aircraft Engineer Walter ( Wally ) Davies His Hydroglider Airboat Fanboat Hovercraft Scrapbook, Dudley West Midlands Black Country Staffordshire Boat Engineering, Manuscript Book 1921-1970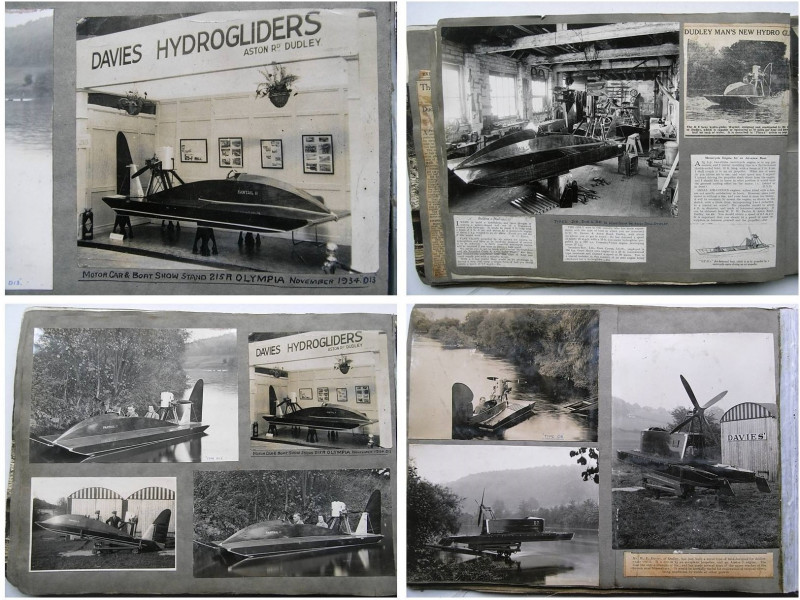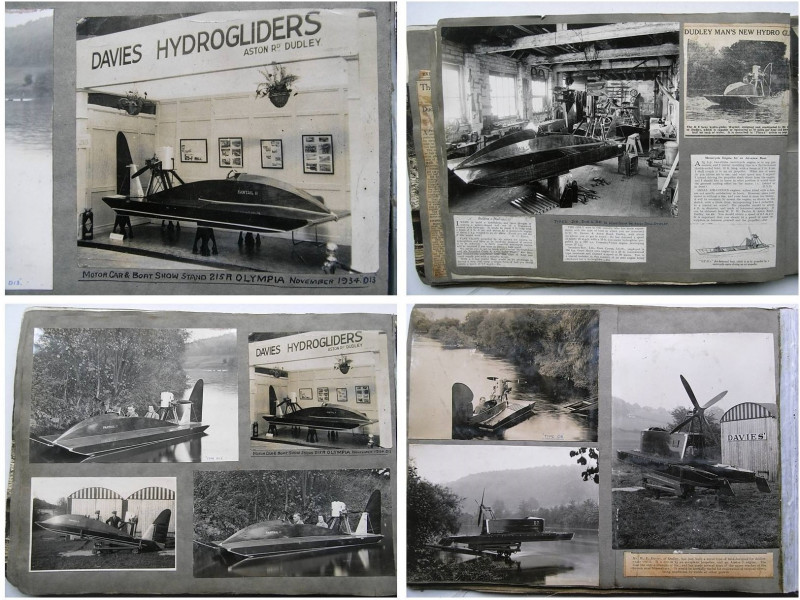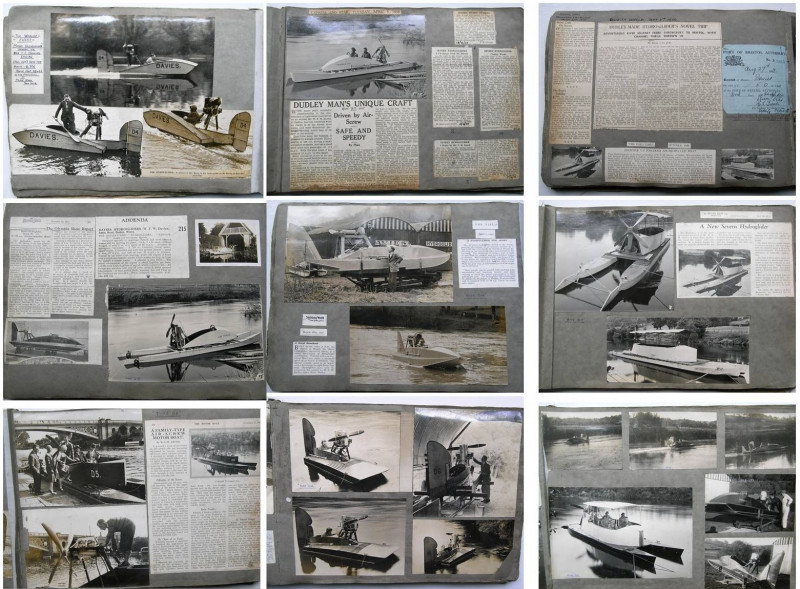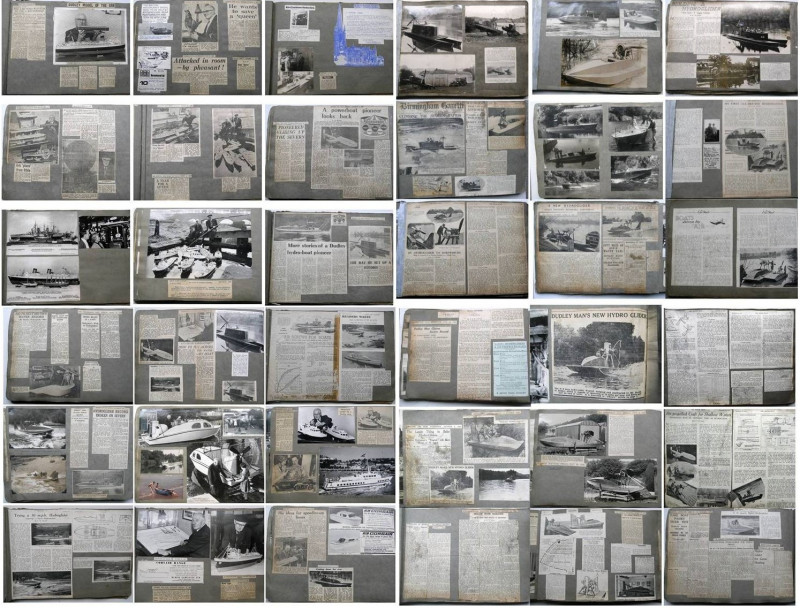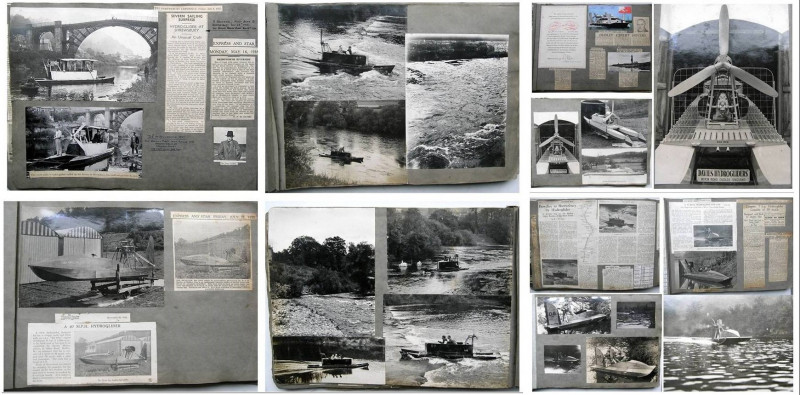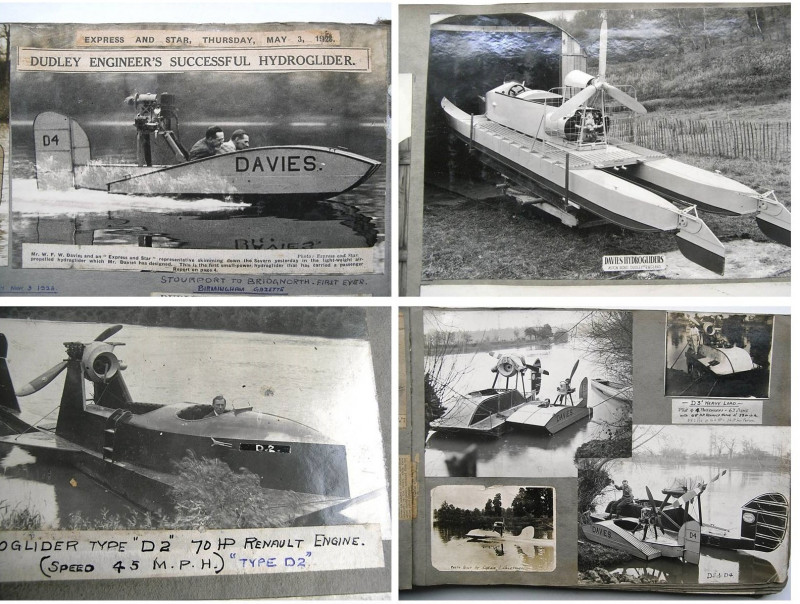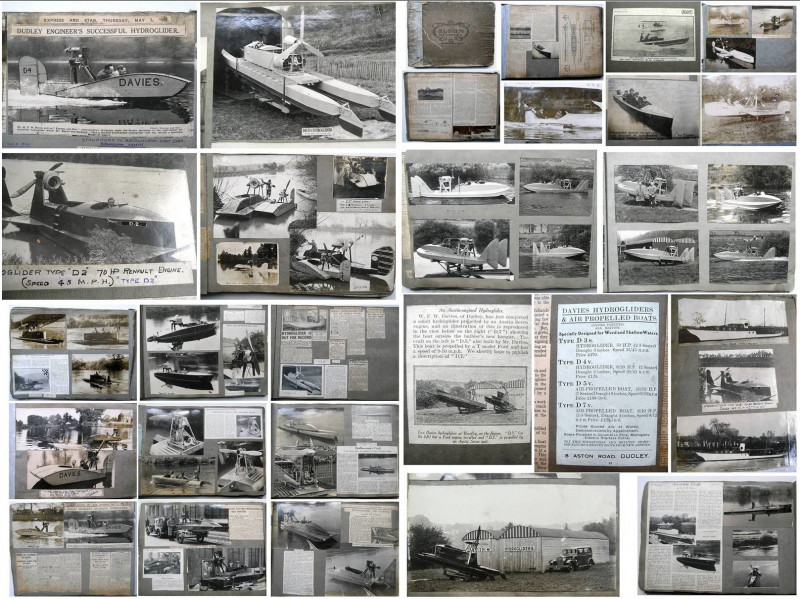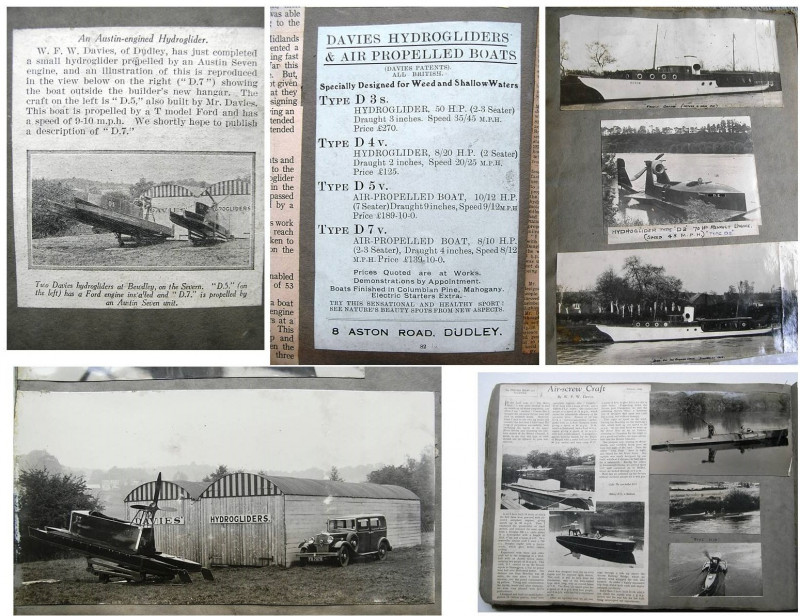 Book Description
This is a fascinating scrapbook kept by Dudley Inventor and Aircraft Engineer Walter ( Wally ) Davies (1891-1972) the scrapbook was started in 1921 kept and was added to up to the year 1970 recording his interest in air powered boats for which he used his knowledge of Aircraft design to design and build a series of "Hydrogliders" ( Airboats ) using aircraft propeller engines mounted on increasingly sophisticated and streamlined craft, designed for speed with very little draught they literally glided on the water surface at speeds up to 60mph, it is a known fact that Donald Campbell based the design of the "Bluebird" on one of Wally's Hydroglider designs. Walter Davies was born in April 1891 in Springmere Dudley, he developed a keen interest in boats and planes from an early age, and began designing and building his own aeroplanes, taking his first flight in his own hand built plane in May 1911 in Cavalry field near the Priory in Dudley to a very large assembled crowd of local people, the flight was a success. He then went on to build his own glider with a 35 foot wingspan. At the outbreak of World War One he joined the flying school at Billesley in Birmingham, and then went on to Bournemouth designing aircraft for the War. Once the war was over he set about designing and building his own Hydrogliders ( Airboats ) taking advantage of the surplus supply of aero engines to utilise them in his ever improving designs for his Air Driven Craft. He tested his Hydrogliders out on the River Severn where he was able to travel at remarkable speeds gliding over the water , often taking long trips up and down the river, much of this was recorded in local newspapers of the day, Wally also wrote his own articles in "The Motor Boat" magazine and other publications. He was also filmed on a number of occasions for Pathe News, some of that footage can now be seen on YouTube. With the help of a wealthy Dudley businessman he obtained the finances to set up his own company producing and manufacturing Hydrogliders for sale to the general public, having a number of different designs available, using his own workshop at his home in Aston Road Dudley, in 1934 he had his own stand at the Olympia Motor Car & Boat Show promoting his Hydroglider ( Airboat ) Company, also having own Hangers to house his craft near the river Severn at Bewdley. Wally also designed much larger passenger carrying Hydrogliders at over 40 feet in length which could carry up to ten people seated in comfort. later in life he had diversified to designing motor boats for a company based in Kingswinford. after his retirement he was a passenger onboard the world's first Hovercoach service operated by British United Airways in 1962 the certificate to prove this is in the scrapbook, also a trip in an early Passenger carrying Hydrofoil craft in 1964, he spent his retirement making models of Hovercraft and ships until his death in 1972
Dealer Notes
THE SCRAPBOOK his scrapbook charts his work with Hydrogliders right from the beginning in 1921 through till his death with the last article from December 1970, and is packed with newspaper clippings, articles for various magazines, many authored by Wally himself, and dozens of fabulous photographs showing the various long distance river trips, including some great photos at the Ironbridge in Shropshire while taking a passenger Hydroglider on a trip from Bewdley to Shrewsbury, and other photos of the many beautiful streamlined craft designs, also his workshop, his stand at the Motor and Boat Show at Olympia in London, the Davies Hydroglider hangers at Bewdley, etc, accompanied with handwritten notes, the album measures 14 inches by 11 inches approx. and runs to seventy four used pages, and contains over one hundred and twenty photographs, many of them professionally taken shots the album has the used look of a book that was in constant use for nearly fifty years, but is in good solid condition, with some browning and staining
Author
Walter ( Wally ) Davies
Publisher
Friends of the PBFA
For £10 get free access to our fairs, updates from the PBFA and much more.