Caroline de Lichtfield. Par Madame de ***, Publié par le Traducteur de Werther [Jacques Georges Deyverdun] Two Volumes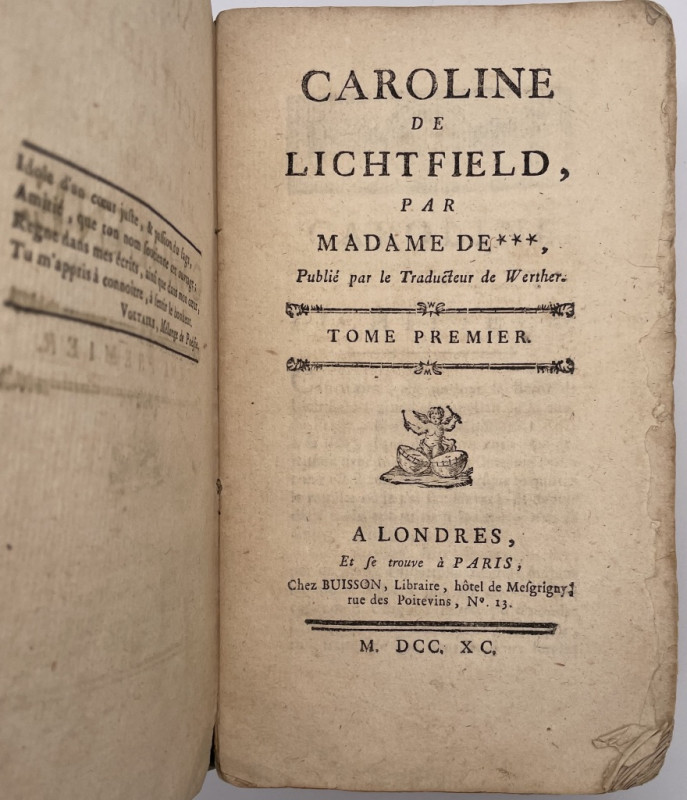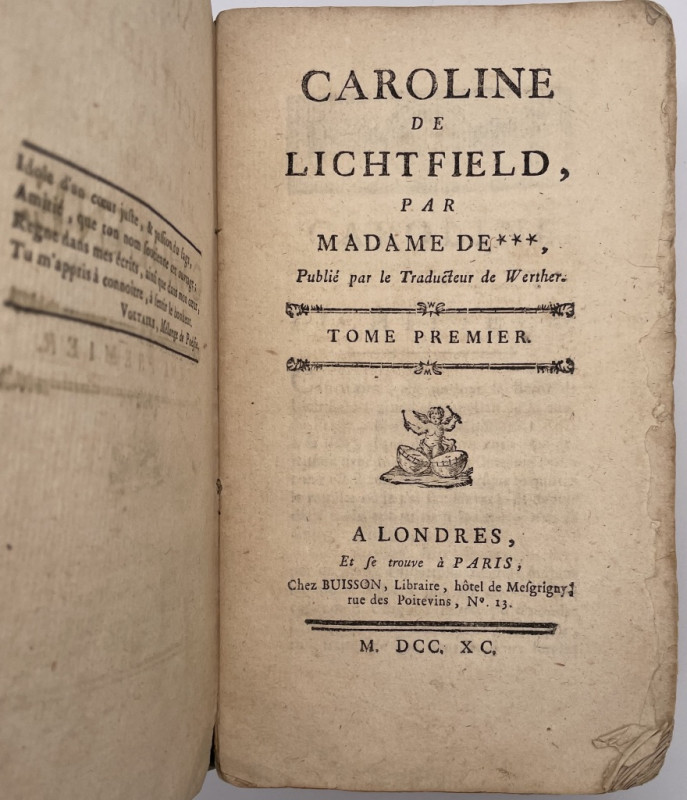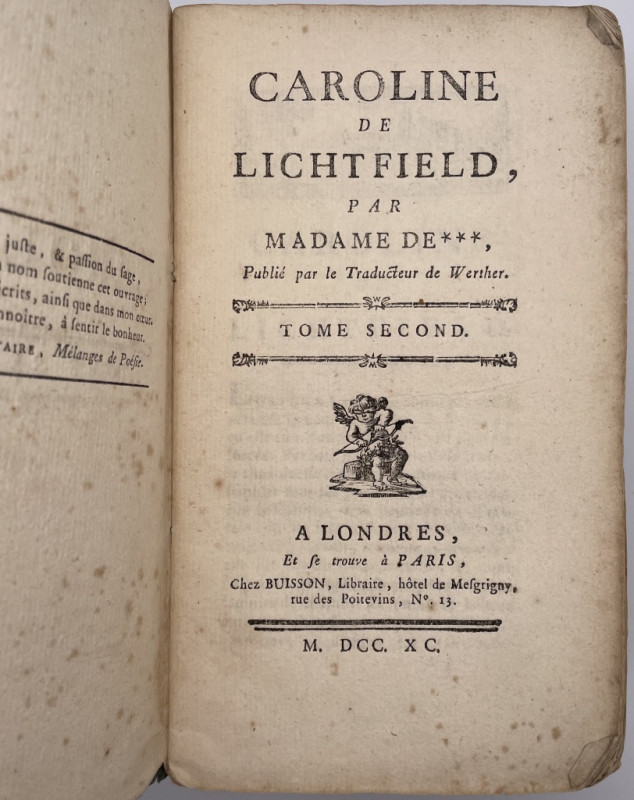 Book Description
Later Buisson edition. Two volumes. 12mo, pp. [292]; [252], with half-titles; in this edition the title-page vignettes show a drumming cherub and a blindfolded cherub drawing his bow. Plain modern paper wraps, the rear of volume I and volume II have early pulp paper covers beneath, edges untrimmed. Wrappers a little creased, dog-eared, toned, a little shaken. Volume I only: front blank grubby, pencil notes, POI in ink: "Siena Octbre 18./ 1818," closed tears to leaves G3 (4.5cm) and H4 (5.5cm), staining to the margins at the rear. Volume II only: some foxing to front and rear, scattered grubbiness, tear and small loss to bottom margin of leaf H8 (2.3cm). Good. A robust copy of a later Buisson edition of Montolieu's sentimental bestseller. ESTC lists eight editions of the French text published under British and Irish imprints (dated 1786 or 1787), most of which are likely to have been printed in Paris (as is probable with this later edition, which is unlisted), and including an English piracy.
Dealer Notes
Isabelle de Montolieu (1751–1832) was a Swiss novelist and translator, who wrote predominantly in French; she was the first translator of Jane Austen's Sense and Sensibility and Persuasion into French (as Raison et Sensibilité, ou Les Deux Manières d'Aimer and La Famille Elliot, ou L'Ancienne Inclination). Caroline de Lichtfield was De Montolieu's first novel and an international bestseller, with multiple editions, many pirated, published in both French and English; MMF list 16 editions of the French text between 1786 and 1828.
Author
[MONTOLIEU, Isabelle de]
Publisher
Londres [likely Paris]: et se trouve à Paris Chez Buisson, Libraire, hôtel de Mesgrigny, rue des Poitevins, No. 13.