A free discussion of the doctrines of Materialism, and Philosophical Necessity, in a Correspondence between Dr. Price and Dr. Priestley.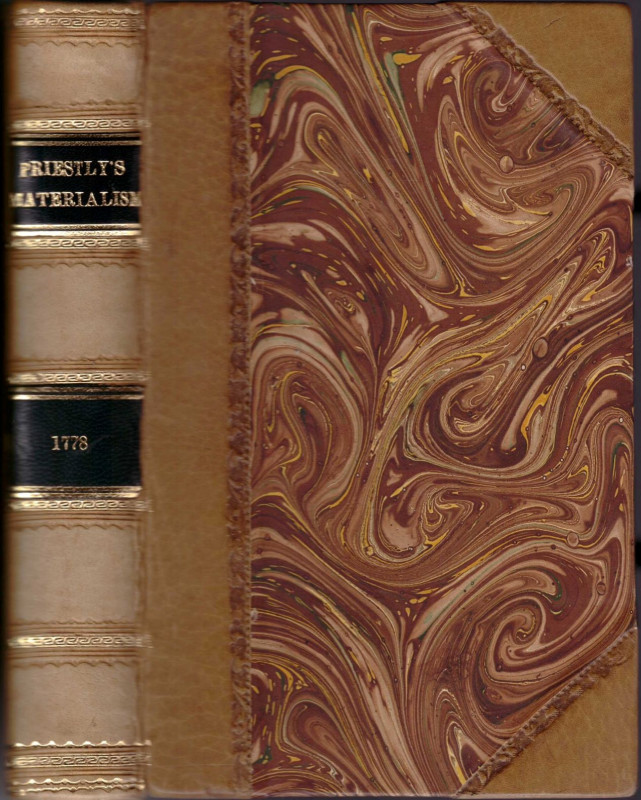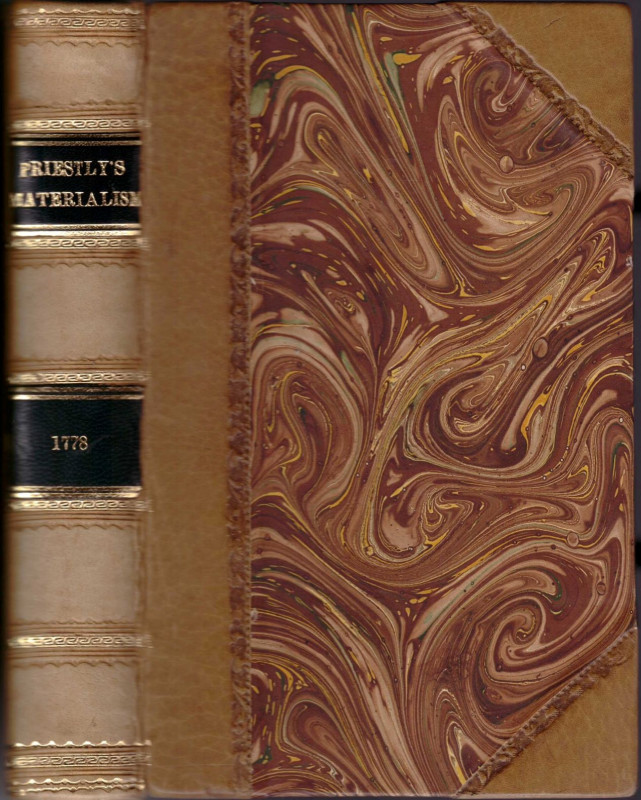 Book Description
First edition. 8vo. (6), xliv, (1), 428pp. Recent half calf, marbled boards. Spine in six compartments, with leather labels and gilt and blind embellishment. New endpapers. Lengthy and handsomely hand-written note to ffep. 'Presented by the Revd. J. Cockin, May 1839.' Joseph Priestley (1733-1804) British Enlightenment polymath. Scientist, theologian, philosopher he was the first to identify oxygen and other core gases. He invented soda water. In 1794 he emigrated to Pennsylvania where was befriended by Thomas Jefferson as 'one of the few lives precious to mankind'. His achievements have only recently begun to be acknowledged. His metaphysical works influenced Jeremy Bentham, John Stuart Mill, and Herbert Spencer. Priestley saw matter as the manifestation of spiritual force. Price, Richard (1723–1791) FRS, philosopher, demographer, and political radical. Richard Price was the son of Rhys Price, a dissenting minister, and Catherine Richards. Born at Tyn Ton, Llangeinor, Glamorgan, Wales, Richard studied under Vavasor Griffiths at Chancefield, Talgarth. His writings in defence of the American patriots led to an invitation to advise congress conveyed to him by Benjamin Franklin, Arthur Lee, and John Adams. A friend of Thomas Paine, Thomas Jefferson, Adam Smith, David Hume, A member of the intellectual societies the Bowood Group and Benjamin Franklin's 'Club of Honest Whigs'. In 1772 Price recruited Joseph Priestley to the Bowood Group. It was through her friendship with Price that then unpublished Mary Wollstonecraft met the radical publisher Joseph Johnson. Price helped her to visit Lisbon to see Fanny Blood. She published 'A Vindication on the rights of men' in response to Burke's attack on Price, and her 'Vindication on the rights of woman' extended Price's arguments on equality for women. Joseph Cockin (1755-1828). Nonconformist Minister and author. He published and wrote the introduction to John Locke's Letter concerning Toleration. Huddersfield 1796.
Author
Priestley, Dr [Joseph ] & Price, Dr [Richard]
Binding
Half calf, marbled boards
Publisher
J. Johnson & T. Cadell. London.
Pages
(6), xliv, (1), 428pp