Regretfully, due to Covid-19, all our fairs up until the end of December have now been cancelled.
OUR XMAS ONLINE BOOK FAIR OPENS 29TH NOVEMBER AT 12 NOON.
HOPE YOU CAN JOIN US!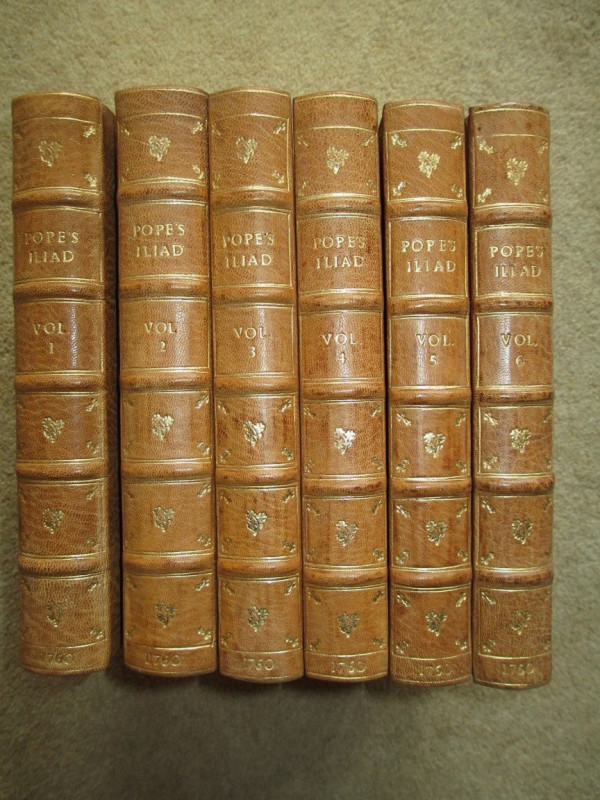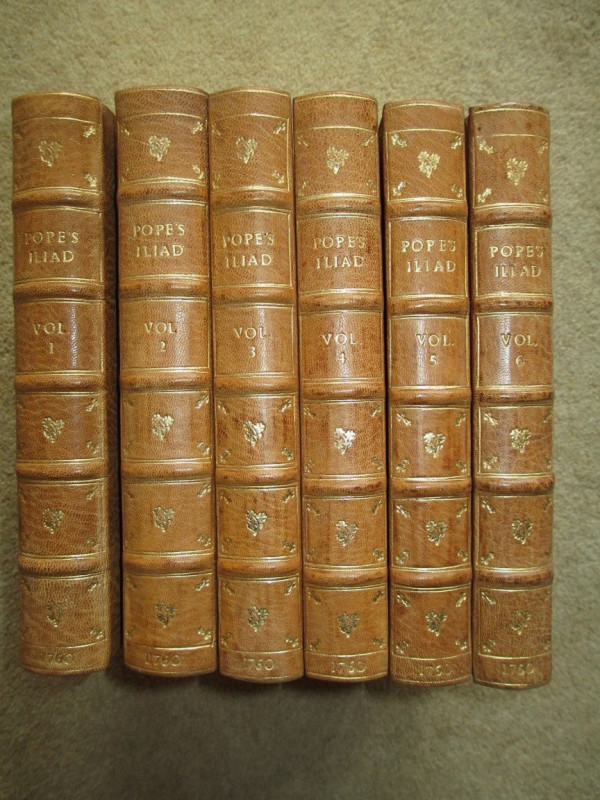 Book Description
New edition. Six volumes, complete, a Fine set, handsomely rebound with brown leather spines, lettered and decorated in gilt to spines, and marbled boards in pink and grey-blue, with similar marbled endpapers. Top page edges gilt. Binder's mark MB 71. Volume 1: With 2 engraved frontispiece plates showing Homer and Pope, to page lix Preface, to page cli, Essay on Homer ((both with engraved head and tail pieces); engraved folding map of Greece and Phrygia in Homer's time, then the First and Second Books of the Iliad, with engraved headpieces (as in all the volumes, plus some have tailpieces as well) and a Geographical Table of The Towns etc in Homer's Catalogue of Greece, to page 175. Volume 2: The Third to the Seventh Books of the Iliad, and an Essay on Homer's Battles, 341pp including a folding engraved map of Troy. Volume 3: Eighth to Twelth Books of the Iliad, 304pp. Volume 4: Thirteenth to Sixteenth Books..301pp. Volume 5: Seventeenth to Twenty-First Books, with Observations on the Shield of Achilles and a folding engraving of the shield, 287pp. Volume 6: Twenty-Second to Twenty-Fourth Books, and A Comparison between the Games of Homer and Virgil, 212pp, followed by extensive unpaginated indexes. A lovely bright set in Fine condition, with no ownership marks, the pages mostly unfoxed and clean, just some light browning and the odd spot mark, in a few places, (largely at ends as usual, and to backs of folding engravings).
Publisher
London: Printed by Charles Rivington for T.Osborne, C. Hitch et al