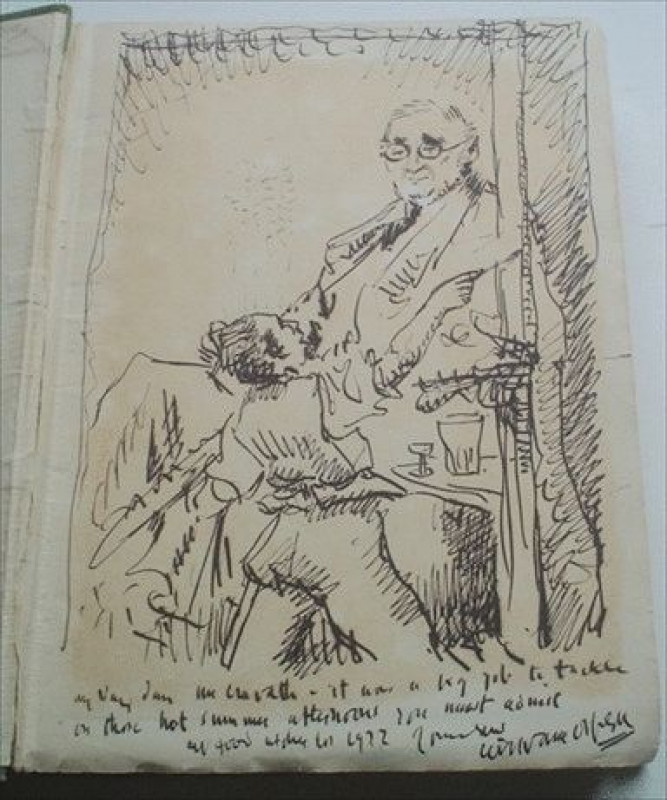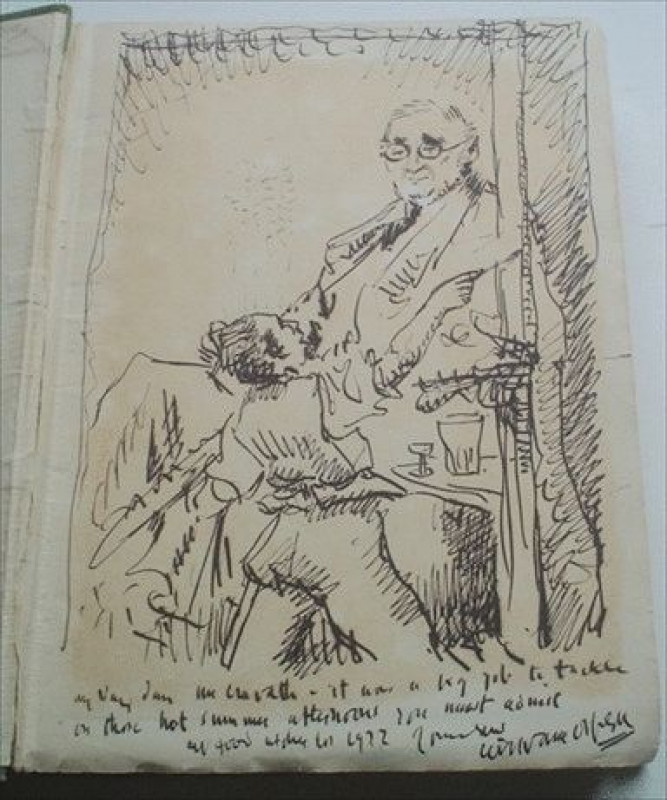 Book Description
FIRST EDITION. Large 8vo.(10.2 x 7.8 inches). Illustrated with 96 plates. Publishers original green cloth binding with gilt lettering and ruling to spine. Binding a bit rubbed and bumped but overall sound and the gilt still bright. This copy has a full page original ink self portrait of Orpen on the front blank endpaper, showing the artist painting the famous American Wall Street lawyer and art collector, Paul Cravath. The drawing is inscribed by Orpen at the bottom of the page "My very dear Mr Cravath-It was a big job to tackle on those hot summer afternoons you must admit. All good wishes in 1922.-------(?) William Orpen". The drawing shows Cravath, a large man who stood 6ft 4inches, sat posing while a much smaller Orpen, the heat rising from his head and his sleeves rolled up, paints the portrait. The book has the bookplate of the prolific author and traveller Cecil Roberts who has written a note on the blank verso of the frontis piece about Cravath and how he commissioned Orpen to paint his portrait, for a sum of £5000 plus expenses. While staying with Cravath at his Regency Long Island home, where the portrait was painted, Orpen gave Cravath this book as a memento. After Cravath died (in 1940) the house, and presumably some of the contents, was bought by Baron Eugene de Rothschild (in 1942) and Roberts notes that he was often his guest there. He doesn't explain how the book came to be his. There is one more note from Roberts,under the portrait of Lord Riddell (plate XLIX) mentioning his being at a press dinner given for him in 1919. Aside from being third in charge, and legal advisor, of the American War Mission during the Inter-allied War Conference of 1917, the first American mission to a European council in history, Paul Cravath is mainly known for his "Cravath System" which transformed the way law firms work and is still in use today. The "Cravath system" included hiring new law school graduates, then training them within the firm as associates,and eventually inviting the best to become partners. Throughout the twentieth century most of the growth of the big law firms relied on this system of recruiting, internal training, and loyalty to the firm. A nice self portrait of the Artist at work, all the better for being within a copy of Orpen's fascinating war memoir.:
Author
ORPEN. Sir. WILLIAM.
Publisher
Williams and Norgate. London.