PLEASE NOTE - THE PBFA TELEPHONE NUMBER HAS NOW CHANGED TO 01763 248921OUR MARCH ONLINE BOOK FAIR IS OPEN
1000's OF BOOKS/ITEMS ON OFFER TO SUIT EVERYONE
CLICK
HERE
TO FIND OUT MORE...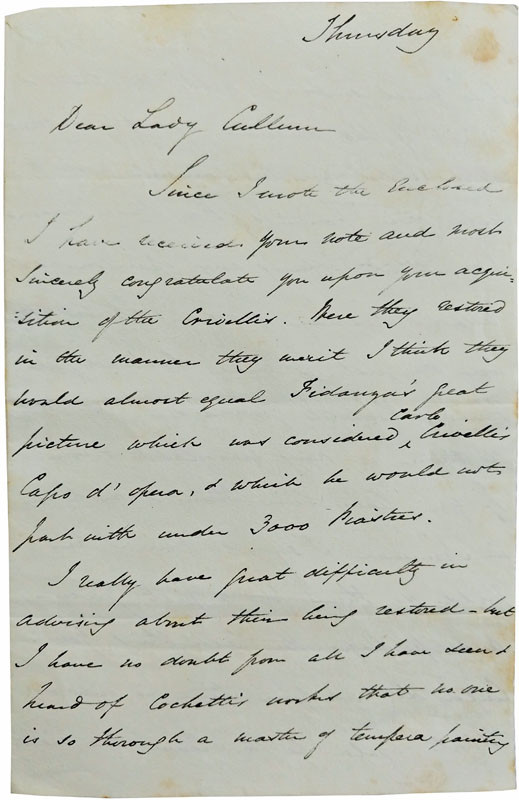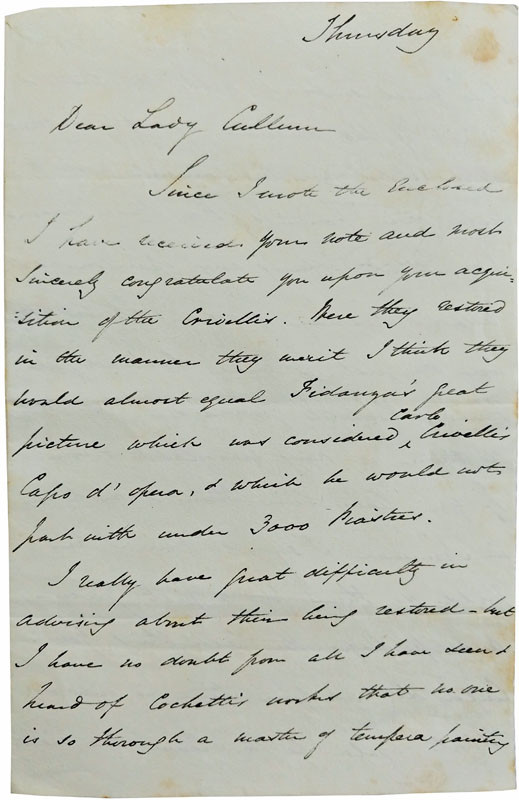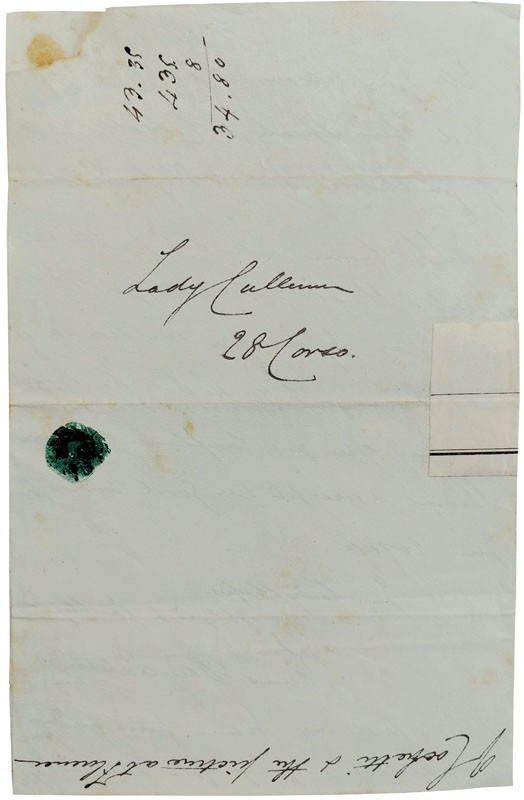 Book Description
Manuscript signed letter by Scottish art collector James Dennistoun to Lady Ann Cullum, while both are in Rome, concerning her acquisition of paintings by Crivelli, and making recommendation for a skilled local Italian restorer. 8vo. 3 pages in manuscript, double leaf measuring approximately 12,5 x 19 cm, with seashell watermark, integral address being simply 28 Corso, remnants of a green wax seal. Undated, but similar correspondence in the Cullum archives help to date this letter to the period before 1842. The paintings discussed in this correspondence are indeed treasures of antiquity, made by Carlo Crivelli (Venice c. 1430 - Ascoli Piceno 1495), Italian Renaissance painter of conservative Late Gothic decorative sensibility, who spent his early years in the Veneto, where he absorbed influences from the Vivarini, Squarcione and Mantegna. Crivelli's works are exceedingly scarce. Only two can be found today in Venice, both in the church of San Sebastiano. It is interesting to note that the present letter refers to more than one Crivelli painting, "the Crivellis... they" etc. Without seeing these specific art works, but holding the ancient artist in due high regard, Dennistoun states that they would surely equal Crivelli's other well-known and venerated pieces. He also estimates a value of 3,000 piastres [modest indeed for such an invaluable prize].
Dealer Notes
The dates signed on the surviving Crivelli paintings are 1468 on an altarpiece in the church of San Silvestro at Massa Fermana near Fermo, and 1493 on The Dead Christ between St John, the Virgin and Mary Magdalene in Milan's Brera Gallery. Crivelli painted in tempera only, despite the increasing popularity of oil painting during his lifetime, and on panels. His predilection for decoratively punched gilded backgrounds is one of the marks of this conservative taste, in part imposed by his patrons. Of his early polyptychs, only one, the altarpiece from Ascoli Piceno, survives in its entirety in its original frame.

Crivelli had something of a revival, especially in the UK, during the time of the pre-Raphaelite painters, several of whom, including Edward Burne-Jones, admired his work. The Pre-Raphaelite Brotherhood was a group of English painters, poets, and art critics, founded in 1848, quite contemporary to the present letter. Crivell's reputation faded with that movement, but recent writings on his work and a rehanging of his work in the National Gallery, London, have brought him renewed attention.
Author
James Dennistoun, Art Collector
Condition
A small segment of mounting paper adhered to verso, loss to one corner at margin, text unobstructed, otherwise in very good condition.