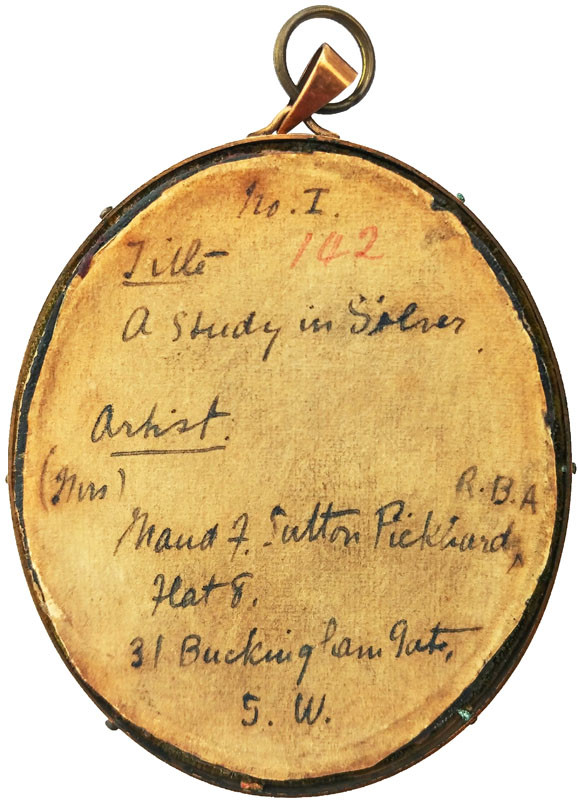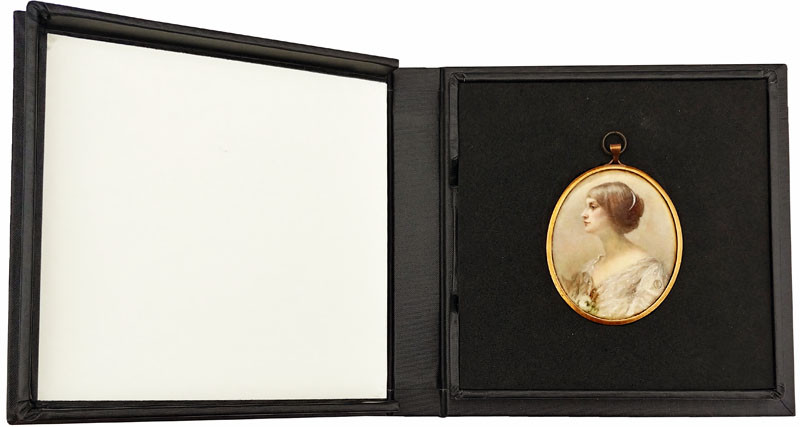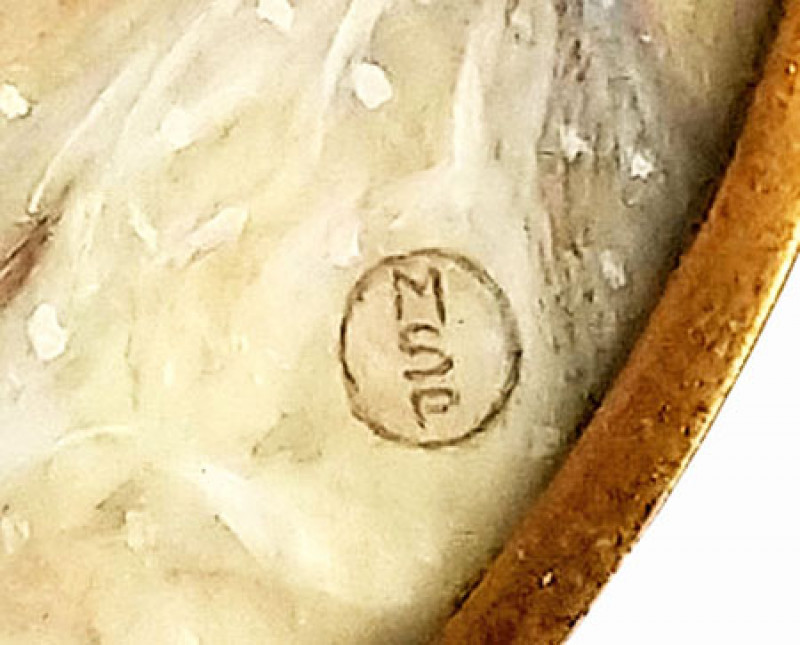 Book Description
Original miniature self-portrait painting by Roosevelt family member Maud Sutton Pickhard (née Fortescue 1880-1961), in a most elegant daytime "best" dress, signed MSP by the artist. As she looks fairly young in this image, had a London address, and at the time was still using the title "Mrs," the painting was made no earlier than 1900 and presumably in 1908 or earlier while she was still married. Inscribed in manuscript to verso "No 1. Title: A Study in Silver. Artist: (Mrs) Maud F Sutton Pickhard R.B.A. Flat 8, 31 Buckingham Gate S.W." Mounted in a large oval pendant with copper frame over glass, expertly crafted with six copper pins securing the cloth covered cardstock mount into the frame, measuring approximately 8 x 7 x 0,5 cm. Contained in a recent purpose-made clamshell box with foam padding for protection. The artist was a published female author born into the prominent Roosevelt family through rather scandalous circumstances. She is first cousin to President 'Teddy' Roosevelt, and first cousin once removed to Miss Eleanor Roosevelt. She is also twice connected to President Franklin D. Roosevelt, through lineage as fifth cousins once removed, and more closely through Eleonore's marriage to Franklin. A remarkable miniature oval self-portrait pendant with numerous illustrious Roosevelt connections, the artist herself being a published female author, little-known for her skill as a painter. Maud Sutton Pickhard née Fortescue (born 25 August 1880 in Manhattan, died 1961) was the illegitimate child of U.S. Congressman Robert Barnwell Roosevelt, Sr. (1829-1906) and his Irish immigrant mistress Marion Theresa "Minnie" O'Shea Fortescue (1849-1902).
Dealer Notes
The American Roosevelt family of business and political fame include two United States Presidents, a First Lady, various merchants, politicians, inventors, clergymen, artists, and socialites. Progeny of a mid-17th century Dutch immigrant to New Amsterdam, many members of the family became locally prominent in New York City business and politics and intermarried with prominent colonial families. Two distantly related branches of the family from Oyster Bay on Long Island and Hyde Park in Dutchess County rose to national political prominence with the elections of Presidents Theodore Roosevelt (1901-1909) and his fifth cousin Franklin D. Roosevelt (1933-1945), whose wife, First Lady Eleanor Roosevelt, was Theodore's niece.
Author
Maud Sutton Pickhard, Roosevelt Family Member
Condition
Very slight age-toning to frame, otherwise in Very Good to Near Fine, original condition.