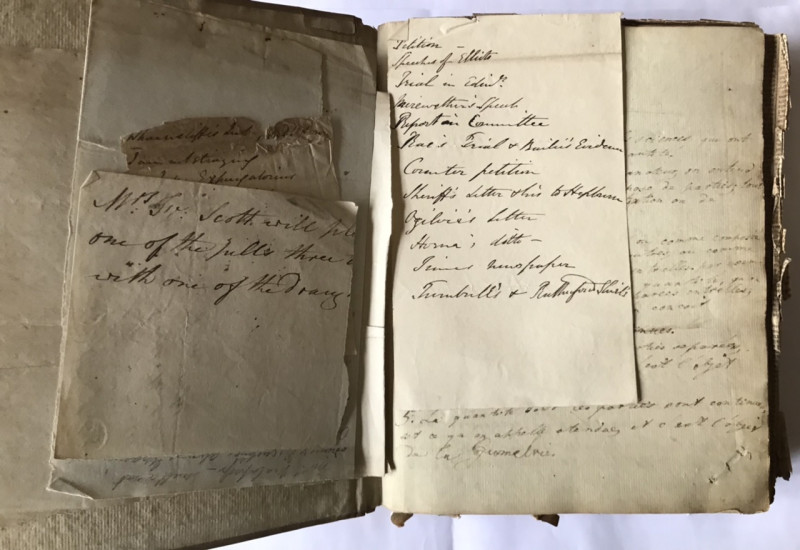 Book Description
Quarto. Full vellum, somewhat worn. Approx 200 pages, many of which have pasted in folded newspaper cuttings, and have text or commentary in a legible hand, beginning in the 1830s, a few pages sometime excised, two leaves torn, but most present. The book appears to have been used for different purposes. It is mainly full of newspaper clippings and commentaries on the Scottish Church, politics and national affairs. The book is not signed, but would appear to be from a person active in Scottish politics, the newspaper clippings are from the Edinburgh Evening Courant, the Glasgow Courier, and so on. The book has been used previously as a geometry book, with an eighteenth century hand writing out Euclid's theorems, over which the newspaper cuttings have been pasted. There is also a manuscript copy of a poem Absalom, with the date 1808, a broadside, which we have been unable to trace entitled 'The King's Speech against Church Robbery, delivered May 28 1834, folded, torn and mended with archive tape, with slight loss, and another 'A Tabular View of the Errors imputed to the Roman Catholic Church, very worn and torn along central fold. There is also inserted an issue of the Edinburgh Voluntary Churchman, dated August 1836. This is followed by extensive extracts from a work 'Thoughts on Civil Liberty', dated 1765, Canning's speeches, thoughts on the Irish question, further extracts from newspapers, and the remaining 15 pages or so blank. Finally, there are at the end of the book several pages of manuscript remarks on geometry in French.
Dealer Notes
Loosely inserted is a draft manuscript motion, '1ST resolution: that this meeting highly approves of the prompt measures adopted by the meeting of County gentlemen held at Mr Barwells on the …ult for bringing forward the candidate and commencing a rigorous canvass, and in order to afford more time to the Honble Francis Scott to prosecute a personal Canvass in the County, the Electors present hereby dispense with his waiting upon them, and pledge themselves to support him, and by every means within their power to assure his return. The motion appears to have been successful, in that Hansard notes that Francis Scott was the MP for Roxburghshire from1841 – 1847, and then for Berwickshire from 1847 – 1859. An interesting, and rather unusual album, which has seen active use from two distinct owners.
Binding
Vellum, slightly worn
Condition
Good. Insertions worn to folds.