PLEASE NOTE - THE PBFA TELEPHONE NUMBER HAS NOW CHANGED TO 01763 248921OUR MARCH ONLINE BOOK FAIR IS OPEN
1000's OF BOOKS/ITEMS ON OFFER TO SUIT EVERYONE
CLICK
HERE
TO FIND OUT MORE...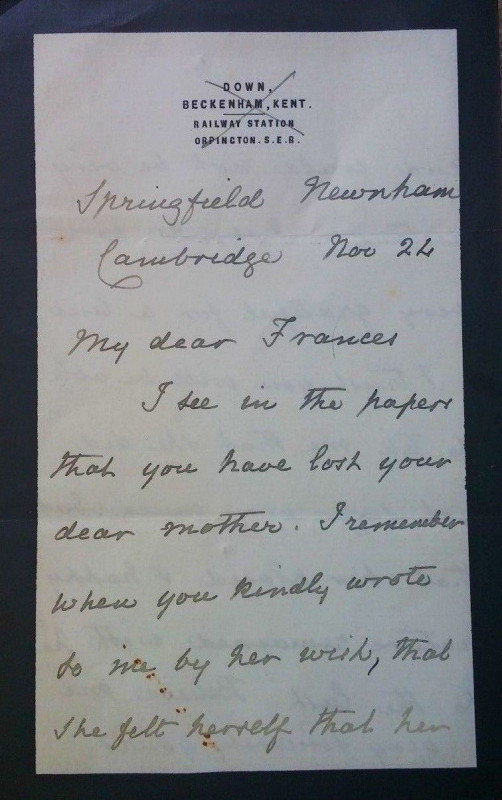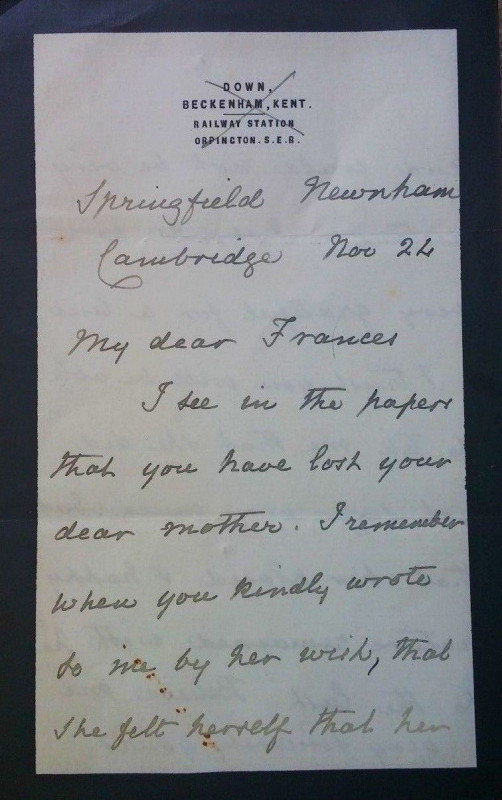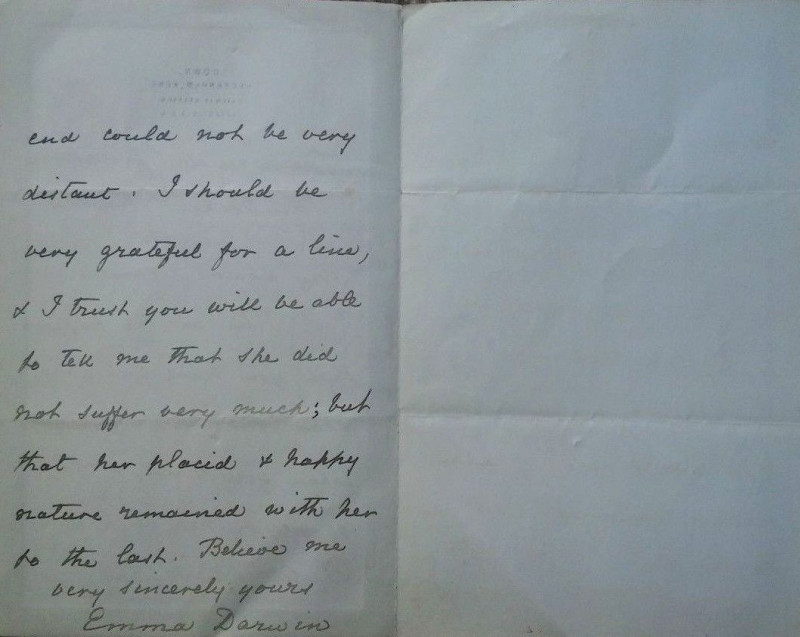 Book Description
ALS Autograph Letter Signed By Emma Darwin, Wife of Naturalist Sir Charles Darwin. ca 1889, addressed to Her friend Frances (presumably Frances Julia "Snow" Wedgwood (9 July 1833 – 26 November 1913). One Original Signed Letter, written Springfield Newnham, Cambridge, Nov 24 [1879]. 2 pages, 8vo. Bi-folium on headed paper with mourning border, "Down, Beckenham, Kent, Railway Station, Orpington S.E.R." Leaf measures approximately 11,5 x 18 cm (4.5 inches x 7 inches), when folded. The Letter reads: "My dear Frances I see in the papers that you have lost your dear mother. I remember when you kindly wrote to me by her wish, that she felt herself that her end could not be very distant. I should be very grateful for a line, and I trust you will be able to tell me that she did not suffer very much; but rather that her placid & happy nature remained with her to the last. Believe me Very sincerely yours, Emma Darwin" Frances Julia "Snow" Wedgwood (9 July 1833 – 26 November 1913) was an English feminist novelist, biographer, historian and literary critic. She was described as "a young woman of extreme passions and fastidious principles" and "at once a powerful reasoner and an inexorable critic of reason".
Author
Emma Darwin - Wife of Charles Darwin
Condition
Very Good Condition, nicely preserved. Accompanied by a Certificate of Authenticity.