PLEASE NOTE - OUR TELEPHONE NUMBER HAS NOW CHANGED TO 01763 248921OUR THEMED FEBRUARY ONLINE FAIR IS NOW OPEN.
1000's OF BOOKS/ITEMS ON OFFER TO SUIT EVERYONE!
CLICK
HERE
TO FIND OUT MORE...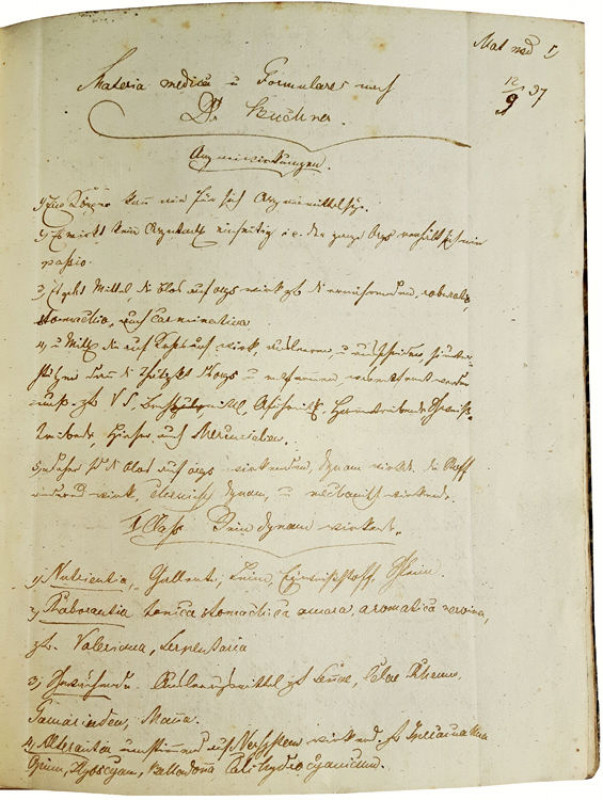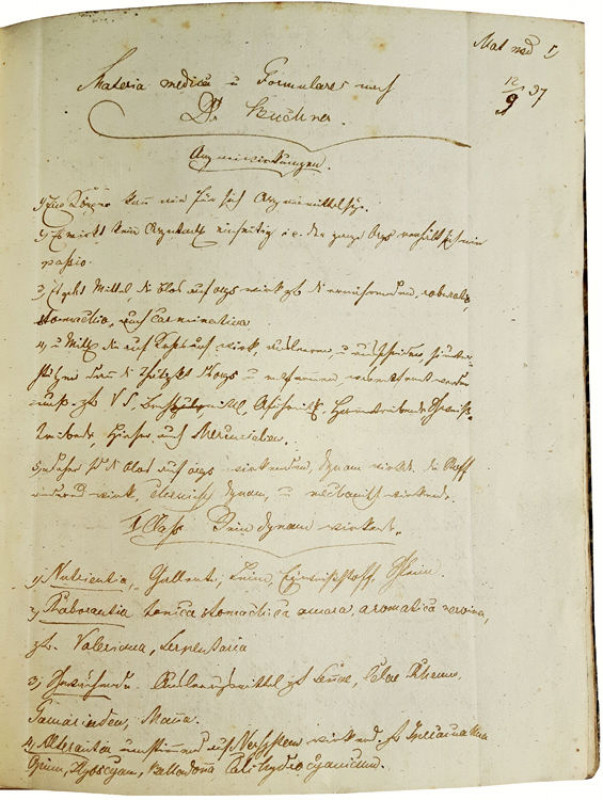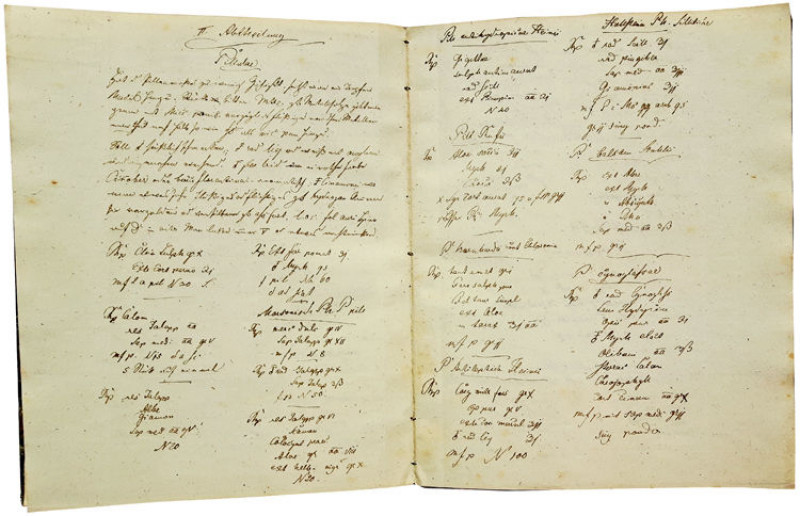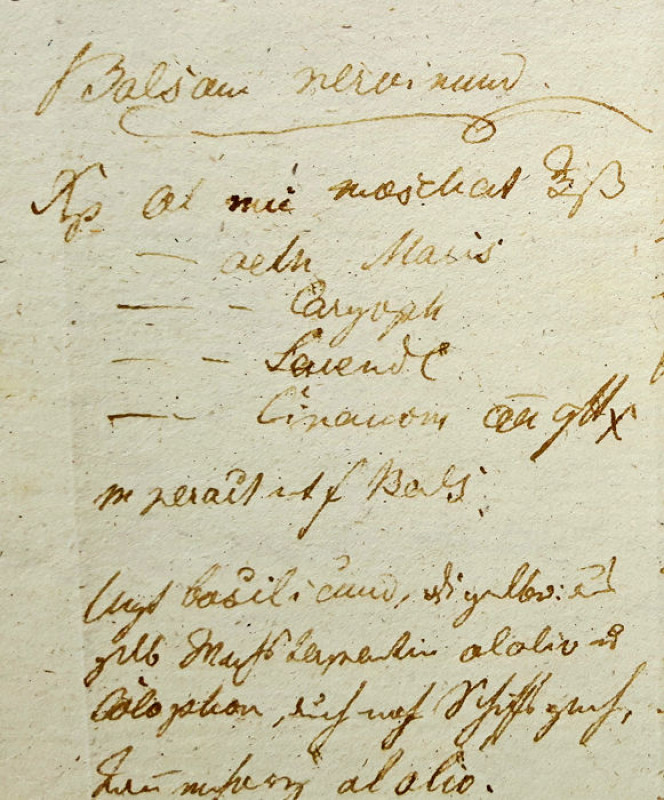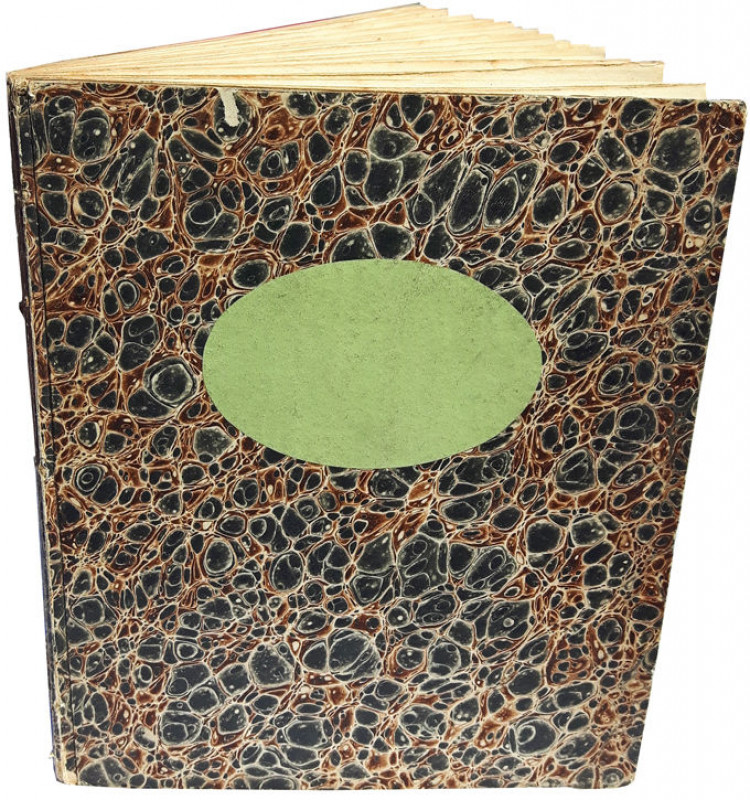 Book Description
[Germany, circa 1837] - "Materia Medica und Formulare nach Dr. Büchner" [Medical Material and Formulas According to Dr. Büchner]. Manuscript notes made by a nineteenth century student of medicine, possibly intent on becoming an apothecary, who examines and records the earlier works of German physician and professor Andreas Elias Buechner (1701- 1769), including numerous medicinal recipes and commentary on physiological effects. 8vo. 56 pages in manuscript. Text is in German. Marbled paper boards with blank label to front. Volume measures approximately 17 x 21 cm. The 18th century was the 'Golden Age' of scientific academies and learned societies. This work provides valuable information on the historic application of natural ingredients with medicinal qualities, as well as a somewhat early history of the experimentation and progress in the field of medicine, by drawing from the methodology and recipes of a notable eighteenth century German physician and educator in the field - Andreas Elias Büchner. Following a five-point outline, the writer compiles a lengthy and well organized list of medical ailments or discomforts and the simple remedies for them, over 24 pages, a very small sampling of these being parageusia (a distortion of the sense of taste), digestive issues for which are listed various laxatives, skin sensitivities and emollients, "alterantia" or hormonal alterants, and diaphoretics. A section headed "Special Formulas," comprising 23 pages of more complex medicinal recipes, provides ingredients and measurements for various emulsions, syrups, pills and much more. During Büchner's time, pills were made by mixing the active ingredients with an excipient, such as glucose syrup in a mortar and pestle to form a paste, then rolling the mass by hand into a long cylindrical shape (called a "pipe"), and dividing it into equal portions, which were then rolled into balls, and often coated with sugar to make them more palatable.
Author
Early Apothecary Recipes
Condition
Very slight wear to boards, otherwise in very good condition, internally crisp and bright.